Triund Trek: For a Star-Studded Experience
Trek to this uncrowned jewel of Dharamshala, nestled between the Dhauladhar mountains and Kangra valley.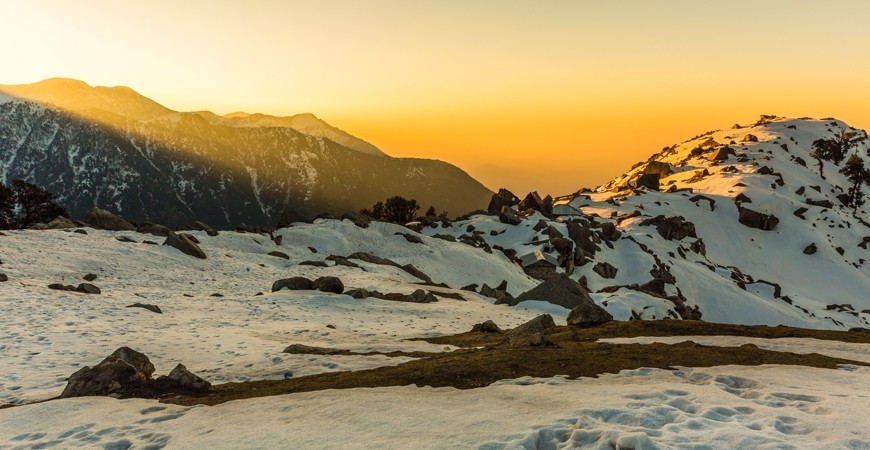 The Triund trek is one of the most popular short treks in the Himalayas. It takes about four hours to get to the top and the trail is a fairly easy one. However, it is best to acclimatize yourself before attempting it, especially if you are a first-time trekker.
Some spectacular views of the snow-covered peaks of the Dhauladhar range and the Kangra valley can be seen during the trek. The landscape takes on different hues at different times of the day. The trek ends in green meadows where the clouds descend to the ground. 
However, what Triund is famous for is the star-studded night sky. Camping overnight is an amazing experience as you get to watch both sunset and sunrise in the mountain ranges of the Himalayas.
The next morning, you can hike further to the Kareri Lake, where there are rock-cut caves to explore. Undoubtedly, it is worthwhile to do the early morning hike to the Kareri Lake, as one can see the Bhagsu waterfalls on the way back, and hiking down next to the gushing waters brings the trek to a close on a high note.
For a hassle free adventure, you can let the experts at Sterling Dharamshala organize the trek for you.
Good to Know :
Location: 25 km from Sterling Dharamshala.
It is recommended to take a guide along.
Follow the guidelines for photography. Keep children safe.