If the idea of choosing just one item out of an entire menu doesn't appeal to you, then the thali is your saviour. Most thalis are a 3-course meal, with starters, mains, dessert, and delightful accompaniments. In India, a thali doesn't just offer variety, there are a variety of thalis to choose from as well. We bring you a selection of the most exotic thalis from around the country and a peek into the sumptuous dishes they offer.
Chhattisgarhi Thali
Chhattisgarhi cuisine largely draws its inspiration from the huge tribal population of the state. As a result, the food is simple, nutritious and an ode to the riches offered by the land. Rice in various forms constitutes the backbone of most dishes.  Rice batter is used to make muthia (steamed dumplings), chilla, faraa (again a type of dumplings) which can be eaten as appetizers. Aamat (a type of Chhattisgarhi sambhar), dubki kadi (made with gram flour and curd), dal pithi (dal cooked with pooris), zimikand kadi, and bhajia make up the main course. Besides rice, you can enjoy these dishes with chusela (rice flour pooris) or angaka roti (made with leftover rice). The fiery chaprah chutney, made by grinding red ants with chillies, accompanies most dishes. Lavang lata, tilgur and khurma make up the dessert of Chhattisgarhi cuisine.
Kathiawadi Thali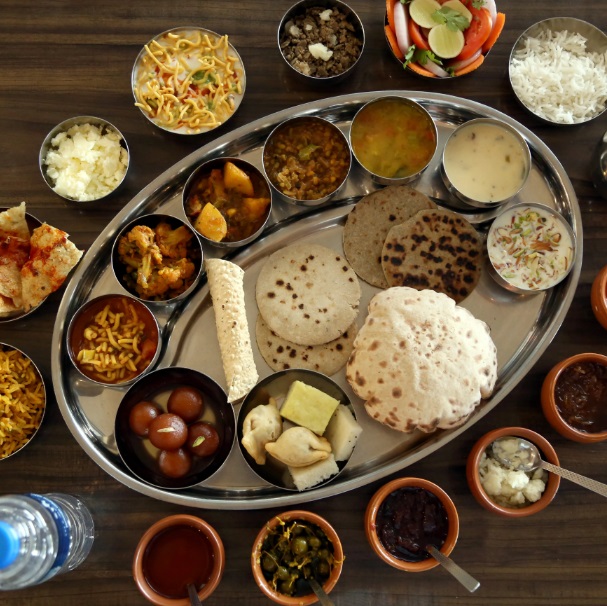 The peninsular region of western Gujarat, Kathiawad, is known for its spicy food. The cuisine is a sharp contrast to the slightly sweet food found in the rest of the state. Bajra bhakri and methi thepla form the bread component of the thali. These can be savoured with ringana methi nu shaak (eggplant with fenugreek), bharela ringan (stuffed eggplant), or ringna no oroh (a kind of baingan bharta). As you can see eggplant forms an important element of kathiawadi cooking. Your taste buds will also be tantalized by tikhari and Undhiyo, where the former refers to a spicy kadhi and the latter is a sizzling version of khichdi. The lasania bataka or potatoes cooked in spicy ginger-garlic-tomato gravy is another unique kathiawadi dish that is brimming with flavor. Dahi bhindi, sev-tamaatar and tindora nu shaak (ivy gourd in hot & sweet gravy) are other Kathiawadi delicacies. If you find the tadela marcha (fried green chillies) too hot to handle, you can always have the utterly sweet sukhdi or gol papadi.
Bhojpuri Thali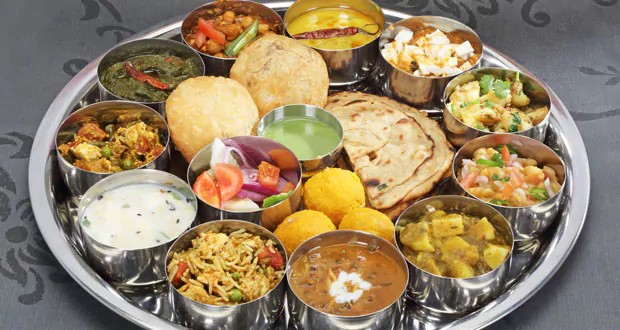 If the Kathiawadi thali makes you sweat, you will surely find the Bhojpuri thali pleasant. The cuisine is light on spice and is influenced by Awadhi and Mughlai styles of cooking. Sattu or roasted Bengal gram is a distinguishing feature of Bhojpuri cuisine and is used in dishes like litti-chokha and several refreshing drinks like sattu sharbat. The litti or stuffed wheat balls are served with chokha made with potatoes or brinjal. Dishes like oal ka chokha (yam), sahjan ki sabji (drumstick), lauk zabar (bottle gourd cooked in milk), Kala Chana Ghoogney and daal pithaura (mixed dal) are some other delicacies. You will also relish accompaniments like the Rikwach (colocasia leaves fritters), gurma (raw mango chutney), and the tangy ole ki chutney. If you have a sweet tooth it will be well catered to with desserts like thekua, malpua, and khajja.
Maharashtrian Thali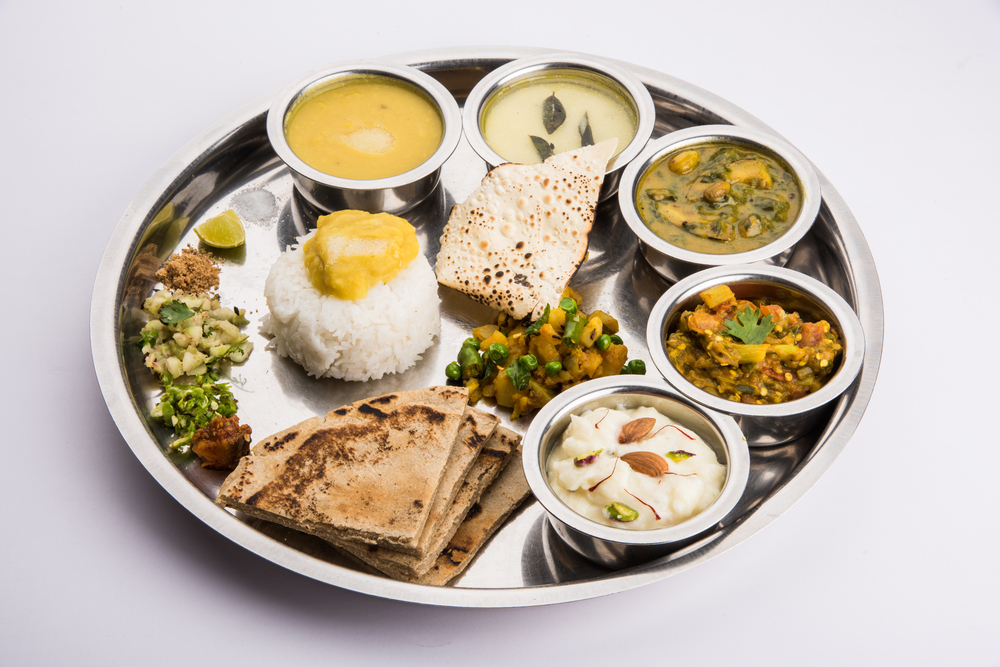 The Maharashtrian thali is a fantastic fusion of mild and spicy elements. Besides the regular fare of pav-bhaji, poha, vada pav and sabudana khichdi that we are all too familiar with, the Maharashtrian cuisine offers much more depth and diversity. There is an assortment of rotis like the dashmi roti, puran poli, bhakri, and thalipeeth, and rice preparations like narali bhaat (sweet coconut rice), masale bhaat, vangi bhaat (brinjal rice), and dodkyacha bhaat (ridge gourd rice). The mains would consist of the popular amti (yellow dal), bharleli vangi (stuffed brinjal), zunka bhakri (gram flour dish), Matnacha rassa (mutton in red curry), and bombil (Bombay duck). Koshimbir or Maharashtrian salad forms an integral part of the thali. Modak (stuffed sweet dumplings), kela sheera (banana halwa), and basundi are some well-known Maharashtrian desserts. Don't forget to wash all this down with sol kadhi (made with coconut milk and kokum).
Goan Thali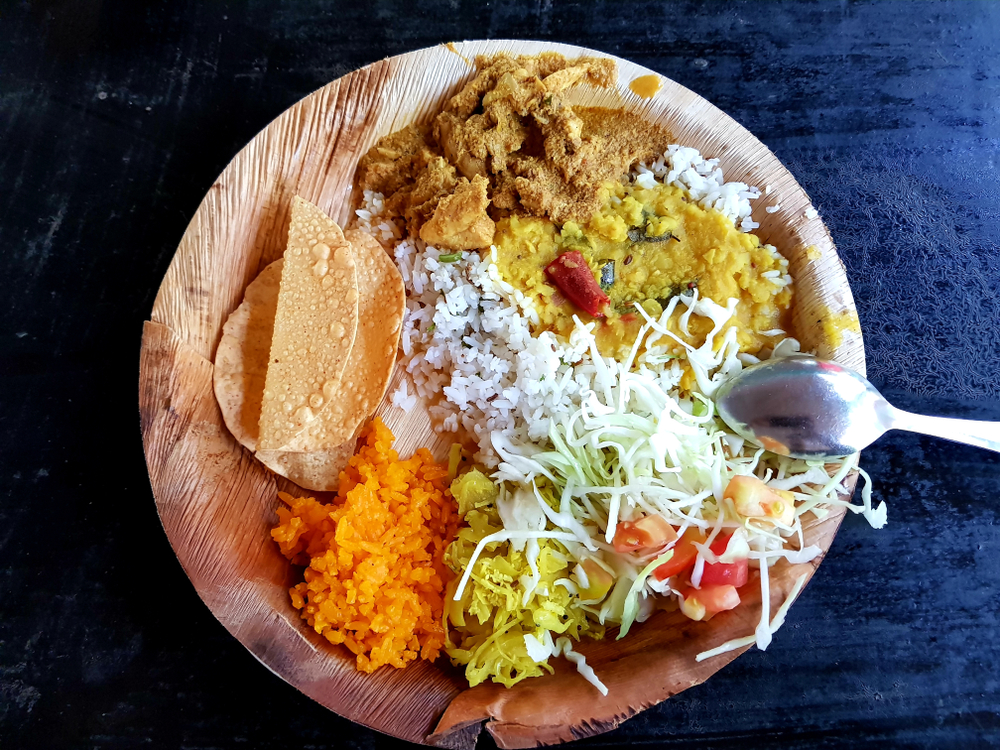 The Goan thali is a scrumptious amalgamation of the Portuguese, Konkani and Malvani styles of cooking. Considered 'incomplete' without the inclusion of fish, the thali could include any one of the many fish preparations like xitt kodi (fish curry), ambot tik (spicy-sour fish curry), and fish reacheado (stuffed fish). Pork, chicken, crab, and prawns are essential to Goan cuisine. Pork vindaloo, which makes use of vinegar, chicken xacuti (consisting of a mixture of poppy seeds and red chillies gravy), and chicken cafreal are dishes every Goan swears by! For seafood lovers, there are prawns xeque xeque, samarachi kodi (prawn curry), and crab xacuti. Although the Goan thali is heavily focused on non-vegetarian items, there is no dearth of vegetarian dishes here. Sorak (veg curry), Goan Khatkhate, daali thoy (daal with coconut milk), and kele ambat (plantain gravy) are some vegetarian wonders. The dessert department doesn't disappoint either, with a wide range of items such as bebinca (layered cake), patolea (stuffed tamarind leaves), dodol (coconut cake), doce (coconut-gram flour burfi), and pinaca (jaggery-coconut balls).
These five thalis celebrate the diversity that exists in our country and is the tip of the iceberg of multiple cuisines waiting to be explored.