Light is a symbol of knowledge, hope, prosperity and happiness, and Diwali is its true manifestation. It is among one of the few festivals that is celebrated almost everywhere in the Asia Pacific. The festival  calls for a lot of preparations and the time before Diwali is characterised by households brimming with excitement. True to its name, Diwali or Deepavali which means 'festival of lights' is the symbolic representation of the triumph of good over evil and light over darkness. Indeed, the night of Diwali lights up homes and skies across India while melas (festive fairs) are organised in different parts of the country, and attract people from all walks of life.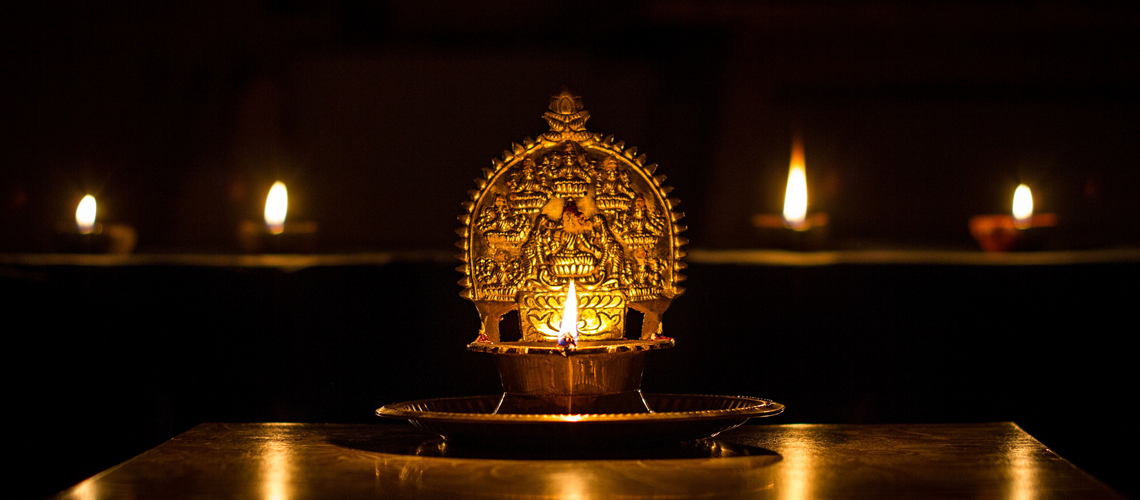 Diwali is celebrated on Amavasya – the 15th day of the dark fortnight of the Hindu month of Ashwin; the Gregorian date varies every year with the festival being celebrated on the 23rd of October this year. Diwali is supposed to have started as a harvest festival historically; but this reason soon got replaced by the various legends and religious events that are now associated with it. Each region of India has its own legend behind celebrating this occasion. The power of this night lies in the fact that evil was conquered by goodness in multitudes.
In the same spirit, Indians light lamps and candles to remember the spirit of victory and goodness. It is also an act of gratefulness to the heavens and Gods for health, wealth, happiness and prosperity. Entrances flaunt rangolis (patterns of coloured powders) to welcome the guests, and the homes are decorated with flowers, lamps and hanging lights.
In West Bengal, the festival of Diwali coincides with the Kali Puja festival; Kali is the Goddess of strength. While many of the other regions attribute the day to Lakshmi Puja and mark the marriage of Goddess Lakshmi and Lord Vishnu, some of the southern states call upon the Lord Ganesha, the elephant-headed God who represents wisdom and auspiciousness.
However, most Hindus, especially in the northern and central India celebrate Diwali to commemorate the return of Lord Rama along with his wife Sita and brother Lakshman from their 14- year exile after vanquishing the demon-king, Ravana. It is said that on their return to Ayodhya, they were welcomed by people who lit lamps and burst firecrackers to celebrate their victory and return. This tale of victory is generally the one that pops up into each Indian's mind when one talks of Diwali.
In India, the reasons and legends to observe this day might vary, but the spirit of excitement binds them all together. The preparations for this festival go on for many days. People buy new clothes, sweets, jewellery, gifts and even cars and homes during Diwali, because it is considered to be a very auspicious period in the Hindu calendar. Many tourists from around the world schedule their visits to India during this season, and the charisma lingers in their memories forever.