A scrumptiously unique Indonesian favorite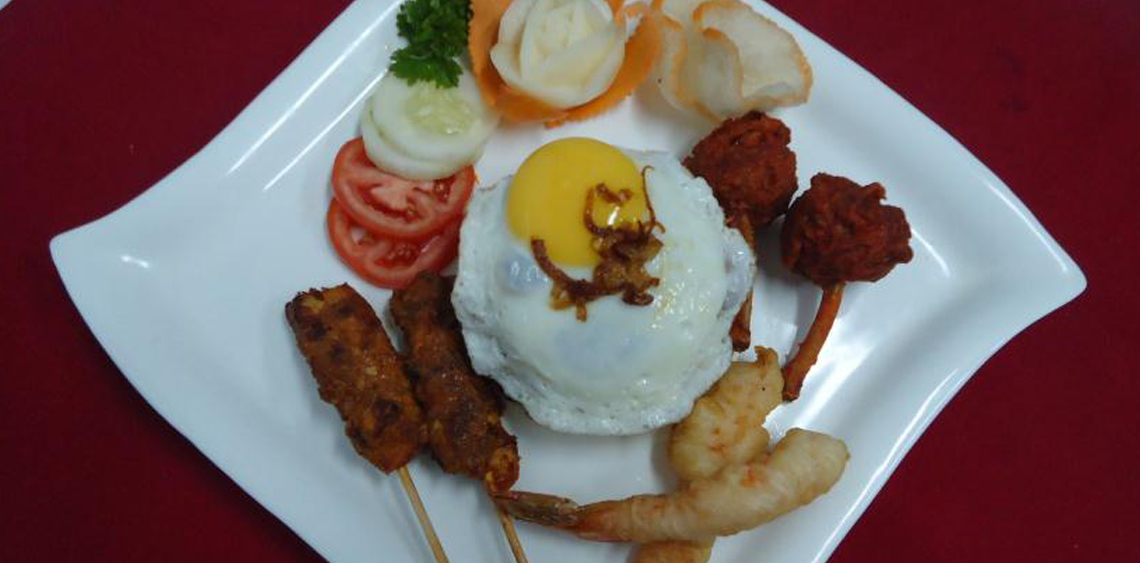 Here is a recipe that will surprise anyone with its charm. Gado-gado is one of the well-known dishes from Indonesia. Gado-gado literally means 'mix mix', as it brings together a melange of flavours and creates a dish that's truly unique. It can be had as an on-the-go snack or as a full-fledged meal. Now go ahead and surprise your loved ones!
Recipe:
| | |
| --- | --- |
| Ingredients | Quantity |
| Jasmine Rice Uncooked | 1 ½ cups |
| Water | 2 cups |
| Peanut Oil | ¼ cup |
| Small Green Prawns (peeled) | 250g |
| Chicken thigh fillets (Finely chopped) | 250g |
| Garlic (Crushed) | 4 cloves |
| Brown onion (Finley chopped) | 1 no. |
| Ground white pepper | 1tsp |
| Chilli flakes | 2tsp |
| Tomato Ketchup | 1tbsp |
| Oyster Sauce | 1tbsp |
| Spring Onions (Thinly Sliced) | ½cup |
| Carrot | 1 no. |
| Cucumber | 1 no. |
| Tailed Prawns (For accompaniments) | 8 no. |
| Fried Shallots | For Garnish |
Method
Place rice and water in a large saucepan. Once boiled, cover and then simmer for 20 minutes or until the rice is just tender.
Alternately cook in a rice cooker according to manufacturer's directions. Spread mixture onto a flat oven tray and stand until cool.
Heat a large wok or frying pan over high heat. Add a little of the oil and swirl around wok.
Add eggs one at a time and cook on single side until golden brown and yolk is still runny.
Remove and set aside.
Add a little more oil and stir-fry prawns until golden brown and cooked through.
Remove and set aside.
Add remaining oil and stir-fry shrimp paste, garlic and onion for 2 minutes or until paste is fragrant.
Add rice, pepper and combined sauces; stir-fry until well combined.
Stir in half of the onions and cooked prawns and chicken.
Serve topped with combined carrot, cucumber and remaining onions.
Garnish with egg and fried shallot.
Nutrient Value
| | |
| --- | --- |
| Principle | Nutrient Value |
| Calories | 80 |
| Sodium | 3100 mg |
| Potassium | 0 mg |
| Total Carbs | 17 g |
| Dietary Fiber | 3 g |
| Sugar | 6 g |
| Protein | 2 g |
| Vitamin C | 28% |
| Calcium | 0 % |
| Iron | 10 % |
Recipe by
| | |
| --- | --- |
| Chef Vilayath Hussain | |