Did you know that every Indian state has a slogan of its own? There's plenty and more that India has to offer this world. Here's your treasure map. What journey will you embark on?
Kerala: God's own Country.
https://www.keralatourism.org/
Lakshadweep: 99% fun and 1% Land/ enjoy the coral paradise.
http://www.lakshadweeptourism.nic.in/
Karnataka: One State, Many Words.
Andhra Pradesh: The essence of incredible India.
http://www.aptdc.gov.in/home.html
Puducherry: Give time a break.
http://tourism.pondicherry.gov.in/
Tamil Nadu: Enchanting Tamil Nadu.
http://www.tamilnadutourism.org/
Goa: A perfect holiday destination.
http://www.gujarattourism.com/
https://www.maharashtratourism.gov.in/
Odisha: The soul of incredible India.
http://www.odishatourism.gov.in/
Chhattisgarh: Full of Surprises.
http://chandigarhtourism.gov.in/
Madhya Pradesh: The Heart of Incredible India.
Telangana: There's much to discover.
http://www.telanganatourism.gov.in/
Jharkhand: A New Experience everyday.
http://www.jharkhandtourism.in/default.asp
West Bengal: The sweetest part of India.
Uttar Pradesh: Amazing Heritage, Grand Experiences.
Haryana: The Pioneer of Highway tourism.
Uttarakhand: Simply heaven.
http://uttarakhandtourism.gov.in/
Himachal Pradesh: Unforgettable Himachal.
Jammu and Kashmir: Chalo Kashmir/ Heaven on earth.
Punjab: India begins here.
http://www.punjabtourism.gov.in/#/home
Rajasthan: Vast haunting expanses of beauty.
http://tourism.rajasthan.gov.in/
Andaman and Nicobar Islands: Emerald Blue and You.
Sikkim: Small but heaven.
http://www.sikkimtourism.gov.in/Webforms/General/Default.aspx
Meghalaya: Half way to heaven.
Arunachal Pradesh: The land of rising Sun.
http://www.arunachaltourism.com/
Nagaland: Land of festivals.
Manipur: Jewel of Incredible India.
Tripura: Culture and art personified.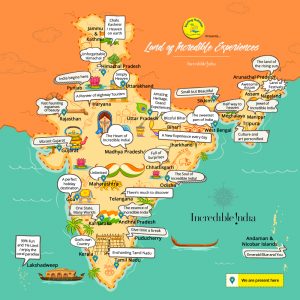 Love this map we have created? Would you like to have this creative above in Poster Size ?
Enter email below and we will send you the link to High-Res
[gravityform id="2″ title="false" description="false"]