A tangy and spicy South Indian fish curry.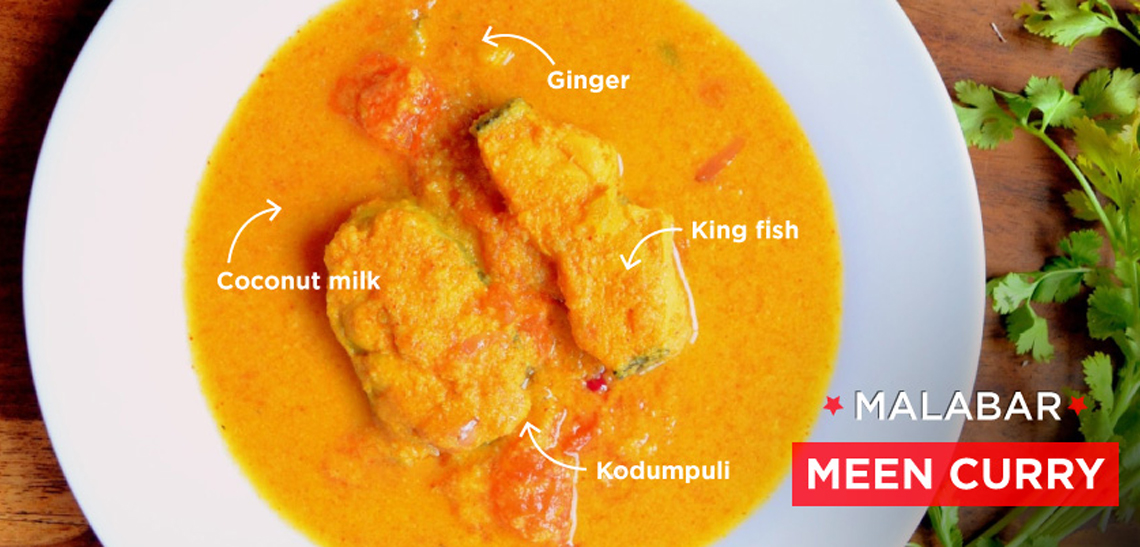 The Malabar coast is world famous for its incredible variety of high quality spices. Needless to say, the food from this region always incorporates the use of these beautiful spices, that add a touch of the Malabar to any dish, making it truly special. Here's the recipe for a truly Malabar dish that uses these spices to make some exotic local ingredients come alive into a flavourful burst!
A staple dish in coastal Kerala, the Malabar Meen Curry tastes best with some steaming hot rice or appams (South Indian rice pancakes)
Recipe
| | |
| --- | --- |
| Ingredients | Amount |
| Chopped Onion | 1cup |
| Ginger | 2 slices |
| Chopped Garlic | 2 tsp |
| Chopped Green chillies | 1tbsp |
| Chopped Tomatoes | 1 |
| Fenugreek seeds | 1tsp |
| Kudam Puli (Tamarind) | 50 gms |
| Coconut oil | ½ cup |
| Salt | 1sp |
| Coconut Milk | ½ cup |
| Chilli powder | 1tbsp |
| Curry leaves | 4-5 |
| Turmeric powder | ½ tsp |
| King Fish (cut into uniform sized pieces) | 200 gms |
Method
Heat coconut oil in a pan and add fenugreek seeds so that they crackle and change colour.
Add onion, ginger, garlic, green chillies and tomatoes. Sauté well.
In a blender , make a paste from the coconut milk, chilli powder, coriander powder and turmeric.
Add this mixture to the fried onion mixture and add one cup of water. Mix well and bring the curry to boil.
Lower the heat and add the fish pieces. Add Kudam Puli and bring to boil again.
Cook the curry on a medium heat until the fish pieces are fully cooked and the gravy turns thick.
Garnish with curry before taking off the flame. Serve hot.
Nutrient Value
Amount Per Serving
Serving – 1
Calories
2,932
Total Fat
271.3 g
Saturated Fat
212.6 g
Polyunsaturated Fat
13.2 g
Monounsaturated Fat
28.9 g
Cholesterol
224.0 mg
Sodium
3,724.5 mg
Potassium
1,305.4 mg
Total Carbohydrate
110.8 g
Dietary Fiber
11.8 g
Sugars
37.6 g
Protein
38.2 g