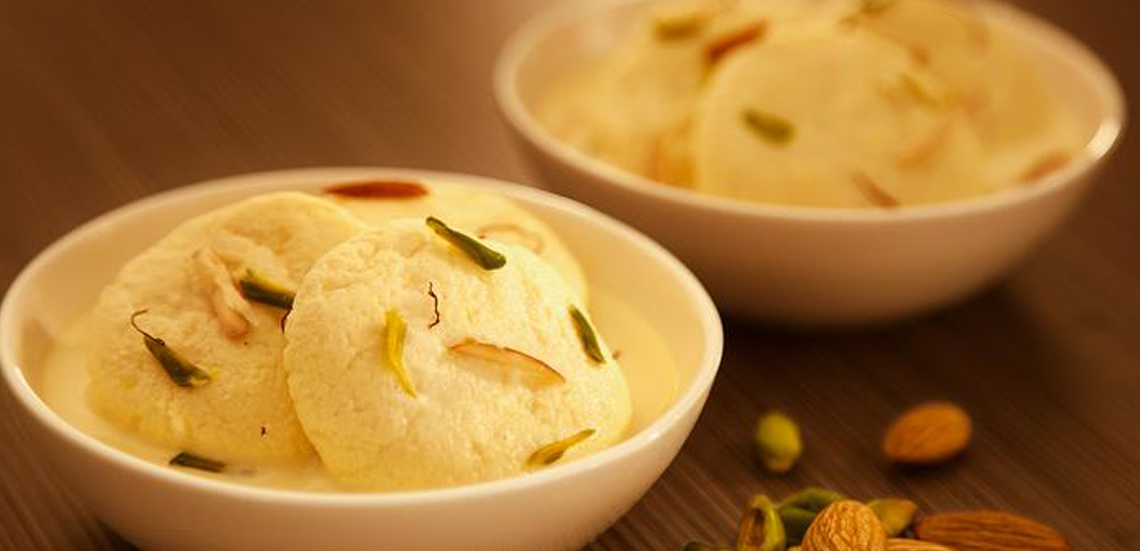 A sumptuous meal is never complete without satisfying the sweet tooth and what better way to end a meal than with the Ras Malai. Despite the common intuition that Ras Malai is very hard to make at home, here is a mouth watering dessert that is both indulgent and easy to make.
Recipe:
Chhena
| | |
| --- | --- |
| Ingredients | Quantity |
| Milk | 1500 ml |
| White vinegar | 40 ml |
| Refined flour (Maida) | 20 gm |
| Corn flour/ corn starch | 10 gm |
| Sugar | 1200 gm |
Rabdi
| | |
| --- | --- |
| Ingredients | Quantity |
| Milk | 1500 ml |
| Sugar | 1200 gm |
| Saffron | Few Strand |
Method
For the Chhena, bring the milk to a boil over high heat. Set aside to cool slightly to 77°C/170°F.
Mix the vinegar in one and three-fourth cups of water and add to the hot milk. Stir lightly till the milk curdles. Add three to four cups of water and a few ice cubes and stir.
Strain the chhena through a piece of muslin and squeeze to remove all the water. You should have 250 grams of chhena.
Transfer the chhena onto a worktop. Mix together half teaspoon of refined flour and the corn flour. Add to the chhena. Knead well by pressing with the heel of your hand, till the mixture is smooth.
Divide into twenty-five portions and roll into balls and then press lightly to make patties, taking care that there are no cracks. Mix the remaining refined flour with half a cup of water and set aside.
To make the syrup, cook the sugar with five cups of water, stirring continuously till all the sugar dissolves. Add the milk and let the syrup come to a boil. Collect the scum which rises to the surface with a ladle and discard.
Continue to cook the syrup for a few minutes longer. Strain the syrup into a bowl.
Take one cup of the syrup, reserving the rest, in a deep, wide non-stick pan and add four to five cups of water. When the syrup begins to boil add the chhena patties. Add half the flour-water mixture. The syrup will froth. Cook, gently agitating the syrup so that the balls do not stick to the bottom of the pan.
Slowly drizzle half a cup of water along the sides of the pan every five minutes so that the syrup does not thicken. Continue cooking for fifteen minutes or till the chhena patties spring back when pressed. This is a sign that they are cooked.
Remove from the syrup with a slotted spoon and place in the reserved syrup.
To make the rabdi, bring the milk to a boil in a deep, thick-bottomed non-stick pan on high heat Lower heat to medium and cook, stirring, till it reduces to three-fourth its original volume. Scrape off the cream that will collect on the sides.
Nutrient Value
Amount Per Serving

Serving – 1

Calories
10,649.7
Total Fat
3.8 g
Saturated Fat
1.8 g
Polyunsaturated Fat
0.5 g
Monounsaturated Fat
1.3 g
Cholesterol
61.2 mg
Sodium
1,273.7 mg
Potassium
4,820.0 mg
Recipe by
| | |
| --- | --- |
| Chef – Rajiv Kumar Srivastava | |