White water rafting is not for the faint hearted. If you are up for some adrenaline pumping, a pulse racing sport, then white water rafting is for you.
Whitewater is formed in a rapid, when a river's gradient increases enough to create so much turbulence that air is entrained into the water body, that is, it forms a bubbly or aerated and unstable current; the frothy water appears white. The term is also loosely used to refer to less turbulent, but still agitated, flows.
White water rafting is for people with nerve. The rapids, their incredible speed and the frothing of the fast waters flowing down from great heights is an exciting watch making one jump into a raft and row away. Being blessed with the mighty Himalayas and rapid rivers, India is a sought-after destination for white water rafting.
We have brought you here, India's top places for white water rafting.
Ganga River, Rishikesh, Uttarakhand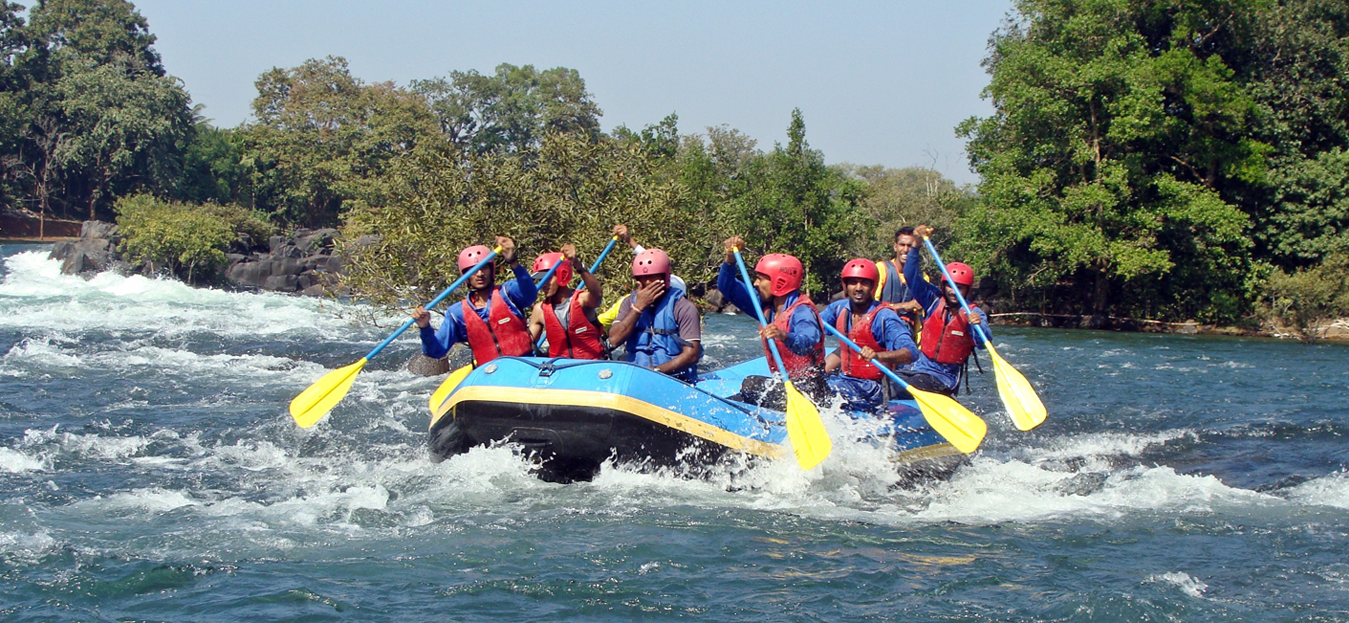 How will it feel to set rapid sail on a stretch of 16 km in River Ganga in Rishikesh, which is one of the world's best rafting destinations? Top-notch! The Ganga rapids range from grade 1 to 4. Across this stretch, there are 13 rapids each named with a fierce love such as Return to Sender, Roller Coaster, Three Blind Mice, Double Trouble, Tee Off and Golf Course. The real charm of this region of Shivaliks is river rafting in Rishikesh.
Best time of the year: September to June.
Grade of difficulty: Grade I – IV
Rafting distance: 16 to 36 kilometers.
Teesta River, Sikkim and Darjeeling
The mighty Teesta River flows through the 3 hilly regions – Sikkim, Darjeeling, and Kalimpong. Teesta's well-known tributary, Rangit, with its multi-dimensional rapids is a challenging ride where even the more experienced rafters feel the excitement coursing through their veins in a never-before thrill ride. These crazy rapids are the type where you would love being taken for a ride!
Best time of the year: October and April.
Grade of difficulty: Grade I – IV
Rafting distance: 11 to 37 kilometers.
A great rafting experience ends with a great holiday. Try Darjeeling – one of the best places on earth, made in heaven.
Brahmaputra River, Arunachal Pradesh
The Brahmaputra is as mighty and ferocious as its name and river rafting here is challenging with grades of difficulty being rated between 4 and 6. Rafting is done when the river finds its way in Arunachal Pradesh down Tibet by cutting the Greater Himalayas. Rapids here go with names such as Pulsating Pulsi and Toothfairy. But don't go by the fairy-tale names; these are rapids that can give you the kind of adventure that will take your breath away. The rafting can last for a week, where you can go for camping alongside the river experiencing the magic of nature with tropical forests, gorges and breath-taking scenery.
Best time of the year: November to March.
Grade of difficulty: Grade IV – VI
Rafting distance: 180 kilometers over the period of 7 days.
River Barapole, Coorg, Karnataka
If you are more of a gentle rapids kind of a rafter, then Coorg is the place for you. You can raft in River Barapole in Coorg, Dakshina Kannada; where the river flows down the Western Ghats along the Deccan Plateau. The upper section has 4 to 5 rapids between Grades 2 and 4 and the lower sections has about 6 to 7 rapids. The rapids also go by gentle names except one – How about Morning Coffee (Grade 2), Grasshopper (Grade 3), The Ramba Samba (Grade 2), The Wicked Witch (Grade 3), Big Bang (Grade 4) and Milky Churn? Like them names? Take them! Go for it if you are doing it for the first time. It is an experience of a lifetime!
Best time of the year:  June to September. Monsoon is the best season.
Grade of difficulty: Grade II – VII
Rafting distance: 8 kilometers.
Kundalika River, Maharashtra
Every rafter must do the Kundalika at least once. It is the fastest river, South of Kolad. It is one of the best destinations for rafting South of the Himalayas. The Kundalika flows amidst the magnificent Sahyadris with the tempting 15 km stretch of rapids welcoming you to an exhilarating experience. The grades are 3 to 4 and the best time to raft here is the monsoon when the Kundalika is flowing strong and full.
Best time of the year: Monsoon and post-monsoon months of June to September.
Grade of difficulty: Grade III – IV
Rafting distance: 16 kilometers.
Another great place to visit in Maharashtra is Lonavla, a popular hill station with great weather.
Indus River, Ladakh, Jammu & Kashmir
The Indus originates in Tibet and flows through the cold landscape of Ladakh and it is therefore extremely cold. The rapids in some places are of grades 1 and 2 and in other places of grades 3 and 5. The most challenging part of the rafting route lies between Alchi and Khalsi, where a kilometer long stretch of rapids makes the rafters scream in excitement. Camping along the river is also a great option as you get to experience the thrill and the beauty of Nature hand in hand.
Best time of the year: Months of June upto late August.
Grade of difficulty: Grade III – V
Rafting distance: 25 kilometers.
Beas River, Kullu-Manali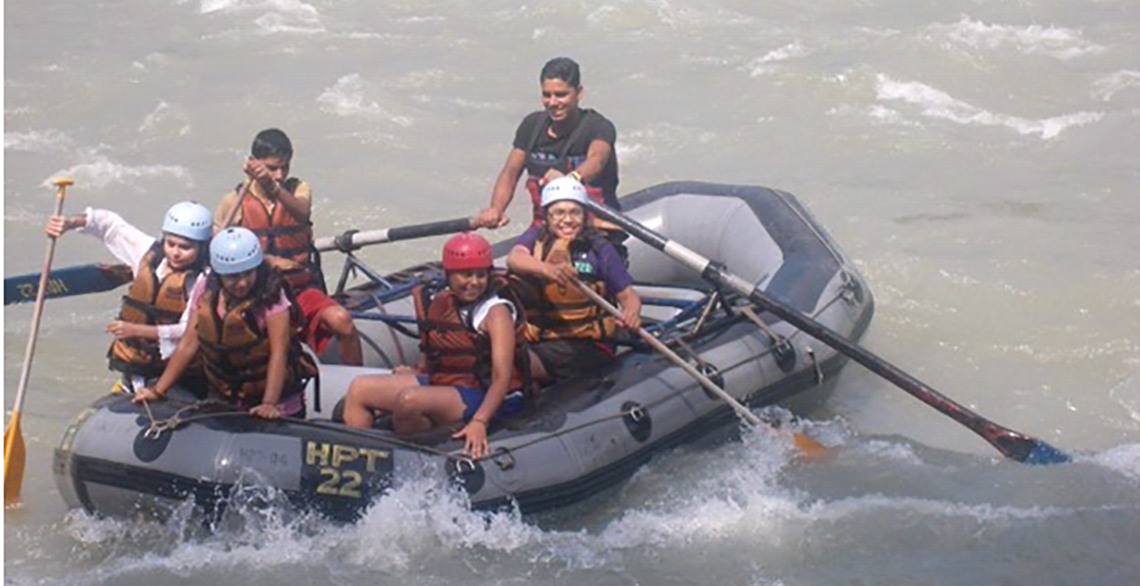 The Beas flows in the Kullu Valley, and rafting is a 14-kilometer stretch that begins at Pirdi and continues till Jhiri. Rapids of grades 1 to 4 make this a real joy ride. A day of rafting can leave you satiated with memories of an adventure that will last you a lifetime. River rafting is available throughout the year except during the period from 15-July to 15-September.
Best time of the year: March to July
Grade of difficulty: Grade I – IV
Rafting distance: 14 kilometers
To add to your experience, book a holiday in magical Manali.
Dandeli, Karnataka
This is a fairly new entrant to the rafting destinations in India. River Kali in Dandeli, Karnataka flows swiftly through the altitude of 1549 feet in the mighty Western Ghats, and makes for one of the best places for rafting for beginners and professionals. The 12-kilometer stretch comprises of grade 2 and 3 rapids.
Best time of the year: November to June.
Grade of difficulty: Grade II – III
Rafting distance: 12 kilometers.
Alaknanda River, Uttarakhand
The most thrilling of all the rapids, is the Alaknanda River flowing in Uttarakhand.  The second largest tributary of the mighty Ganga offers the ultimate river rafting experience over a 25- kilometre stretch between the Chamoli and Rudraprayag. Rafting here is among one of the most difficult and challenging sites and you can prepare yourself to tackle over 75 to 80 grade 3 to 4 rapids. The grade 5 'Hillary Fall' is an experience to die for – it is named after Sir Edmund Hillary's upstream jet boat expedition known as "Ocean to Sky". If you are an adventure freak, put this one as a must-do on your list.
Best time of the year: October to June
Grade of difficulty: Grade III – IV
Rafting distance: 25 kilometers approx.
Zanskar River, Ladakh
If you think you have the nerve to experience Nature at its primitive best, this is the place to go for. The Zanskar river is ice-cold and flows at a height of more than 12, 000 feet. Where the rafting happens, that is between the Padum and Zimo regions, the rapids are of Grades 3 and 4 with tall mountains rising to hundreds of feet on both sides. The route passes through tough terrains and isolated places in Ladakh. The rafting route ends where the Zanskar merges with the Indus. July to August is the only time you can raft here, because through the year, the Zanskar remains frozen.
Best time of the year: July to August.
Grade of difficulty: Grade III – IV
Rafting distance: 30 kilometers approx.
White-water rafting is an experience of a lifetime and with so many destinations on offer, it is time you start planning your rafting holidays for 2018.