Lonavala is located at a short distance from Pune and Mumbai and is a favourite weekend getaway for all travel lovers. For adventure-lovers, tourists or somebody trying to take a break from everyday life, Lonavala provides the perfect spot. It is the go-to destination for different types of travellers whether it is family, kids, couples or just youngsters looking for hang-out. Here are 7 places to visit in Lonavala:
1.   Tiger's Leap
Tiger's Leap, also known as Tiger's point, this place offers a spectacular view from a height of 650 metres. It is a famous tourist spot because of the echo point, and holds major fascination for tourists during monsoons. It offers a great view of lush greenery, waterfalls and lakes all around. The point got its name because of its appearance like a tiger leaping into the valley.
2.   Karla Caves
Karla Caves are the perfect example of the battle between man and nature. Though nature is the ultimate winner, the architectural brilliance has to be commended in these majestic caves. The intricate sculptures and amazingly built pillars are worth walking 300 steps to enter the caves. The artistic excellence of men is evident in these caves. Karla Caves are representations of past that have been carved with mesmerising beauty. One of the oldest Buddhist caves in the country, the Karla caves are evidence of Lonavala's rich historical background.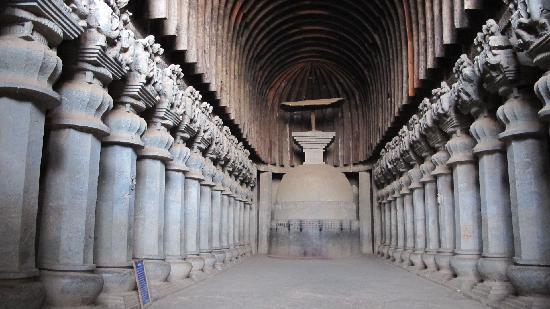 3.   Rajmachi Fort
Rajmachi Fort is amongst the loveliest treks in Maharashtra attracting youngsters and trekking devotees with its two peaks known as Manoranjan and Shrivardhan. It offers beautiful attractions in the form of immeasurable natural beauty. The beauty of these forts is at its peak during monsoon as the green slopes give habitat to many butterflies and birds, and the view amongst the mist is a delight for the eyes.  
4.   Pawna Dam
Pavna Lake is an artificial lake surrounded by immense beauty built from the dam made over Pavna river. The water of the river is perfect for boating, speed boating and water skiing. It is also popular because of its calming air and the sight of clouds reaching down towards the embankments of water. Even the route to Pavna dam is picturesque with awe-provoking sights.
5.   Kune Falls
These are the fourteenth highest waterfall in the country. It falls from a height of more than 100 feet.  Lying between the twin hills named Lonavala and Khandala, this waterfall offers a visual delight to the viewers. Moreover, the surrounding view of gorgeous greenery adds to its beauty. The three-tiered waterfall is at its grandest during the monsoon season dazzling tourists with its breath-taking beauty.  It is a must-visit spot for those visiting Lonavala.
6.   Duke's nose
This peak is a huge monolithic structure, piercing the clouds with its pointed and unique shape. The landmark is so named due to its resemblance to the nose of Duke of Wellington. It offers the grandest views of surrounding mountains, valleys and forests. It is a popular spot for rock climbing and ziplining.  A beautiful view of sunset can be seen from the top. It is a marvelous picnic spot.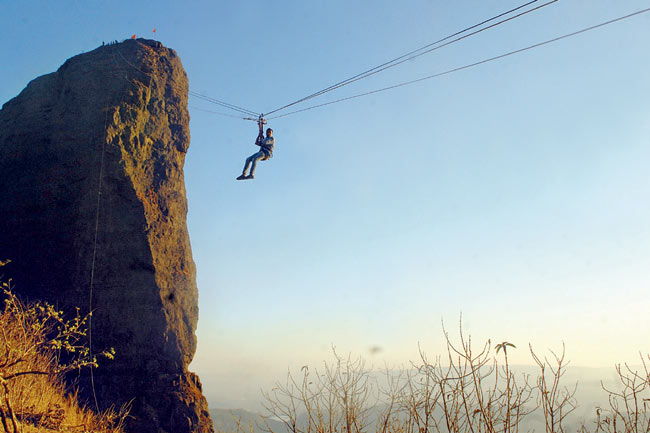 7.   Scorpion's sting
It's a recreation spot for the adventure-seekers. The climb up and down this region is exciting. It is a small string of mountain at the last point of Lohgadh Fort, known for its trekking expeditions and great views of thick and dense forests. It is a figure-style projection and got its name because of its appearance. From this peak, one can descend to Visapur Fort.
The Tikona Fort, Ryewood Park, Bhaja Caves, Celebrity Wax Museum, Tungarli Dam, Sausage hills and Lohagad Fort are other popular attractions that one could visit when in Lonavala. You never have to fear running out of things to do and places to visit when in this beautiful hill station.
So book a reservation at our new resort Under the Over, and enjoy a holiday with both excitement and relaxation in just the right pro