I'm very clear about this. I hate biryani. Alright, 'hate' is too strong a word, but I really dislike biryani. You may ask, "Biryani is so popular all over India, and there are so many different types. How can you dislike them all?" I don't dislike biryani as a dish. I'm just put off by the bay leaves and cloves that so strongly adorn and flavour it. Independently, I enjoy almost every characteristic of a good biryani — the rice, masala, vegetables — but the cloves and bay leaves? I can't stomach the taste. So, why this bizarre rant about biryani, you ponder. During my recent stay at Yelagiri – MariGold Ridge, I had the pleasure of meeting Chef Palani from Ambur, who served me a chicken biryani, which I absolutely 'loved'. Yes, loved.
Initially, I hesitated at the thought of eating biryani, but I relented at and accepted the promise of a food experience like never before. While waiting for my choice of dish to arrive, I was informed that the town of Ambur is well known for the 'Ambur Biryani', which, according to history, emerged during the Nawab of Arcot's regime. Today, it is a staple in South Indian Muslim weddings. Located approximately 30 km away from Yelagiri, Ambur has more biryani shops per square kilometre than any other town in the world — not surprising, considering the legend that the biryani business started here in 1890!
Going back to my change of heart, I was served a portion of the Chicken Dum Biryani, sealed and cooked in a dum pukht or slow oven so that the meat cooks slowly in its own juice and marrow, with a customary leg piece. As the bowl of the steaming biryani was placed before me, I instinctively took the chicken leg with a tissue, expecting it to be piping hot. Instead, what I got was an ice-cold bone, which showed no signs of having been cooked using one of the most ancient cooking techniques in the world. Yet, the meat was tender and oven-like and capable of scalding my tongue.
Perplexed, I asked Chef Palani how he had done it. "A simple trick," he told me. While sealing the biryani, he had left the bone outside so that it wouldn't heat up in the dum and could act like a grip while one enjoys the succulent meat. Indeed a stroke of culinary genius. I spent the next half hour populating my digestive system with more and more grains of the Seeraga Samba rice of the biryani. I felt impregnated with food, but I couldn't stop eating. There were no vegetables, no accompaniments, nothing to wash it down with — it was just my biryani and me. It's a pity I couldn't eat it all. What I did, however, is badger Chef Palani to tell me how this amazing dish is made, and that's how I got the secret recipe of Chef Palani's Ambur-style Chicken Biryani to share with you.
Serves: 2–3 | Preparation time: 15–20 minutes | Cooking time: 50–60 minutes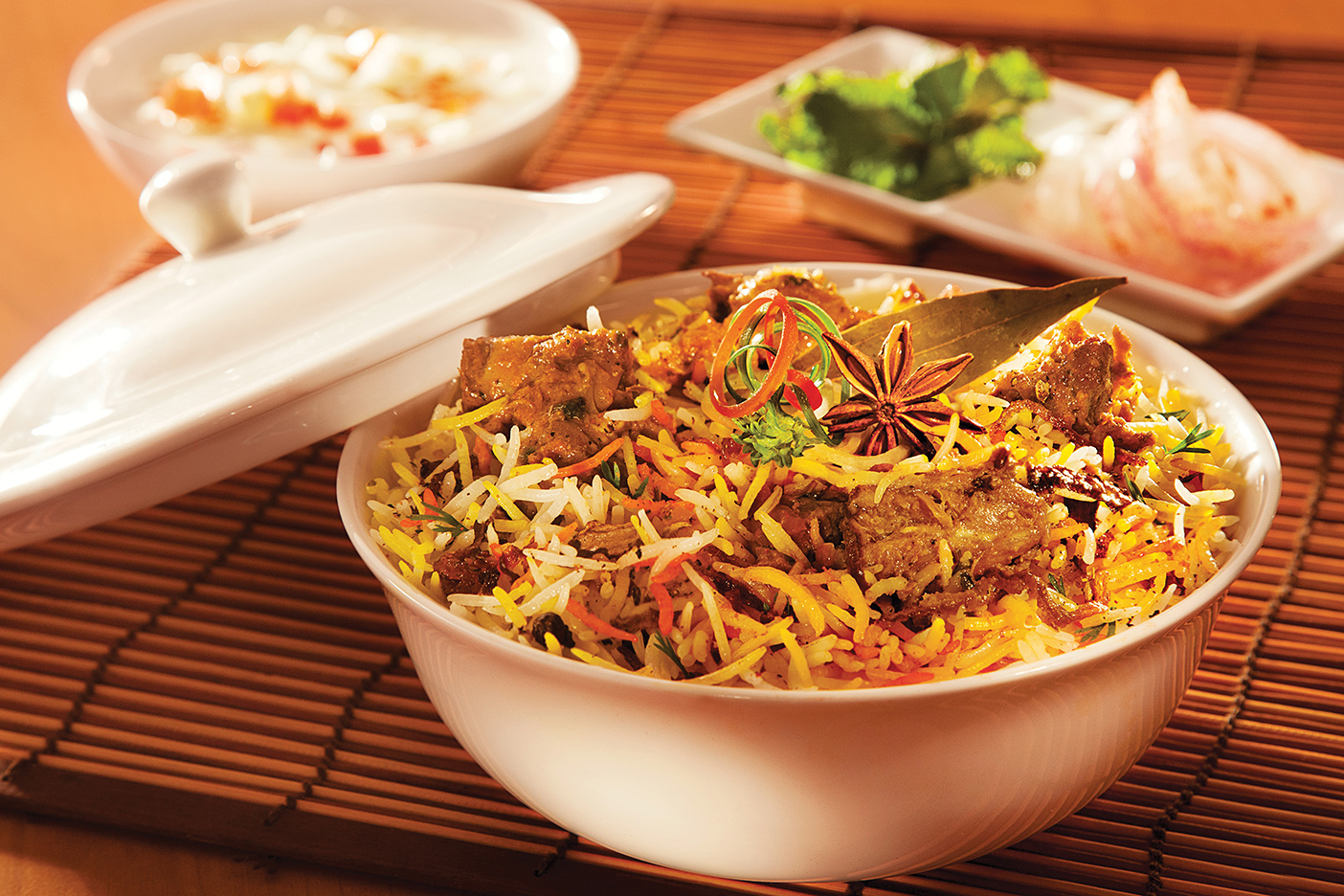 INGREDIENTS
250–300 gm chicken (with or without bones)
2 cups Seeraga Samba rice, soaked in water for 20 minutes
3 medium-sized onions,
finely chopped
3 tomatoes, finely chopped
2 green chillies, slit in half
5 tbsp ginger–garlic paste
1/4 cup mint leaves
1 cup chopped coriander leaves
1/4 tsp turmeric powder
1 tsp red chilli powder
1 cup beaten curd/yogurt
4 tbsp cooking oil
2 tbsp ghee
3 cloves
1/2 cinnamon stick
2–3 bay leaves
1 star anise
2 green cardamom
1 tsp lemon juice
Salt to taste
METHOD
For the chicken masala
Marinate the chicken pieces with turmeric powder and set aside for 10 minutes. Heat 4 tbsp oil in a handi. Temper the cloves, cinnamon, star anise, bay leaves and green cardamom.
Add the ginger–garlic paste and sauté for a while. Add 1 tbsp curd and cook for a minute on a low flame.
Add the marinated chicken and a little salt. Cook it covered on a low flame for 10 minutes. Do not add any water, as the chicken will cook in the water it releases.
Add the chopped onions and green chillies. Cook for a minute. Add the chopped tomatoes and mash to a pulp.
Add the mint and coriander leaves. Sauté gently. Add the red chilli powder, coriander powder and the remaining curd.
Mix well and let the mixture cook for five minutes. Remove from heat and transfer the masala to another bowl.
For the rice
Soak the rice for 20 minutes. Boil nine cups of water in a vessel. Once it starts boiling, add the washed and drained rice to it.
Add salt as per taste and the lemon juice. Cook the rice on a medium flame till it is half-done, which means the grains should be separate and firm but not hard (this should take around 8–10 minutes). At this stage, remove the rice from the heat, drain the water completely, and set the rice aside.
For the dum process
In the same pot in which you cooked the chicken, pour a ladle of the masala and spread it evenly. Top it with a layer of the half-cooked rice. Repeat the process and create layers of rice and chicken masala up to the brim of the pot. Seal the pot with a foil or cover with a lid.
Heat a flat frying pan or tawa. Place the pot on the tawa and cook on a low flame for 20–30 minutes. Remove the pot from the tawa only at the time of serving. Mix well and serve hot.