I'm very clear about this. I hate Biryani. Ok, 'hate' is too strong an adjective, but I do dislike Biryani.  You may ask, "Biryani is so popular all over India, and there are so many different types, how can you hate them all?"  I don't hate Biryani as a dish. I'm put off by the bay leaves and cloves that so strongly adorn and flavor it. Independently, I enjoy almost every characteristic of a good Biryani – rice, masala, vegetables (who puts string beans in a Biryani?!! :-S), but the cloves and bay leaf? I can't stomach the taste.
So, why this bizarre rant about Biryani you ponder? I was in Yelagiri last month, and I met a cook from Ambur, who served me a Chicken Biryani, that I absolutely LOVED. Yes, loved.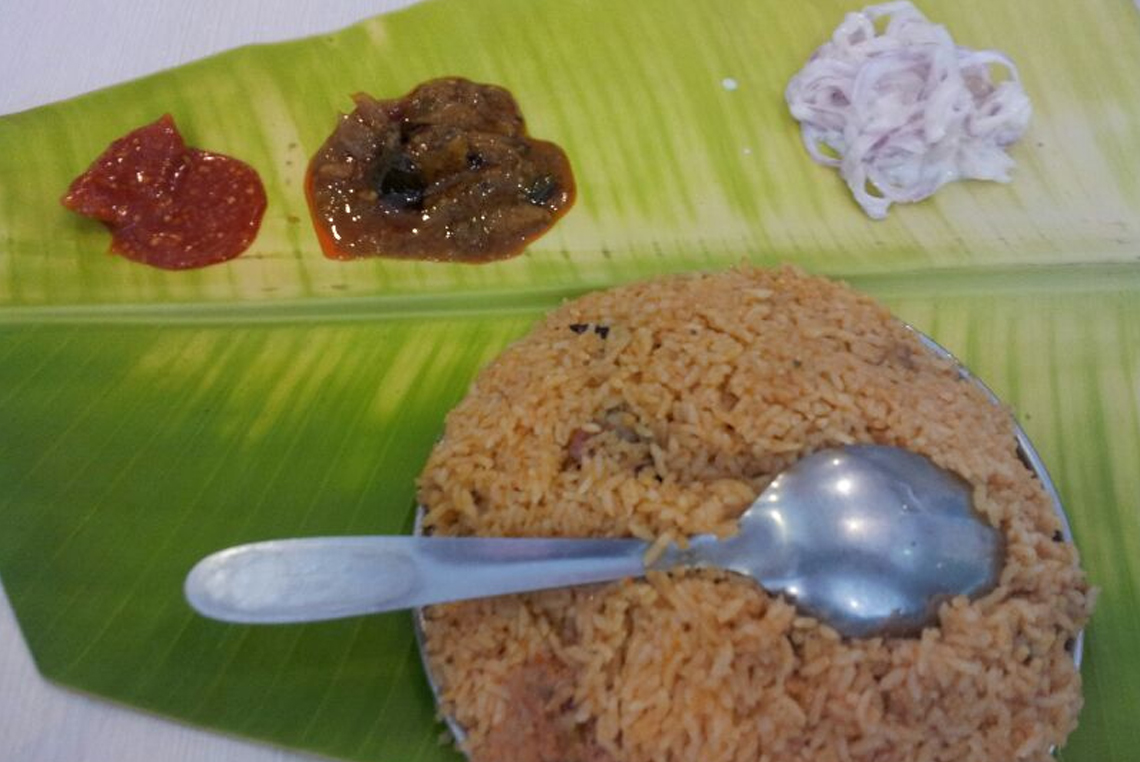 While I hesitated initially, I crumbled and accepted at the promise of a food experience like never before. While waiting for my dish of choice to arrive, I was informed that the town of Ambur is well-known for the "Ambur Biryani" which according to history emerged during the Nawab of Arcot's regime. Today it is a staple in South Indian Muslim weddings.  Ambur, located approximately 30km away from Yelagiri, has more Biryani shops per sq.km  than any other town in the world; not surprising considering the legend  that the Biryani business was started here in 1890.
Going back to my change of heart – I was served up a portion of Chicken Dum Biryani – sealed and cooked in a dum pukht or slow oven, such that the meat cooks slowly in its own juice and marrow- with a customary leg piece.  As the bowl of steaming Biryani was placed before me, I instinctively grabbed the bone of the chicken leg with a tissue, expecting it to be piping hot.  Instead, what I got was an ice cold bone, which showed no signs of having been cooked using one of the most ancient cooking techniques in the world.  Yet, the meat was tender and ovenlike, and capable of scalding my tongue.
Perplexed, I asked the cook how he'd done it. A simple trick, he assured me. While sealing the Biryani, he'd left the bone outside, so it wouldn't heat up in the dum, and could act like a grip to enjoy the succulent meat.  Indeed, a stroke of culinary genius. I spent the next half hour populating my digestive system with more and more grains of jeera sambha from the Biryani. I felt impregnated with food, but I couldn't stop eating. There were no vegetables, no accompaniments, nothing to wash it down- just me and my Ambur Chicken Dum Biryani. It's a pity I couldn't eat it all.
I hope to meet that cook again, and this time, I'll ensure I'm well-starved, so I can do full justice to this fantastic dish.
The views expressed by the author are in her personal capacity.