Relentless waves touching the sand, fascinating some, with a different medley of colours, Ocean is the epitome of nature. Creating different emotions in us; happiness, peace, melancholy, joy and warmth, a beach is an evergreen choice to spend time with.
Majestic Ocean inspires artists, gives solace to the heart, awakens the childlike behaviour in elders and gives great fun to youngsters. An evening walk at the beach is an in-expensive yet a wonderful activity.
We have listed the top fifteen beaches of India for you to peruse. Any vacation must include at least an evening in these kinds of shores since those moments are out-of-the world.
 1. Agonda beach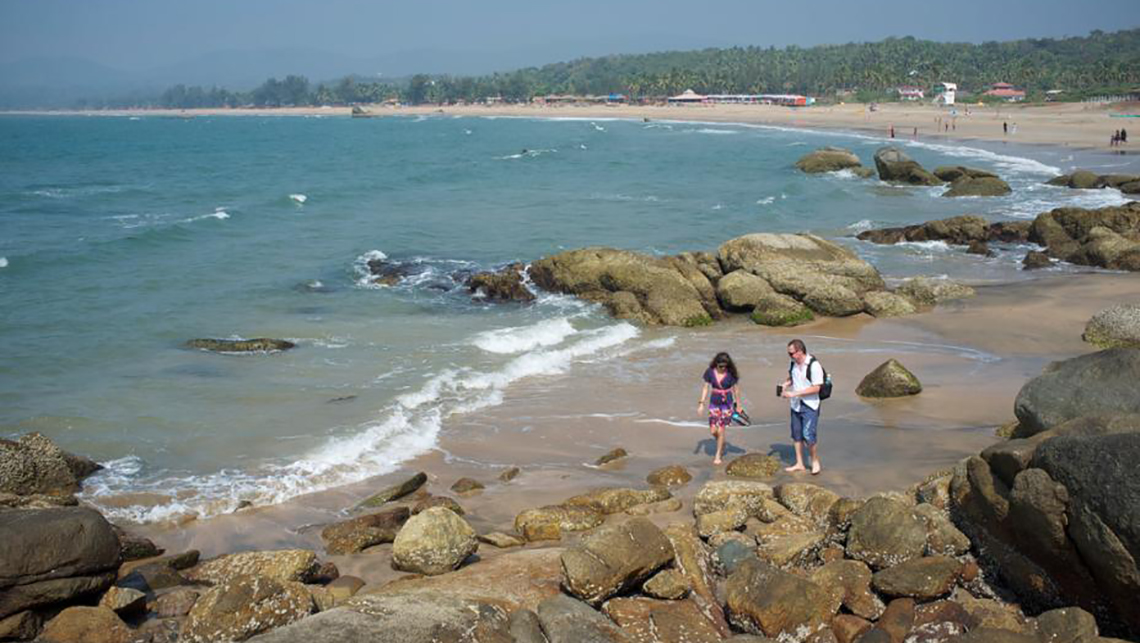 Tranquil, pristine and aloof are the words that describe this beautiful beach. Away from crowds, at the extreme south of Goa, this beach is the best place to be if you wish for solitude. The sea at Agonda is rough and the sand is of a rich golden shade. If you are travelling to Goa, do not miss this place since it is considered to be the best beach of India.
Famous for Agonda church and as the nesting place for Olive Ridley turtles.
 2. Varkala beach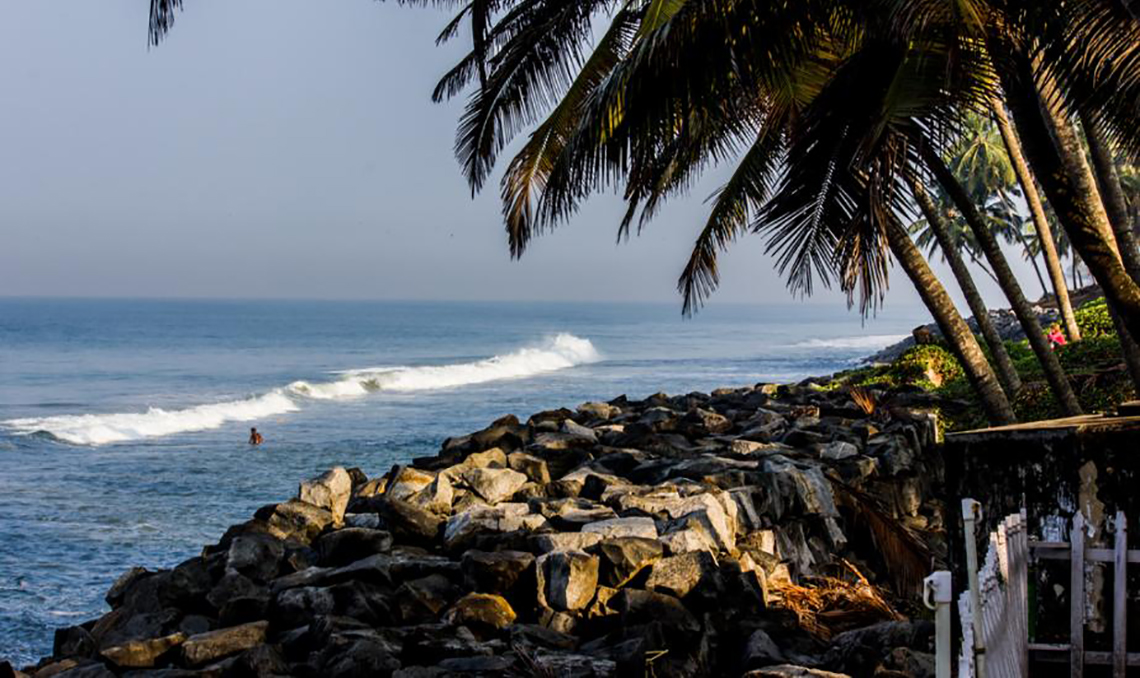 Present in the outskirts of Thiruvananthapuram, Varkala is another beach whose emerald greenish blue ocean has mesmerized many people. The cliffs on the shore, the sunrise and the sunset from the beach, calm waves of sea create an enticing atmosphere. This beach shall bring out a multitude of emotions in us.
Varkala is famous for many international spas around where you can indulge in various therapeutic massages and treatments here.
 3. Radhanagar beach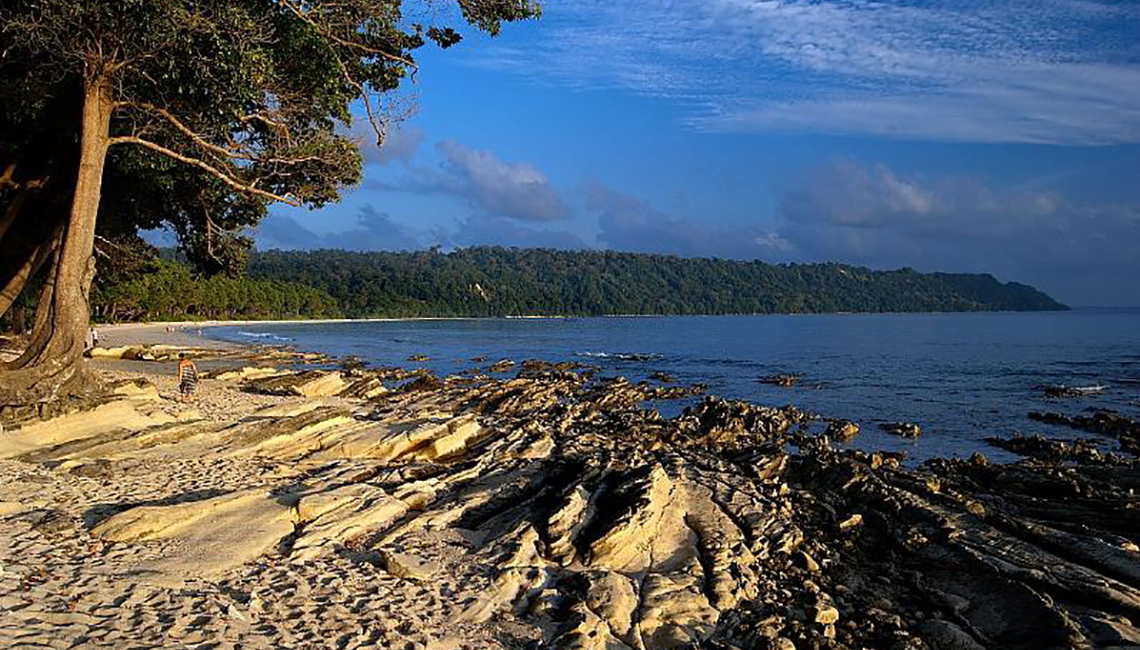 Present in one of the territories of Andaman and Nicobar Islands, Havelock Island, Radhanagar beach, with a unique greenish blue sea is amazing to look at. Also Radhanagar beach is very safe for swimmers as the water is shallow. A must visit for every tourist going to Andaman and Nicobar.
Radhanagar beach is famous for its scenic surroundings and the variety of flora.  
 4. Lighthouse beach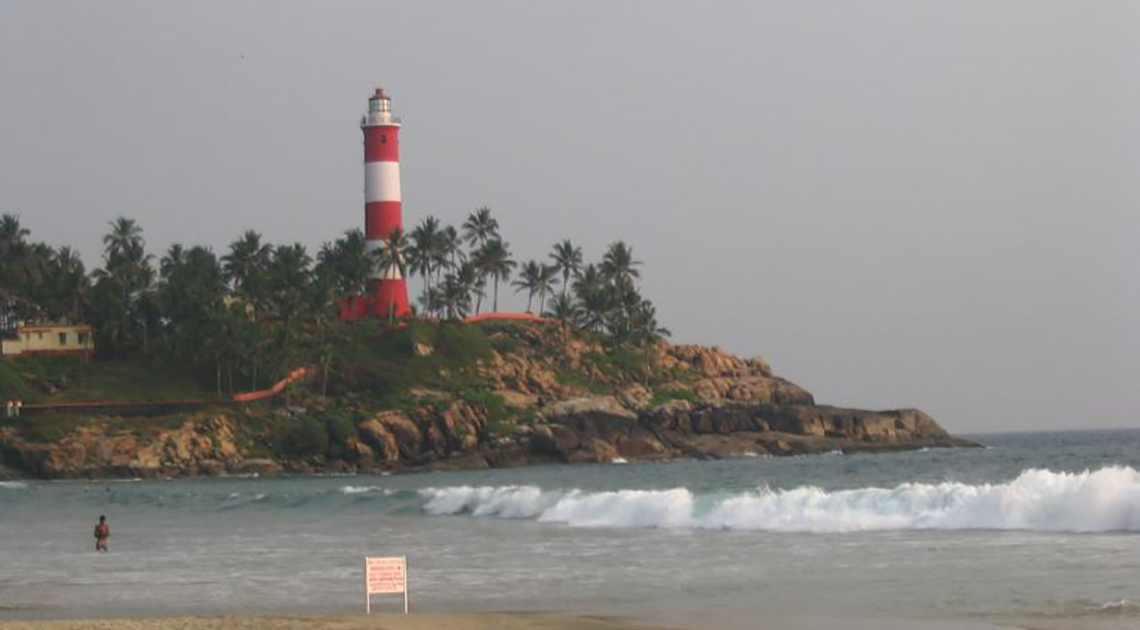 Kovalam, the name itself is synonymous with magic, luxury and splendour. Lighthouse beach is one of the three beaches of Kovalam where old Vizhinjam light house is located. Its scintillating beams of light create a lovely atmosphere as the water and sand reflect the light.
Kovalam is famous for its fantastic resorts, cleanliness and royal appeal.
 5.  Cavelossim beach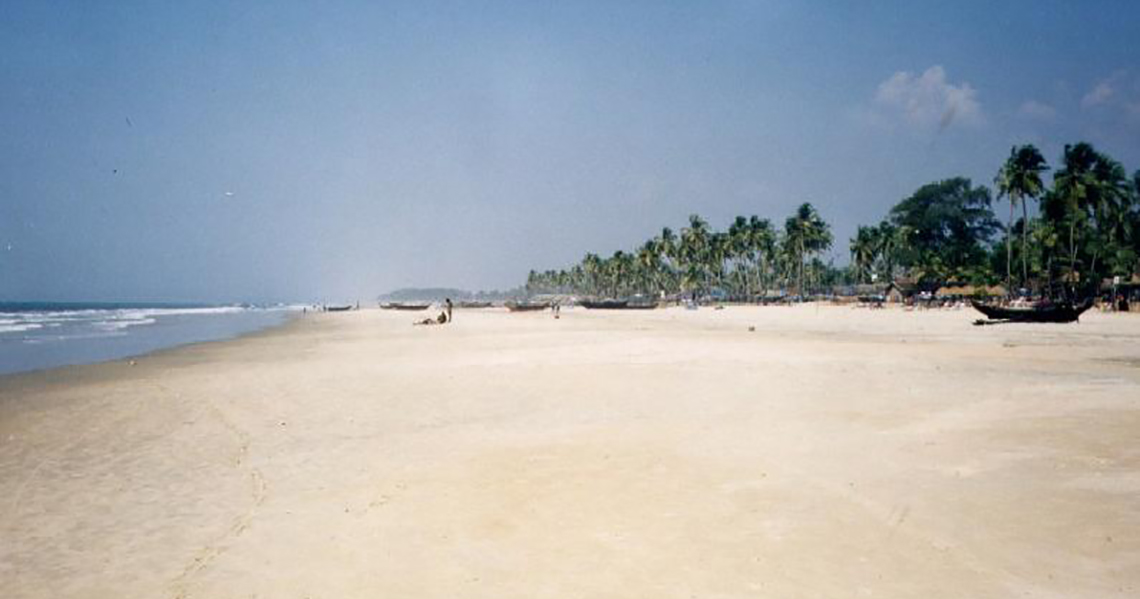 Another entry from Goa, Cavelossim beach with white sand and black rocks is a fabulous place for tourists. You can taste authentic Goan cuisine in small shacks around this beach. This beach lies between Sal River and Arabian Sea and is famous for activities like Dolphin watching and boating.
Cavelossim is famous for Sri Shantadurga temple.
 6. Mandrem beach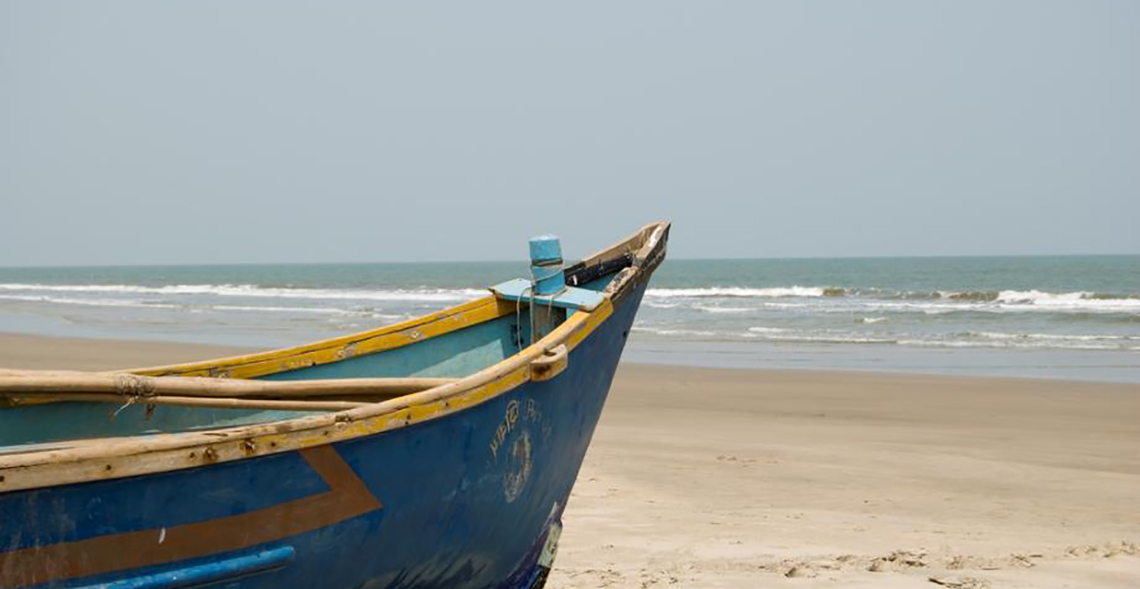 Yet another heavenly beach in Goa, Mandrem is the best choice for honeymooners  and for couples in love. Iconic location, good privacy and safety are the top features of this beach. Golden sands, high waves and cozy atmosphere make this an ever-special spot.
Mandrem is well-known as one of the most romantic getaways in Goa.
 7. Pondicherry beach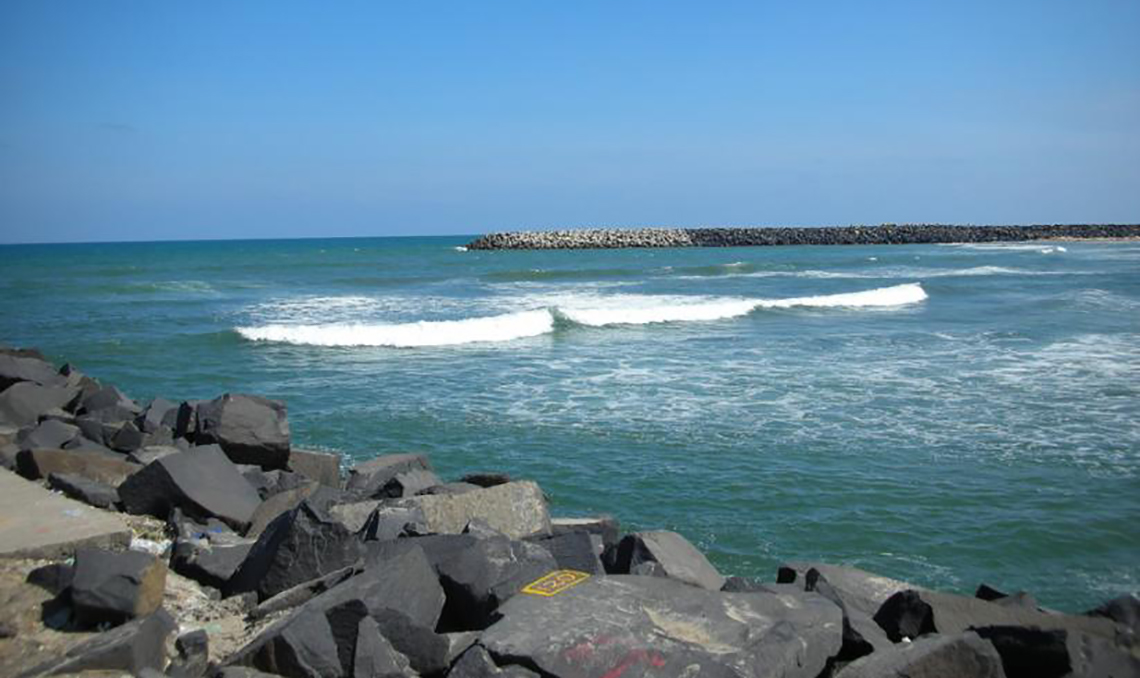 With a French connection, Pondicherry attracts people from all over the world. The beaches of Pondy are famous for its magnificent rocks and cliffs. Just to stand on the shore of Pondicherry beach and see the waves crashing against the cliffs is an enlightening experience.
Aurobindo ashram, Auroville and charming churches are some of the attractions of Pondicherry.
 8. Mamallapuram beach
Coming to the east coast, this is a wonderful beach situated in the heritage town of Mamallapuram in Tamil Nadu. Just a couple of hours from Chennai, this is place where excellent architecture, temples, sculptures, lush greenery and art can be seen along the pristine Bay of Bengal.
Mamallapuram is a historic place where you can shop for unique crafts.
 9. Calangute beach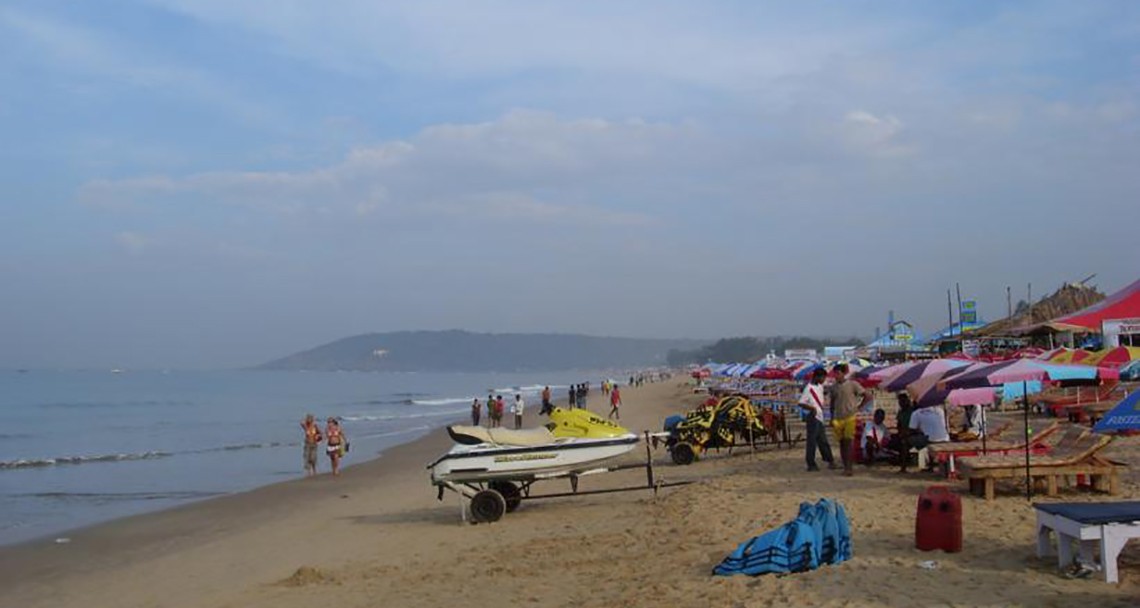 No visitor to Goa would come back without visiting the Calangute beach. It is the most popular beach in Northern Goa. Many international and national visitors frequent this beach throughout the year. 'The Beatles' used to visit this beach during 1960s. The sea can be tranquil and rough here depending on the season.
Water sports like parasailing, water skiing are present in Calangute for the enjoyment of tourists.  
 10. Muttom beach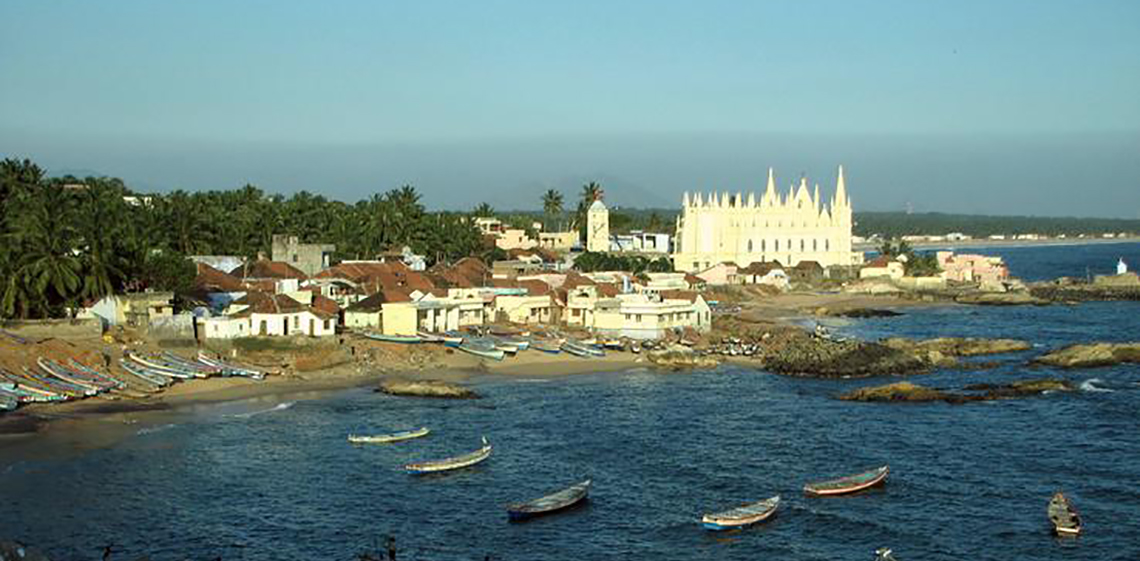 Situated at the southern most point of Indian Mainland of Kanyakumari (Tamil Nadu), this beach is set amidst rocks and caves. It is very tidy and is an excellent spot to watch the famed sunrise and sunset at Kanyakumari. A small fishing village, Muttom has a lighthouse that was built during the British period.
Muttom is known for Thirunandikarai cave temple and a lovely catholic church, nice weather and pristine coast.
 11. Rishikonda beach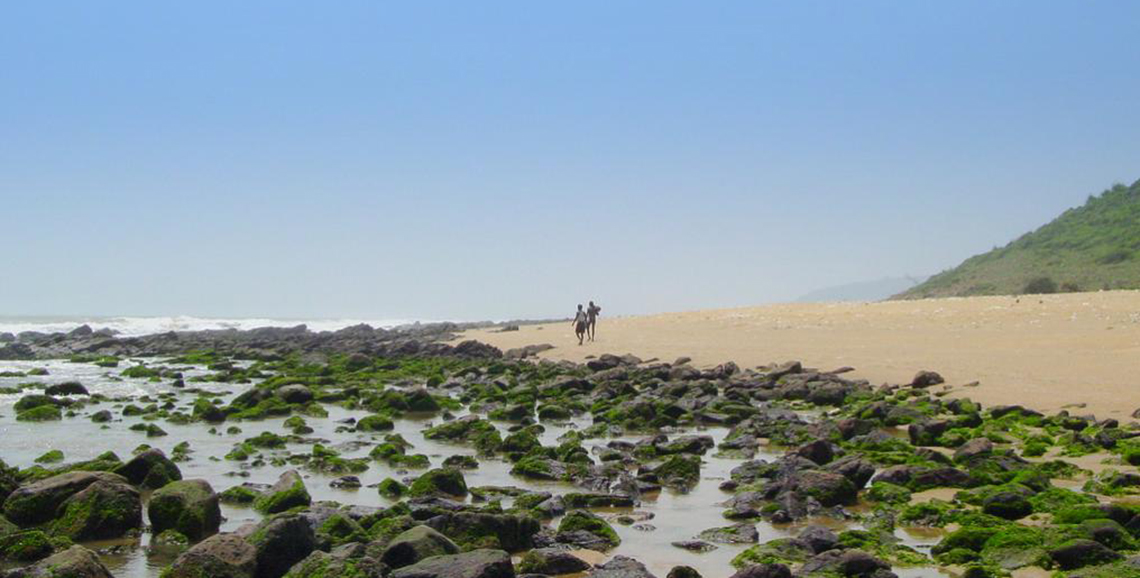 In the city of Vizag (Visakhapatnam) of Andhra Pradesh, this clean and lovely beach is situated. With more privacy and clear sea, many families visit this beach during weekends. Dry yellow sand and sunny climate of the city makes it an ideal place to relax with your family and friends. Good local Andhra food can be relished in various tourism department's restaurants present on the shore.
Vizag is famous for its rocky coast, shipping industry and temples.
 12.Ganapatipule beach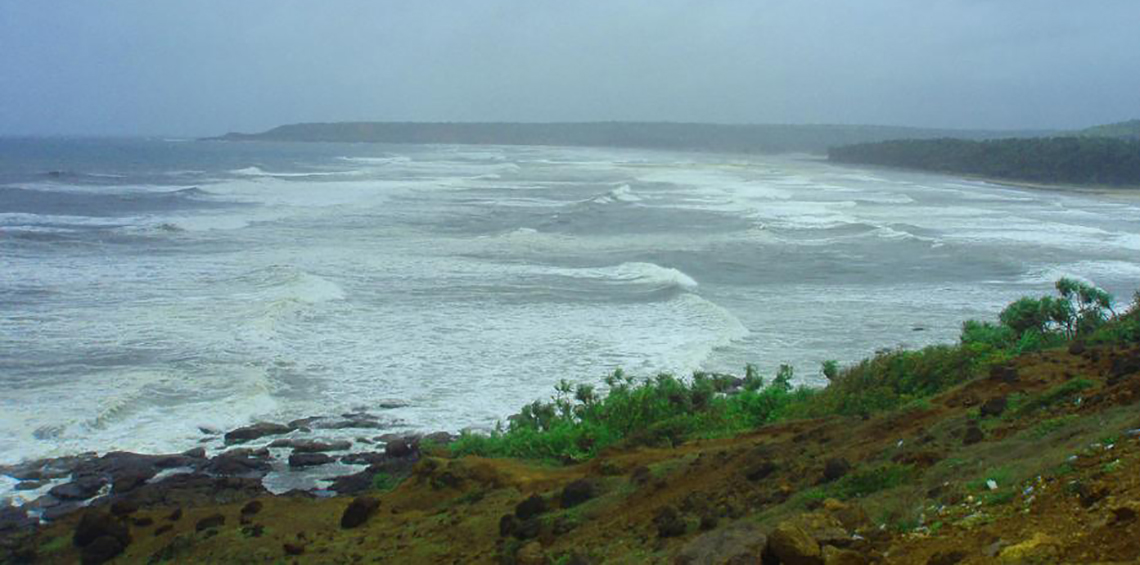 On the Konkan coast of Maharashtra, in the Ratnagiri district, this awesome beach is located. Vibrant with culture, this small town welcomes tourists warmly. Spectacular to look, the Ganapatipule coast line is idyllic and scenic. This beach has a pleasant climate almost throughout the year and boasts a lighthouse too.
This town is very popular among tourists for its friendly atmosphere, nice weather and a wonderful beach.
 13. Gokarna Beach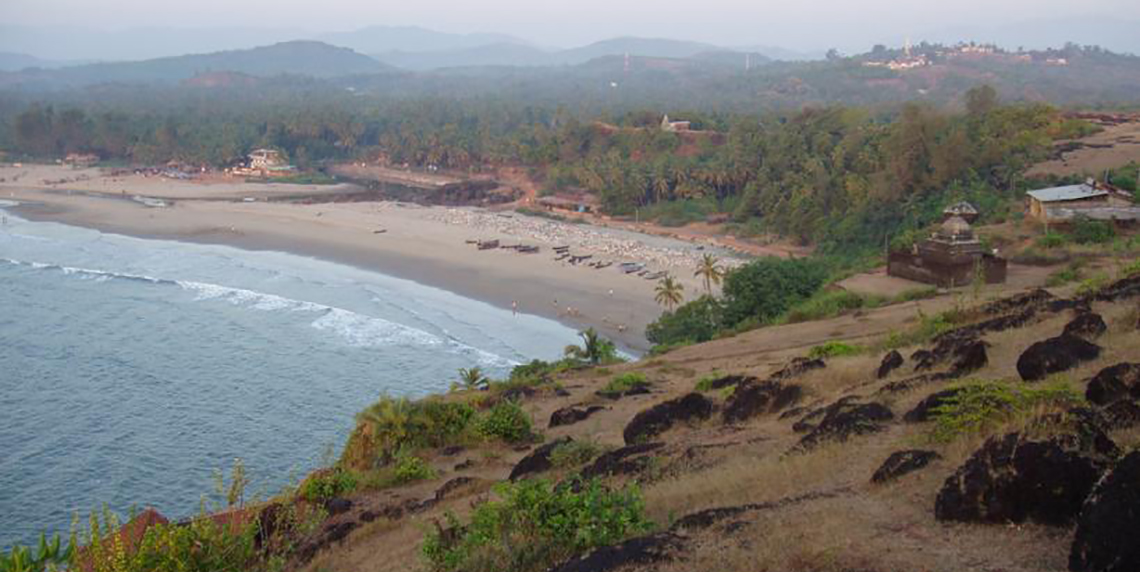 Gokarna, a holy pilgrimage place, is located in Uttara Karnataka. It has several beaches like Om beach, Paradise beach, etc. Gokarna beach is one of the best places where more emphasis is on the performance of religious rituals on the shore. Almost all the visitors to Gokarna visit this beach. If you are looking for any holistic beach, then this is the place to be.
Gokarna's Lord Mahabaleswara temple is the main attraction here and is considered as a holistic place by all Indians.
 14. Baga beach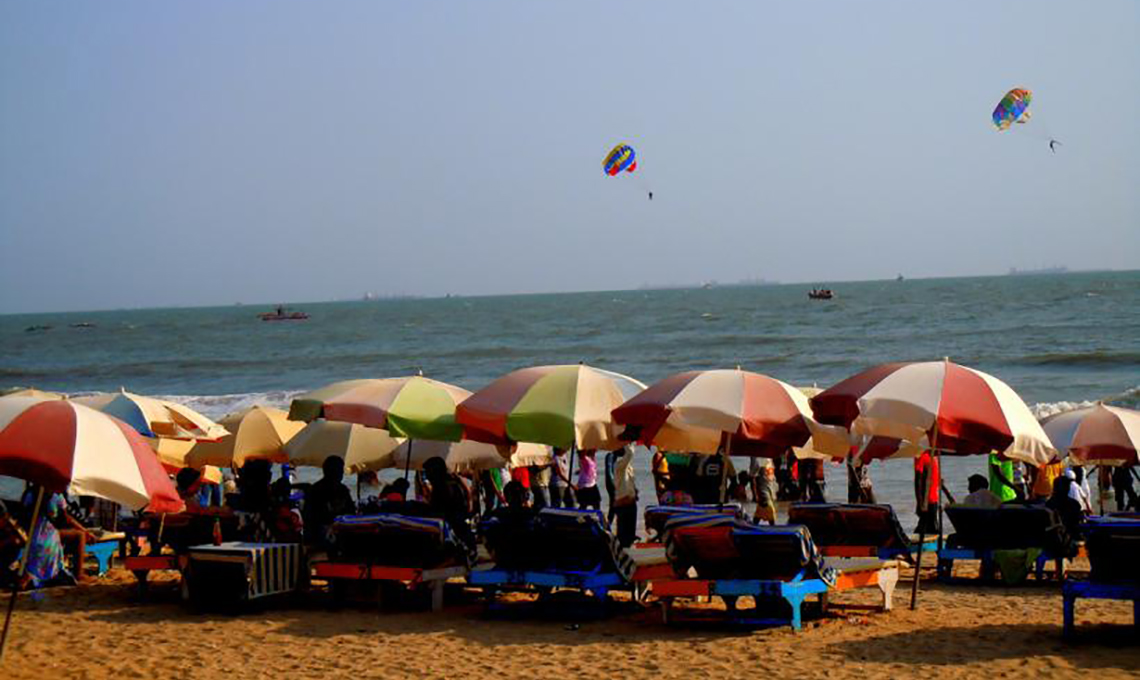 Goa and ocean are inseparable. The beautiful Baga beach is known to almost every tourist of Goa. Though less crowded than Calangute, this place does not lack its options for fun and joy. With a number of shacks on the shore selling sumptuous food and several places with vibrant night-life, Baga has a cosmopolitan crowd which knows the definition of fun.
Baga is the place to be if you are keen on wind surfing, kite surfing, island visits by boats, etc.
 15. Devbagh beach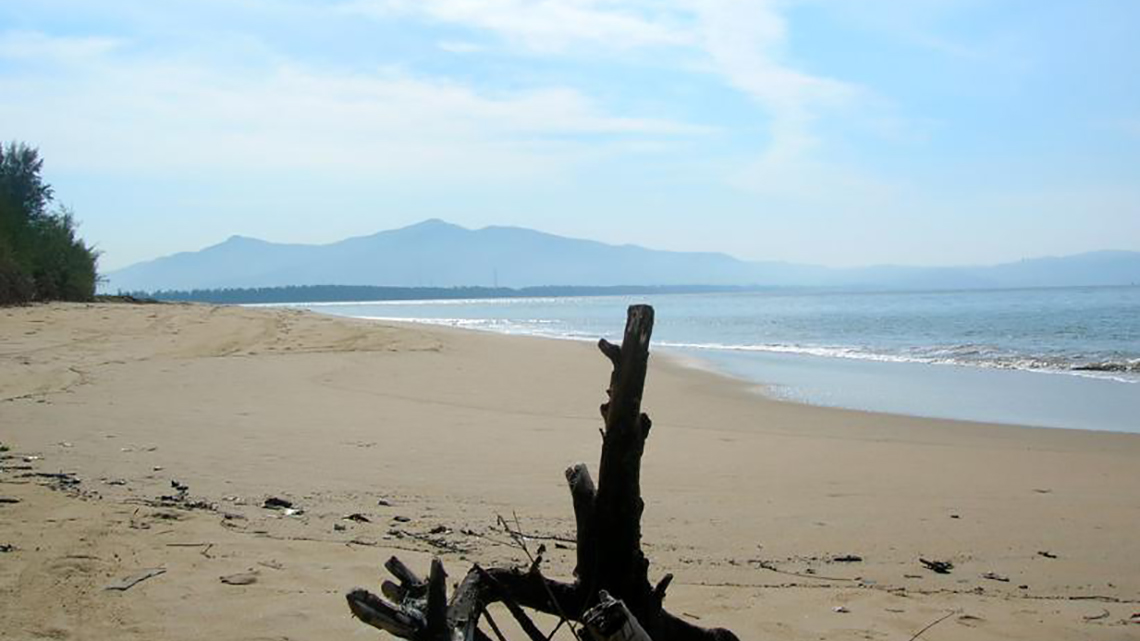 In the sea-side town of Karwar, Karnataka this serene beach is located. Devbagh beach is actually an island beach with the Western Ghats on one side and the Arabian Sea on the other side. Soothing climate, cool waters and soft sand makes this location absolutely stunning. Dense forests and long beach can be explored at a single location.
Devbagh beach offers snorkeling and kayaking activities which attracts many adventure enthusiasts.
Apart from the above, Candolim beach, Anjuna beach, Miramar beach, Arambol beach, etc.,  of Goa, Yarada beach of Vizag, Kozhikodu beach, Bekal Fort beach, Cherai beach and many more beaches of Kerala,  Karwar beach, Malpe beach, Murudeshwar beach etc., of Karnataka, Rameshwaram beach, Covelong beach etc., of Tamil Nadu are jewels of peninsular India. Mother Nature has blessed India with so many beautiful beaches, truly making India, Incredible!