India is a land that is blessed by multiple hues of culture, and the cultural diversity of the country comes alive in the various festivals that are celebrated in different regions. The festivals are numerous and vary from region to region, but each one has its own sparkling uniqueness. One of the festivals celebrated in different forms across the country is Makar Sankranti. This festival marks the change of season and is celebrated on the 14th of January. The festival celebrates the transition of the sun into the Zodiac sign of Capricorn or Makara. Makar Sankranti marks the beginning of a six-month auspicious period for Hindus, which is known as Uttarayan. Makar Sankranti is also celebrated as a harvest festival by farmers across various regions of the country.
Sankranti Celebrations across Different States                        
 Makar Sankranti is synonymous with the freshness of new crops and colourful kites bobbing in the sky and straining to fly free from the thread that holds them anchored to the earth. As with every Indian festival, the air is permeated with waves of devotional fervour as people worship the Sun God. Though Makar Sankranti is celebrated differently in different parts of the country, these celebrations are like multi-hued flowers strung together into one beautiful garland that adorns the country resplendently.
Punjab
Makar Sankranti comes alive in true Punjabi vibrancy as Lohri when the entire state erupts in a Bhangra dance of celebration around a bonfire.
Gujarat
Makar Sankranti explodes as Uttrayan into a glittering display of colour as the sky is virtually covered by colourful kites of all sizes and colours. The population of the entire state can be found on the terraces shouting in glee as they watch the kites soaring in the sky along with their own spirits.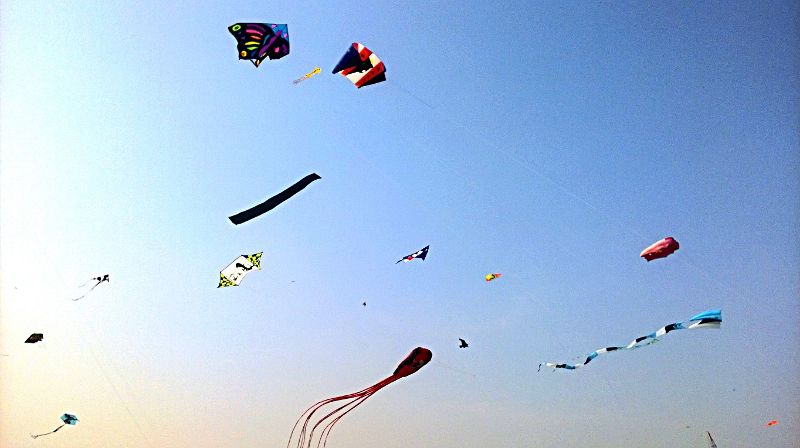 Maharashtra
Makar Sankranti becomes an occasion to spread cheer and bonhomie; existing relations are strengthened, new relations are forged, and broken relations are mended when people exchange a mixture of sesame, jaggery, and other ingredients, which is collectively called Tilgud. While exchanging the Tilgud they tell each other ""til-gul ghya, aani god-god bola", which means "Have Tilgud and say sweet words".
Andhra Pradesh
Makar Sankranti assumes a grand four-day avatar marked by ritualistic worship and celebration. The first day, which is known as "Bhogi", marks the ritual of discarding the old and ringing in the new. People throw old household items into a bonfire and replace them with brand new items. The second day is the actual festival when people perform pujas and visit each other's homes wearing new clothes and exchange traditionally cooked sweets. They decorate their homes with colourful rangolis. The third day known as "Kanuma" is an occasion to worship gaily adorned cattle and feed them. On the fourth day, known as "Mukkanuma", people celebrate by organising various fun activities, which include ox racing and other sports.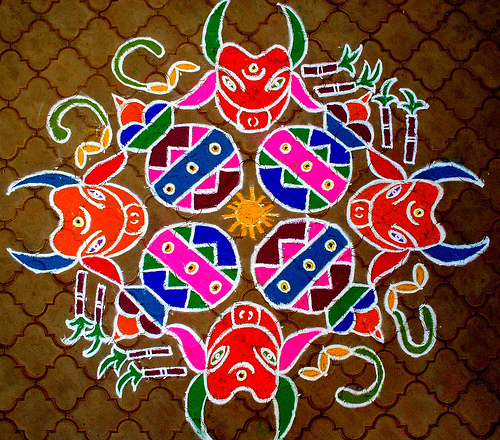 Tamil Nadu
Makar Sankranti is celebrated on a grand scale as Pongal and is similar in many respects to the celebrations in neighbouring Andhra Pradesh. Here too, it is a four-day affair, with the first day known as Bhogi Pandigai when old household items are replaced with new ones and life literally turns into a new leaf with the houses decorated with Neem leaves in a ritual known as Kappu Kattu. The second day is the main festival and is known as Pongal, and this is the day when the iconic rice dish known as Pongal is prepared to usher in the new harvest. Mattu Pongal is the name given to the third day of the festival where cattle are decorated, worshipped, and fed. The fourth day of the festival which is known as Kaanum Pongal is an occasion for social interaction and spending quality time with the family.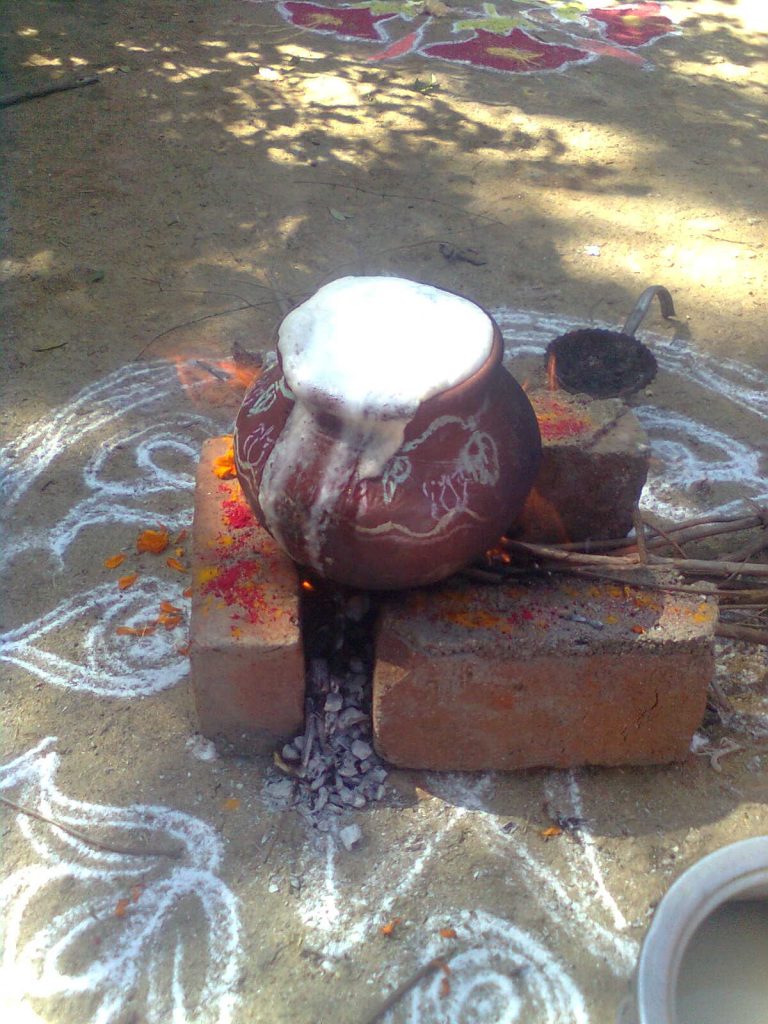 No Indian festival will ever be able to complete with the ecstasy of Sankranti.
Yummy Sankranti Delights across Different States
The food prepared for this fest just tastes divine, for it is made to be offered to the Gods. Makar Sankranti is no exception and the aroma of unique and tasty dishes waft through the country on this auspicious day.
Sesame and Jaggery are two ingredients that weave a common thread in the delicacies prepared across the country during Makar Sankranti.
Bihar: Small balls made of sesame and jaggery called Tilgud are partaken off with a large relish in Bihar, along with Khichdi, which is prepared by cooking rice, pulses, and vegetables together.
Gujarat: If you are in Gujarat during Makar Sankranti, you will be seduced by the spicy taste of Undhiyu, which is a mixed vegetable dish consisting of eggplants, raw bananas, sweet potatoes, and green beans. This vegetable with crispy Pooris is indeed a tantalising gourmet experience.
Maharashtra: If one is celebrating Makar Sankranti in Maharashtra than along with the ubiquitous Tilgud, it is also an occasion to savour the taste of some authentic Maharashtrian Halwa and Puran Poli.
Tamil Nadu: The dish that is synonymous and bears the same name as the festival, Pongal, is a preparation one cannot afford to miss. Sweet Pongal prepared by boiling rice and lentils along with jaggery and topped with dry fruits like cashew nuts and raisin is a dish that will raise the simple act of eating to a divine experience.
If you are planning to travel to Tamil Nadu during the long Sankranti weekend, our recommendations are Ooty, Kodaikanal, Madurai, Yercaud, Coimbatore, Yelagiri, and Tirunelveli.
Makar Sankranti is one of the jewels that adorn the crown of festivals, and the festival sits beautifully on the head of our beautiful country. It is a festival of hope, expectations, friendships, joy, celebration, and a moment of thanksgiving to Nature for its bounty. If you intend on travelling to another state to relish the beauty of this festival in that state, book your holiday now.