Stuffed chicken rolls that taste devilishly good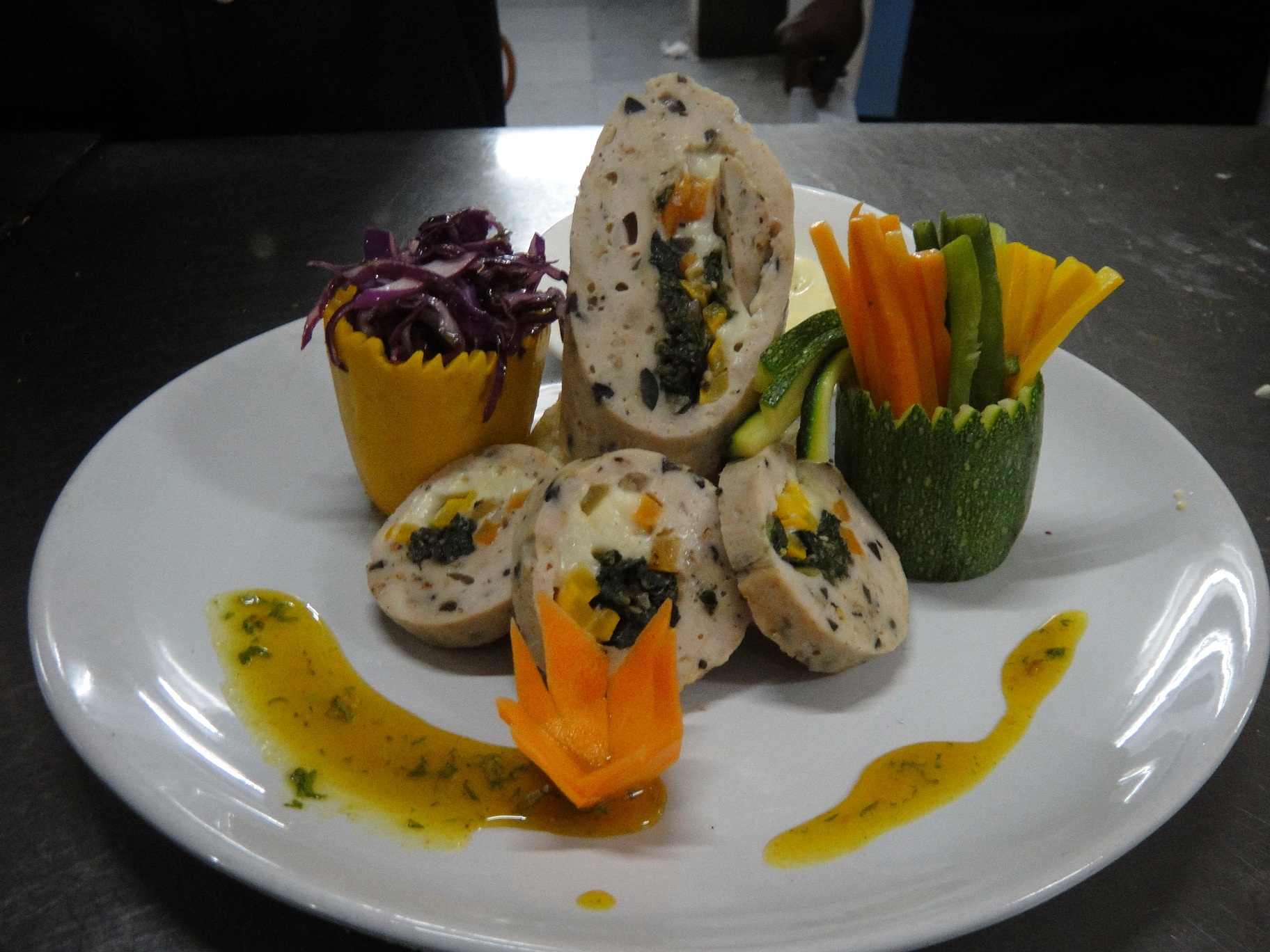 This fancy looking dish is unbelievably quick for a weekend meal but equally eligible to be on the cards for a special occasion. What more, even a novice can perfect it by following the easy instructions given below.
Recipe:
| | |
| --- | --- |
| Ingredients | Quantity |
|  Chicken breast | 1 nos |
| Extra virgin olive oil | 3 tbsp |
| Onions, chopped | 3 tbsp |
| Garlic, chopped | 1 tbsp |
| Coloured zucchini, thinly sliced | 50 gms |
| Salt | 1 ¼ tsp |
| Fresh spinach, tough stems trimmed | 2 bunches |
| Freshly ground black pepper | ¼ tsp |
| Black olives, finely chopped | 1 tbsp |
| Bread crumbs, dried and unseasoned | 3 tbsp |
Method
On a large cutting board, place the chicken breast on a plastic wrap and make a butterfly cut. Cover with an additional plastic wrap and pound to an even thickness of 1/2-inch. Roll chicken up with chopped olives and transfer to refrigerator while you prepare the stuffing.
Preheat oven to 350°F. In a large non-stick skillet, heat 1 tablespoon of olive oil over medium–high heat and saute the onions and garlic until soft. Duration: 3 to 4 minutes.
Add zucchini and sauté until caramelized around the edges. Duration: 1 to 2 minutes.
Add spinach, 1 tablespoon of the remaining olive oil, 1/2 teaspoon of salt and pepper and cook, stirring occasionally, until spinach has wilted and any juice, whatsoever, has evaporated from the pan. Duration: 3 to 4 minutes.
Transfer to a colander to drain and set aside until cool enough to handle. Once cooled, squeeze lightly to release any excess liquid, then transfer to a bowl and add the bread crumbs. Mix well.
Lay the chicken breast flat on a clean work surface and remove the top layer of plastic wrap. Season the skin side of the chicken with half a maggi cube.  Turn over so that the skin side is on the plastic wrap. Season the inside of the turkey with the remaining half of the maggi cube.
Arrange the spinach-zucchini strips, craft cheese strips to be stuffed inside the chicken to reach within 1-inch from all edges. Carefully roll up the roulade. Using butcher's twine, tie the roulade at even intervals so that it remains tightly rolled. Rub the outside of the roulade with the remaining tablespoon of olive oil and transfer to a rack inside a shallow baking sheet.
Roast until golden brown and insert an instant read thermometer into the thickest part of the very center of the roulade and check to see if it registers 150 to 155 °F. Duration: About 1 hr.
Set aside to rest for 15 minutes and then slice into 1/2-inch slices and serve hot.
This incredible Greek-inspired dish offers ample scope for experimentation. There are many ingredients that make for a delightful filling in this rolled up wonder.  It goes well with toast and even better with mashed potatoes.
Nutrient Value
Nutrition FactsServing Size (2 persons)
Amount Per Serving
Calories 140                             Calories from Fat 9

% Daily Values

Total Fat 1g

2%

Cholesterol  40mg

13%

Sodium 360mg

15%

Potassium 896mg
Total Carbohydrate 15g

5%

Dietary Fiber 1g

4%

Sugars 12g
Protein 47g

| | | |
| --- | --- | --- |
| Vitamin A 2% | | Vitamin C 6% |
* Percent Daily Values are based on a 2000 calorie diet. Your daily values may be higher or lower depending on your calorie needs