A chenna (paneer) sandwich with exotic nuts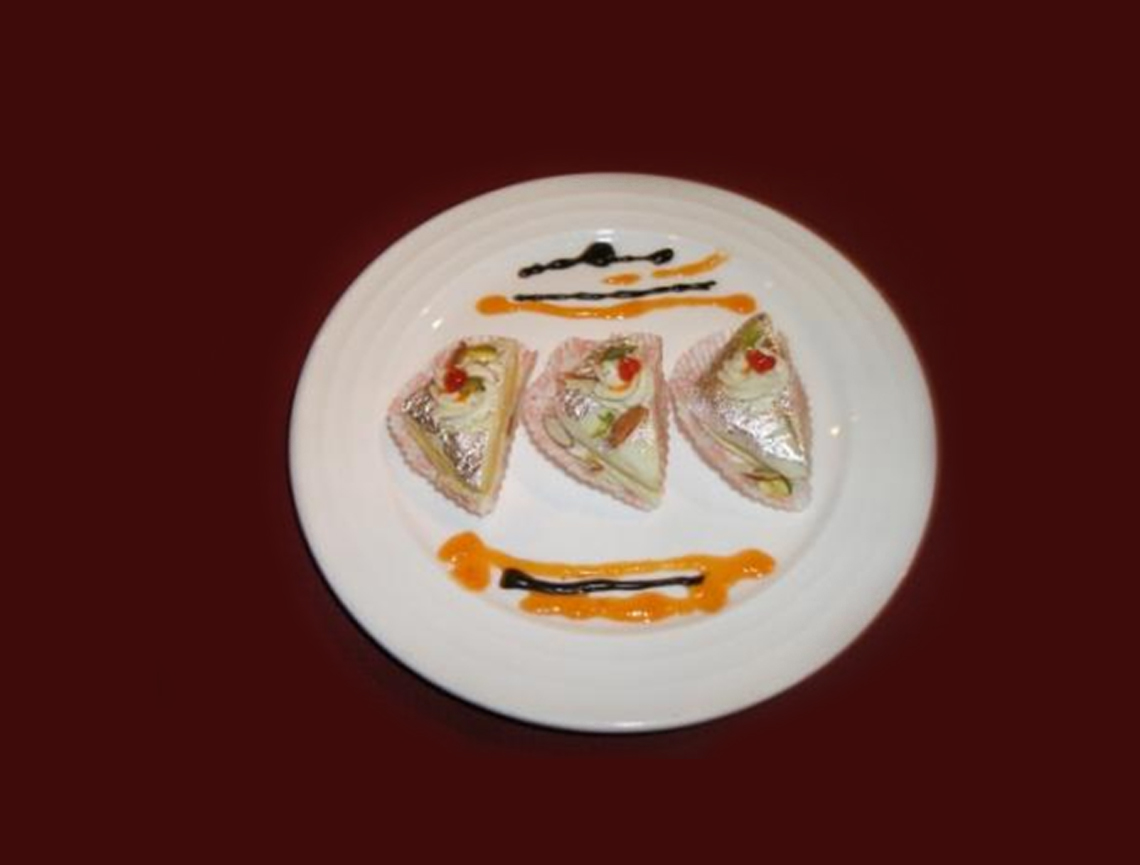 Did you ever hear about a 'cream sandwich'? If not, then take our word that it is one of the heavenly dishes which just melts in the mouth. With the goodness of milk and smooth texture, this sandwich is a great favourite of many.
Recipe:
| | |
| --- | --- |
| Ingredients | Quantity |
| Cow's milk | 6 cups |
| Fresh lime juice | 3 tbsp |
| Sugar | 2 ½ cups |
| Water | 6 cups |
| Cardamom powder | 1 gm |
| Fresh cream | 50 gm |
| Dry nuts | 50 gm |
| Silver bark | 2 leaves |
Method
Boil milk in a heavy bottomed pan till it starts foaming. Add lime juice and stir. It will curdle right away. Wait till you see the chenna (cottage cheese) separate out as small granules.
Pour the chenna into muslin cloth and let the water drain.
Gather the muslin cloth edges like a parcel and squeeze out as much water as possible. What is left is soft paneer.
Put the paneer on a rolling mat or any other smooth surface and knead it well into a smooth paste. Roll this into a ball and divide the paneer into 4 equal portions.
Roll each portion into a smooth ball between your palms. Make sure there are no cracks.
In the meantime, heat water in a kadai (pan) and add sugar. Let the sugar completely dissolve in the water. Boil till it becomes a little thick.
When all the paneer balls are made, drop them gently into the hot sugar syrup.  Reduce heat to simmer and cook for 7 minutes.
Wait till the 'sandwich base' floats on top of the syrup and also make sure that 'base' has expanded 2 – 3 times in size. Now, transfer the base and syrup into a bowl. Add cardamom powder, stir gently. Refrigerate it.
Cut the base in two equal sizes and put cream and dry nuts on top of one piece. Cover it with other piece.
Make all the sandwiches and garnish them with Silver Bark and dry nuts. Serve the dish chilled.
Nutrient Value
Amount Per Serving

Serving – 1

Calories
3,881.6
Total Fat
34.8 g
Saturated Fat
8.6 g
Polyunsaturated Fat
7.2 g
Monounsaturated Fat
15.7 g
Cholesterol
307.2 mg
Sodium
4,116.7 mg
Potassium
4,787.1 mg
Total Carbohydrate
606.6 g
Dietary Fiber
2.0 g
Sugars
583.7 g
Protein
293.5 g
Recipe by
| | |
| --- | --- |
| Chef Manoj Dhiman | |