A crunchy sweet bite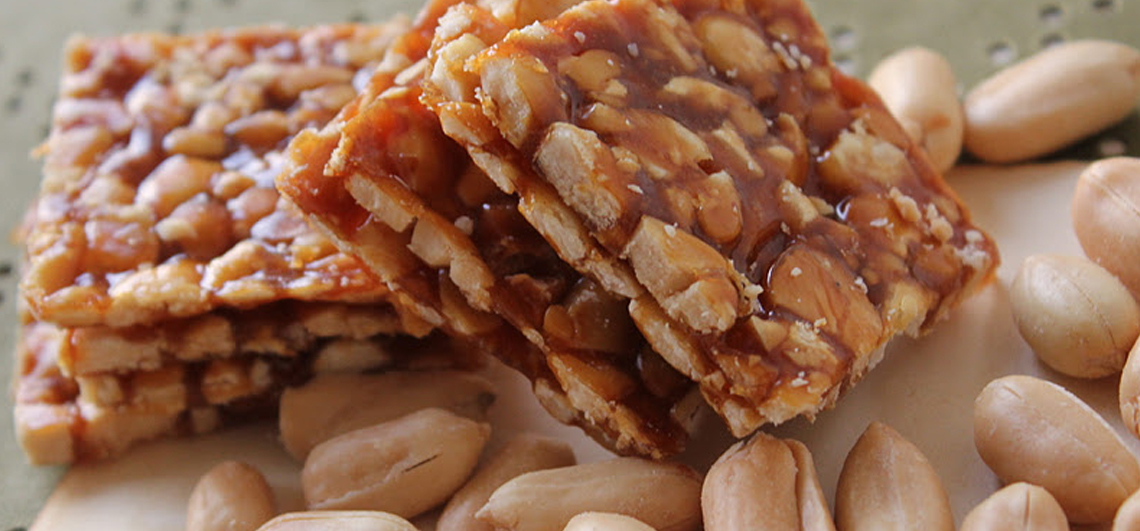 The Jaggery Peanut Chikki is a quick and easy-to-make traditional Indian recipe. Chikki's are a very popular as a snack and dessert in India; almost every town has its own variation of the recipe. This much-loved classic is a sure way to put a smile on anyone's face.
Recipe:
| | |
| --- | --- |
| Ingredients | Quantity |
| Roast peanut without skin | 100 Gms |
| Shredded jaggery | 80 Gms |
| Water | 40 ml |
| Elaichi powder | 2 Gms |
| Pista & Badam For Garnish | 10 Gms |
Method
Break every peanut into half, so it is easy to spread in the chikki.
Pour water in a heavy bottomed pan and heat it.
Then add shredded jaggery and mix well.
Melt the jaggery on low heat.
When the jaggery becomes a bit dark in colour, add the roasted peanuts in it. (Make sure that jiggery does not get overheated)
Mix the jaggery and peanuts for 1-2 minutes on low heat and turn off the flame when it's mixed very well.
Grease a tray or any clean surface and spread mixture evenly to make chikki.
When the mixture is cool, cut it into pieces of square and garnish with pista & badam.
Nutrient Value
Amount Per Serving

Serving – 1

Calories
989.8
Total Fat
56.2 g
Saturated Fat
7.0 g
Polyunsaturated Fat
16.0 g
Monounsaturated Fat
25.2 g
Cholesterol
0.2 mg
Sodium
13.6 mg
Potassium
698.1 mg
Total Carbohydrate
24.1 g
Dietary Fiber
8.8 g
Sugars
5.1 g
Protein
24.0 g
Recipe by
| | |
| --- | --- |
| Chef Manoj Dhiman | |