"Sunny Deol loves my rajma chawal; I've even helped him get his vehicle unstuck from the snow on the way here," the sweetly innocent Maniram said matter of  factly. "He comes all the way here to eat your rajma chawal?" I exclaimed, eyes wide! "Why not? A host of Bollywood stars do!" I still didn't notice a hint of pomposity in his voice and demeanour. The information was just factual.
When Rajesh and Nishant, the manager and holiday activities supervisor at Sterling Holidays' Manali – White Mist resort put their heads together for our plan the following day, they immediately concurred that we drive to Jana falls and eat at Maniram's. The quiet and reticent Rakesh, who ran a taxi service and was to drive us up, also had a gleam in his eye.  What's the big deal about rajma chawal, I thought.  I'd rather try a dham, a himachali thali served on special occasions or the local trout farmed in glacial waters. 'Wait till you try Maniram's thali!'
I was exhausted after my trek to Jogani the previous day, and reluctantly relented, pumping myself to the task of a true foodie traveler. I actually secretly wished to be at a cute little cafe with a view of the Dauladhar, contemplating on my comparative puniness.
We drove up in a rickety gypsy, (gypsies are still popular mountain drives) and though I felt I'd been tossed around in a spin cycle in a two tub washing machine, the view was simply spectacular; forests of leaves changing colour from a vibrant yellow to a deep auburn at temperatures set to 8 degrees  was beginning to make my gut receptive and rumbling.
28 Kms of undulating hair pin bends later I stepped out and dashed to a restroom with no doors or window shutters, while Rajesh hollered for our thalis to be laid out. The dhaba had no name;  nothing more than a ramshackled roof over a makeshift wood fired oven with wooden benches, plastic chairs and steel thalis against the backdrop of a modest waterfall.
Nishant and Rakesh braved the cold and dipped their feet in the plunge pool at the base of Jana falls. I was famished and my thali was speedily served with steamy grains of red rice nestled complacently against each other.  Similar in consistency, the rajma and dahi kadhi made for a beautiful colour palette contrasting the sarson ka saag. My eyes having feasted, my salivatory glands took over. I couldn't wait to dig in as the makkai rotis, tossed around on the open fire, arrived with a small container of a spicy chutney, pungent enough to battle the cold weather!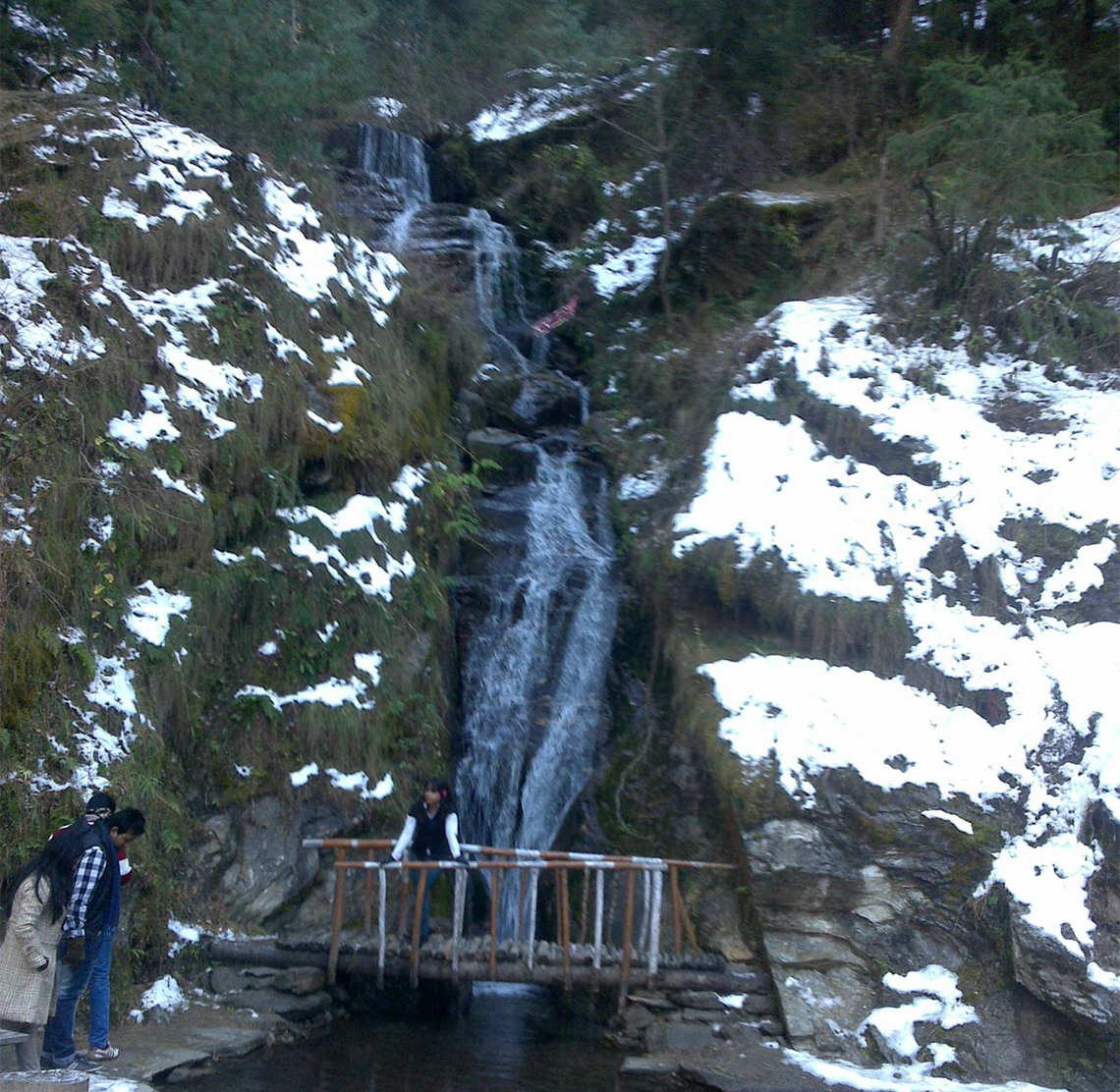 The food looked delicious and smelt divine. Maniram's wife adjusted the thalis close to each other and aligned them as she saw me struggling to take a picture with my frozen fingers.
I broke into the makkai roti and spooned the saag…..I couldn't believe my taste buds. Just the perfect balance of taste and texture of the crunchy roti, fired on coals with the gooey saag was mind blowing! As I let the taste sink in, I wondered how these combinations came into being. Sarson ka saag with makkai rotis and rajma chawal. Was it just simply local produce? Convenience? Trial and error? I'd never eaten rajma that was so finely flavoured with each bean perfectly soft but intact in its being, without disintegrating. 'What masalas have you used Maniram?' I asked. "Nothing! A little ginger, a few pods of garlic, some sliced onions and tomatoes and the usual dry masalas, he gestured approximation, jumping his thumb over the phalanges  of his fingers. I was enjoying the absolutely superb, fresh and simple meal so much, every bite so satiating, that I eventually let the recipe be, thinking where am I going to get this atmosphere, the wood oven, the waterfall and the himachali rajma along with Maniram's innate flair, all together.
All supplies are backpacked up from the nearest village, Jana, on foot. You can ask for any kind of alcohol and Maniram will serve it! If you carry chicken or mutton up to him, he'll cook it for you in the most delectably simple sauce.  I couldn't help wonder why city restaurants had lost the art of simple cooking.
As Maniram watched me devour my meal with great satisfaction and polish off my second helping, the accomplished chef, served kheer, so light and flavoured that it brought about a feeling of utter and complete satisfaction. He put down the perfection of the taste and temperature of the meal to the magic 'chulha'. I asked him "so how do you advertise?" And yet again, with heart warming purity and simplicity he retorted, "do I need to!?"
(Maniram's dhaba is 28 kms from Manali – White Mist, the Sterling resort in Manali). If you don't want to drive up just to eat there, combine it with your visit to Roerich art gallery and Naggar castle or stop there on your way back your drive to Bijli Mahadev temple)
The views expressed by the author are in her personal capacity.