'The world is a book, and those who do not travel read only one page' as quoted by St. Augustine. How true the words are! Travelling to exotic locations like The Grand Canyon, The Death Valley, The Angel waterfalls, etc., gives immense joy to oneself. However, sharing our experience with others will give everlasting happiness. As it goes, happiness lies only in sharing and rightly so this wonderful app brings it all for you
'Photosynth' is an excellent app for those people who wish to share their wonderful moments of their travel, that too in 3-D or in a seamless way. The depth aspect of 3-Dimension gives more joy to the viewer by providing a 'realistic' feeling. Seamless view gives a feeling of you being in a center and the entire picture is surrounding you. This app can be downloaded for free.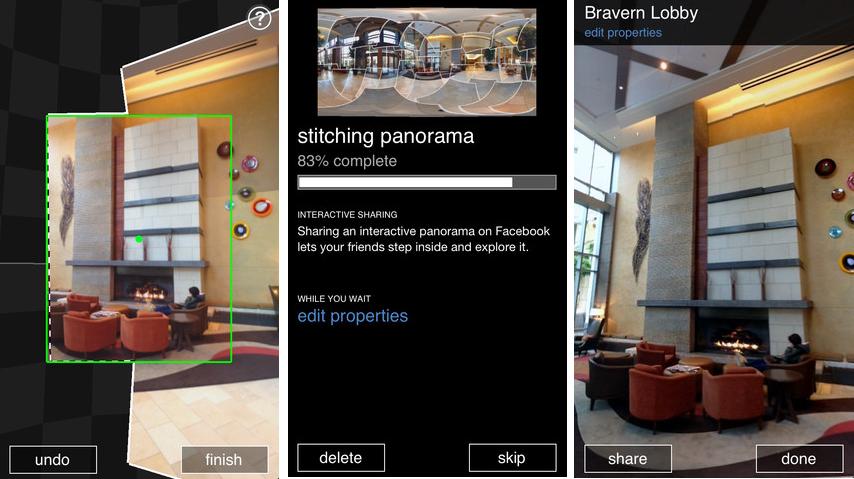 Main Features of the App
Seamless and 3-D capture from mobile
This app offers two methods to capture pictures
A Panorama or 'Pano' is to capture a view in every possible direction, which is from 360 degrees from exactly one location.  It gives a seamless viewing experience almost similar to the real world.  It is easy to shoot Panos since there is no complex movement for the person involved.Panoramas can be made directly by mobile or by processing the photographs in desktop application – Microsoft Research's Image Composite Editor.
A 'Synth' is a collection of overlapping photographs. They are automatically reconstructed into a 3D model. A Synth involves shooting/capturing different sides of an object. It involves more complexity as the person has to move around while shooting. Then the photos must be processed in Photosynth desktop application.
Easy Sharing
People can share their 'Panos' or 'Synths' on social networking sites like Facebook and Twitter by using the Photosynth.net service. It is also possible to publish them on Bing Maps so that they can be accessed by everyone.  Embedding into one's blog is also possible.
Application Details
App Name

Photosynth

Platform

iPhone 3GS and above

Windows 7.5 and above

By

Microsoft corporation

Download link for iPhone

Photosynth app from Apple's app store

Download link for Windows Phone 7.5 or above
Note: Images & definitions in this article are owned & copyrighted by Microsoft Corporation.