Relish the taste of this mouth-watering dish of mosu (a combination of Korean and Russian cuisine) lamb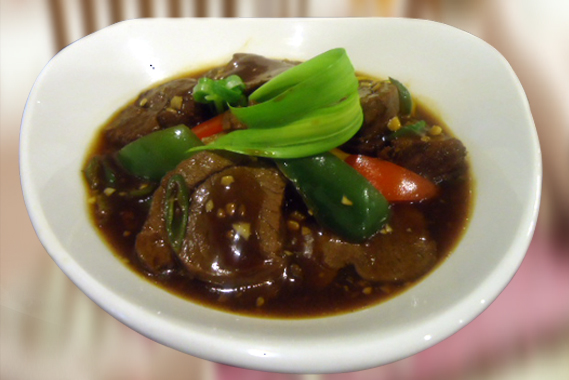 | | |
| --- | --- |
| Ingredients | Grams/ml |
| Lamb boneless | 280 gms |
| Teriyaki sauce | 35 gms |
| Leek | 3 gms |
| Onion | 20 gms |
| Garlic | 15 gms |
| Dry sherry | 10 ml |
| Red bell pepper | 10 gms |
| Green bell pepper | 10 gms |
| Salt | To taste |
| Pepper | 2 gms |
| Ginger | 10 gms |
| Soya sauce | 5 gms |
| Red chilly paste | 2 gms |
| Rice wine vinegar | 15 ml |
| Sugar | A pinch |
| Sesame oil | 20 ml |
Method
Debone leg of lamb & retain in one piece. Wash it properly.
Marinade the lamb with soya sauce, teriyaki sauce, red chilly paste, crushed garlic, crushed ginger, sliced onion, salt, crushed pepper, a bit of rice wine vinegar and sesame oil.
Put the chunk of  meat in a tray with the marinade and cook in oven for 30 mins by setting the temperature at 200 degree centigrade.
After the chunk is fully cooked, make roundle sliced of the meat.
Seasone the wok by adding sesame oil, julienne of ginger, crushed garlic and cook till golden brown in colour. Add bell pepper, red chilly paste and cook for 2 mins and then add teriyaki sauce and a touch of soya sauce. Add lamb stock to make the sauce thin and balance the taste with salt & pepper. Finish the dish with dry sherry & rice wine vinegar with a touch of sugar.
Garnish with leek.
Nutritional value
| | |
| --- | --- |
| Protein | 25 gms |
| Fat & Cholesterol | 27 gms |
| Vitamins | 3 gms |
| Fat | 7 gms |
| Minerals | 4 gms |
| Total calorie intake | 195 |