Alappuzha or Alleppey is better known as 'Venice of the east' because of the labyrinth of lakes, canals and bridges which make it resemble the popular international tourist destination. Kerala is a haven of spellbinding places, and Alleppey is indeed one of them. Beautiful backwaters lie waiting to be explored on beautiful houseboats that line the shores. And the interesting history about these houseboats is that they are traditionally called 'Kettuvalloms' which means 'boats with knots'. They were originally used to transport huge quantities of rice, spices and other related merchandise from the interior villages of the state to the towns and cities for selling. They derived their name from the fact that originally these boats were actually held together by knots. Time took several turns and after disappearing for some time, these houseboats are back again, and better than ever. With several kinds of houseboats, depending on their comfort, facilities and therefore price, there's probably no better way to soak in the true air of Alleppey's palm fringed canals and waterways. In fact a trip to the place is incomplete if you haven't discovered the true beauty of the lakes and their passages from within the comfort of a home-like boat. The only sounds that you hear are the sounds of the water making way as you smooth along on its surface and an occasional chirp of a bird or insect. Otherwise, there is complete silence. Tranquility, bliss.
But Alleppey isn't just about backwaters.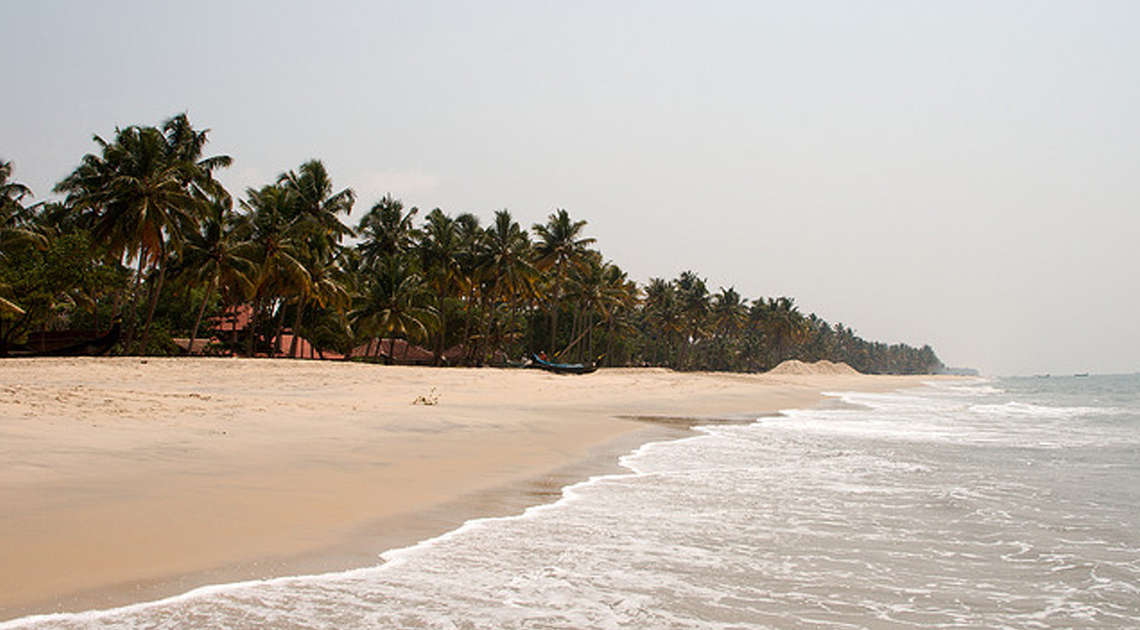 This pretty little town is home to the one of the most historically important ports of Kerala, thanks to the famous Alleppey beach. The red and white lighthouse and ruins of an old sea bridge still stand as a reminder to the huge amount of foreign trade that used to happen through this busy port. As you bask in the sun and fun on this beach which also has a park nearby, be prepared like a shutterbug, for a truly amazing sight awaits you. Alleppey beach is one of the best places to see a good, soul-satiating sunset. As the afternoon fades away and as dusk approaches, the refreshing blue water starts to acquire a dark silver or golden color depending on the density of clouds in the sky. If they are dense, the color is more of a silver and if they aren't, a sea of liquid gold spreads out before your peepers that open wide in amazement. The ruins of the bridge suddenly become more beautiful as the entire horizon is bathed in a gold and crimson light.
A 160 km drive takes you to an altogether different world. The land of hills and tea gardens, Munnar is another of nature's ways of reminding you that you are in God's own Country. The temperature drops and all you crave for is a mug of steaming hot coffee when the mist partially veils the endless expanses of greenery.
Plan in advance and a mountain-cum-beach trip packed into one will do wonders to your mind, body and soul.