Idli is a round savoury cake, which is a popular breakfast item in South India. These soft and fluffy cakes are made by steaming a batter consisting of fermented black lentils and rice. The cakes are usually two to three inches in diameter and are eaten fresh.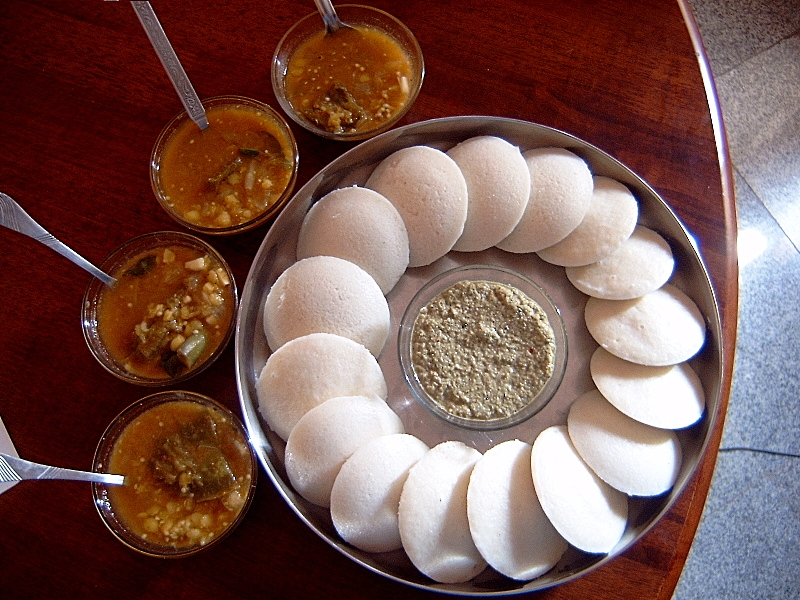 Usually served hot with sambar and chutney, they are healthy as well as filling. Unlike the famous parathas or puris, Idlis are steamed and hence have no oil or butter. That makes them light and easy to digest. Traditionally made from rice and urad dal, Idli is rich in Carbohydrates and Protein. Use of dal and rice in idli is a good combination as the amino acids in them complement each other.
Origin of Idly
Although Idlis have been a part of the Indian cuisine for ages, research says that it did not originate in India.
Food historian K. T. Achaya speculates that the modern idli recipe might have originated in present-day Indonesia. According to him, the cooks employed by the Hindu kings of the Indianised kingdoms might have invented the steamed idli there, and brought the recipe back to India during 800-1200 CE.
Making of the idli
These nutritious yet yummy idlis can be made easily at home within minutes. But they do require a bit of preparation. The rice and dal needs to be soaked overnight and then ground together in a paste that is steamed. For the batter to ferment well, it needs to be the right consistency; not too runny and not too thick. The fresh aroma of piping hot Idlis is enough to convince you to go the extra mile and make your own batter. If not, you can get the fermented Idli batter in most cities at the local grocery stores.
The tangy sambar and the spicy chutney are equally important in relishing this lovely recipe. Sambar is a vegetable stew made with tamarind, drumsticks, carrot, radish, pumpkin, white radish, potatoes, tomatoes, brinjal. It is usually made with whatever vegetables are available during the season. Although idlis are popular across South India, each state has its own variation of the accompaniments. May it be the red chutney or the green or the podi, we love it all! And we bet you will too.
The other variants
One of our favourite Idli experiences was on a road trip in Karnataka. When we were driving from Bengaluru to Coorg, we stopped over for breakfast at a local street food vendor who was selling something called the 'Tatte' Idli. As foodies, we were curious to try what this variation of Idli was. Loosely translated it means Plate idli. This recipe is made with Urad dal, Poha and Sabudana. It is much bigger than the usual Idli we make at home and was also softer. This melt in your mouth delicacy has got a special place in our heart and stomach. Since Idlis are loved by all, you can probably get them in any part of the country. But you have to go to South India, to truly enjoy the idli experience with the banana leaf and the smell of freshly ground coffee.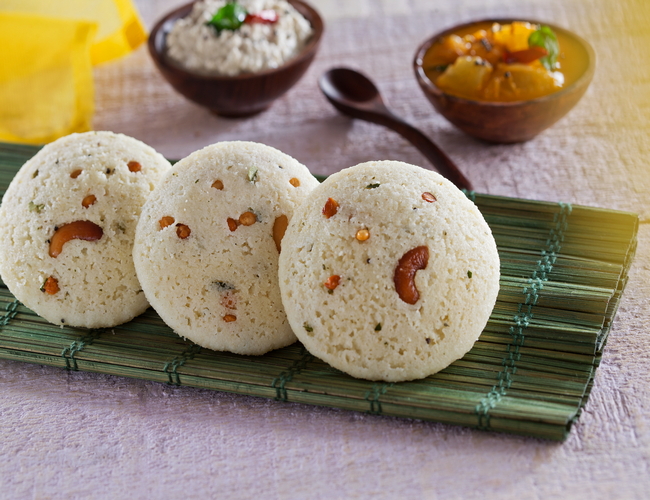 Other than the regular Idli and the Tatte Idli, there is also Rava Idli, Poha Idli, and newer recipes with experimental cooks making Idlis from oats! Whatever the ingredients may be, the end result is still delicious.
What is your favourite kind of Idli? Where did you first try it? Comment below!