Traveling is not just about exploring places. New-age travellers prefer exploring unexplored destinations. This has pushed trekking to become the most popular adventurous activity in India. As we are aware, India is blessed with a variety of terrains, giving us ample opportunities of trekking and other such adventure sports. Based on the types of terrain, you can take your pick between an easy, moderate, or challenging trek. You can also opt for a serene trek and enjoy the solitude of Mother Nature. One such place which checks all the boxes when it comes to a tranquil trek is Chail. As Chail remains away from the hustle bustle of the city life, the place is perfect to have a serene experience. Also, the night views from Chail are great. One can have scenic views of Shimla, Sutlej valley, and Kasauli.
Chail is a tiny and quaint hill station situated just 45 km away from the capital of Himachal Pradesh. Nestled at a height of 2250 m above the sea level, the place is known for its peaceful environment and lush green views. For trek lovers, there are a plethora of trails where one can quench the thirst of trekking. Few trails are Chail to Shimla, Chail to Gaura, Chail to Jhaja, Kandaghat-Chail, Chur Chandni and Chail-Rajgarh, to name a few. During the trek, one crosses the scenic forest of pine and deodar and as one moves towards the peak, trees of Rhododendron, Robinia, Cedar and Blue Pine can be seen here and the views are amazing.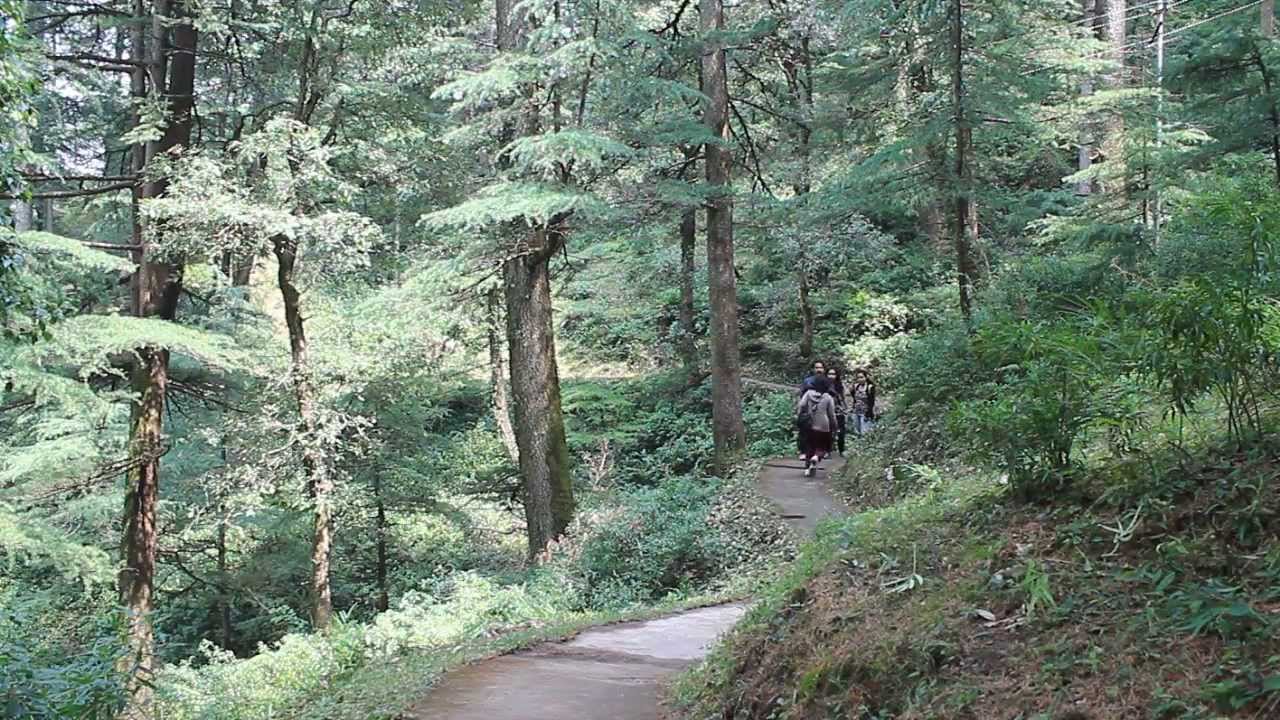 Apart from this, there is one more place that is an ideal destination for a good trekking experience that is Chail Wildlife Sanctuary. Chail Wildlife Sanctuary is quite popular and attracts wildlife and nature lovers around the year. Vast varieties of fauna can be found there such as common langur, leopard, Goral, European Red Deer, Asian Black Bear and the Wild Boar. There are several species of birds such as grey winged Blackbird, Himalayan Bulbul, Black Headed Jay, Slaty-Headed Parakeet and the Blue Capped Redstart. Also one can see Cheer Pheasant here for which the Chail Wildlife Sanctuary is famous.
The weather remains pleasant all around the year. During summer, Chail remains cool and one can visit here to get rid of the scorching hot weather, whereas winter season remains quite chill. The month of March in Chail remains vibrant as it is that time of the year when the spring season arrives and one can see colourful flowers and fruits here.
Where to stay
Chail has a plethora of accommodation options for its visitors. One can find all types of hotels (luxury and mid-range) here that offer a quality and comfortable stay. Another option is that one can stay at Kufri for much better views. There are several resorts available and one such is The White Ridge resort. The resort offers a pleasant stay and magnificent views of Himalayan peaks of Himachal Pradesh.
Where to Eat
As Traveling is incomplete without good food, it is always necessary to know about good places to eat. Chail houses plenty of restaurants which serve Indian, Chinese and Continental dishes at nominal prices. There are few restaurants also available which offer local cuisines of Himachal Pradesh. One should definitely try these cuisines for a better experience.
How To Get There
Chail has an advantage of having Shimla as its nearby city. Shimla is connected by almost all modes of transport that make Chail an easily accessible place.
By Air
The nearest airport is Shimla airport located in Jubberhatti at a distance of around 22 km from the main city. There are less frequent flights from other cities. The other possible option to reach by air is to reach at the Chandigarh airport, as it connected to all the major airports of India and has more frequent flights. Either one can get a bus or a taxi from Chandigarh as well as Shimla Airport to reach Chail. 
Rail
If you have enough time and want to enjoy the journey then the best possible option is to reach Kalka and take the Kalka Shimla Toy Train. You have to deboard at Kandaghat as it is the nearest station to Chail. Kandaghat is just 30 km away from Chail. It takes around 5 hours to reach Kandaghat. One can also reach Chandigarh by train and take a bus or taxi to reach Chail.
Road
There are direct buses available to Chail from Delhi, Chandigarh, and Shimla. Volvo buses ply only till Shimla. One can take a roadways bus or a taxi to reach Chail.
Travelling is the best way to unwind and connect with your inner self. Wherever you head to, make sure you complement your vacation with a stay at the Sterling Resorts and treat your family to luxurious living.