Whatever we attempt to write here, no amount of fancy metaphors, no clutter of beautifully penned down lines can ever fully describe the beauty that is Ooty.
Ooty is one of those places that will carve a place in your heart quite dramatically. From the panoramic view of the lakes to the greenery spread over acres of land, Ooty is replete with immense beauty. No wonder this place caught the fancy of scenic-obsessed Bollywood. A hot favourite of Bollywood, the serene locales and lush green mountains has been every director's delight.
For all the Bollywood buffs bitten by the wanderlust bug, here's an exciting listicle for you. Discover gorgeous spots in Ooty while you simultaneously engage in your love for movies.
Where we all fell in love with love – Barfi
Barfi is a soothing, heartfelt tale not just because of its storyline and performances but also for the subtle scenery and the emotions they evoke in each particular frame.
A major portion of the movie Barfi was shot in the stunning locales of Ooty. The song "Main kya karoon" which everyone was left humming for days and the heart-warming scene of Ranbir pedalling on the bicycle with Ileana in the front made for a sight to behold. The woodland of earthy pine forest on either sides worked beautifully to instill a sense of calmness to the scene.
The crazy, innocent love story – Ajab Prem Ki Gajab Kahani
Another feel-good rom-com that tugged at our hearts with innocent acting and light-hearted storyline borrowed its beauty for the proposal scene from Ooty.
The location where Ranbir Kapoor nervously stands on a small wooden bridge waiting for his lady love makes for a perfect proposal spot, doesn't it? That scene was shot at Pykara lake in Ooty.
Also, the film captures other heritage buildings of Ooty as well.
The unforgettable tune – Dil Se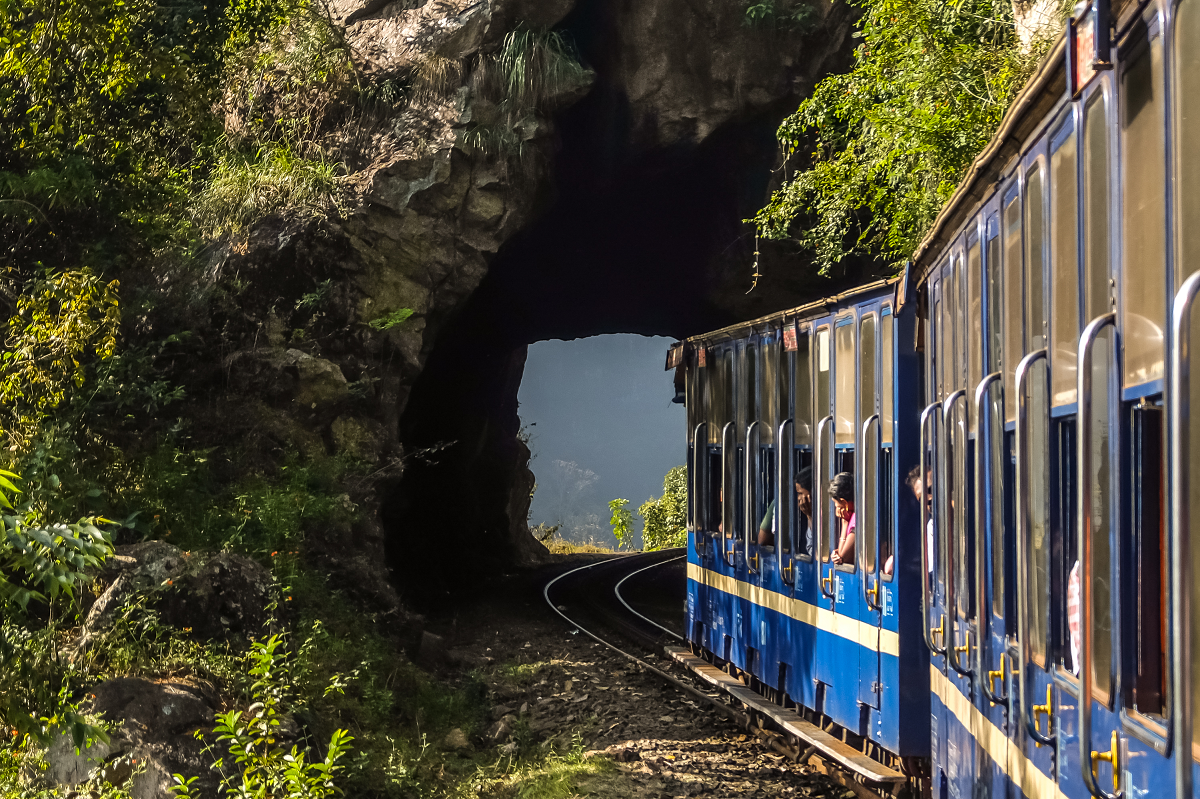 Who can forget the iconic Bollywood item number "Chaiyya Chaiyya" from the 90s? You would still see reaction channels on Youtube drooling over this scintillating number. Because it's got that classic, mass appeal.
Besides Malaika Arora's dance moves, the song is an overall visual treat because of the breath-taking sights they are surrounded with.
This song was shot on the roof of the Nilgiri Mountain Railway train, a UNESCO heritage site, with the pristine Nilgiri Hills in the background.
Tum nahi samjhogi Anjali – Kuch Kuch Hota Hai
Raise your hand if you believed that the Shimla Summer Camp Anjali went to was actually in Shimla? I know we all believed that lie.
The lush expanses of greenery and pine trees were actually located at Wenlock Downs in Ooty! The entire camp sequence filled with fun, romance, games, and emotions was shot in beautifully designed sets in Ooty.
Fun fact – The same location has been immensely popular in the Tamil and Telugu industry as well.
One that kept us all at the edge of our seats – Jo Jeeta Wohi Sikandar
One of the most entertaining sports movies made in Bollywood, Jo Jeeta Wohi Sikandar was all things amazing. From the gripping storyline to new-age actors, this is one movie you can rewatch innumerable times.
If not anything else, this movie was responsible for giving us the first feelings of love with its iconic track "Pehla Nasha" which was coincidentally shot in the Western Catchment area of Ooty. The breath-taking visuals of Ooty added an extra charm and elegance to the soul-warming song.
If the Ooty-Bollywood love story doesn't make your heart crave for an Ooty visit, we don't know what will.
While you dream about being in these stunning locales, we have put together a quick info-pedia so you don't go through the hassles of opening 10 different tabs to plan a single trip.
Best time to visit Ooty – June to October
Weather – Perched at a high altitude, the climate of Ooty remains cool almost all through the year.
Major attractions in Ooty-
Nilgiri Railways – Going through the steepest track in Asia, this toy train takes you to higher altitude while you take in the stunning landscapes, dense forests, beautiful rivers and the sun gleaming bold and bright over them.
Ooty Lake – A pretty fun and activity-filled place, the ooty lake has one of the most breath-taking views in Ooty. Boating facilities are offered by the Boat House adjoining the lake which also features a tiny amusement park, a garden, and a toy train.
Lush gardens – The two famous gardens in Ooty, Botanical Garden and Rose Garden are a major attraction for nature lovers. They are a perfect place for a romantic walk or to enjoy a family picnic.
Activities to indulge in Ooty-
Boating – You can spend some quality time surrounded by nature at the Ooty Lake and Pykara Lake. You can go for a motorboat, rowboat, or a speed boat ride on the Ooty Lake while Pykara Lake only offers speedboats to the tourists.
Wildlife Safari – If you wish to add a dash of adventure to your Ooty trip, you can visit the Mudumalai National Park which is home to tigers, sambars, panthers and sloth bears.
Shopping- Head over to Ooty Main Bazaar to take back souvenirs ranging from handicrafts, aromatic and medicinal oil, aesthetic paintings, and tribal products, to tea, coffee, gourmet cheese, and homemade chocolates.
How to reach Ooty from major cities
Bus – You get overnight buses from Bangalore, Mysore and Chennai to Ooty.
Air – Coimbatore is the nearest domestic airport from Ooty which is well-connected with most of the Indian cities.
Train – Mettupalyam is the closest railway station to Ooty. You can travel to Mettupalyam railhead from major cities like Chennai, Coimbatore, Mysore and Bangalore.
While you're there don't forget to visit our resorts for a relaxing, leisure trip- Sterling Ooty – Fern Hill and Sterling Ooty – Elk Hill