Holidays are great escapes—a welcome break from our monotonous lives, when we get a chance to embrace a new place, its people, and their culture. But travel stories often highlight only the exciting experiences these distant lands have bestowed on us. Hardly a few think of the impact we have on the places we leave behind.
There are so many unsung heroes in these destinations that make our experience more meaningful, joyous, and memorable, and more often than not, they depend on tourism for their livelihood. This should get us thinking, and encourage us to adopt a more responsible approach. Lack of awareness and apathy among travellers could leave many adored destinations without their pristine charm.
The concept of responsible tourism is aimed at making places better to live in and magical to visit. It, therefore, requires that governments, the hospitality industry, the locals as well as tourists shoulder equal responsibility and work towards making tourism more sustainable. When we talk of sustainability, the focus naturally shifts to ecotourism and promotion of local culture. Ecotourism focuses on how to minimise the negative economic, environmental, and social impact on nature. And promotion of local culture demands the inclusion of native traditions, cuisine, handicrafts, folklore, and so on, while designing tourism packages. With a distinct emphasis on such positive impact, Mussoorie has set a new benchmark for responsible tourism. Tourism is the most significant contributor to the economy of this quaint hill station in Uttarakhand's Dehradun district. As evident in the way the buildings and infrastructure have been planned, the local administration has struck a balance between modern demands and the richness of the past.
Mussoorie is literally nature's bounty, and its waterfalls, eco-parks, and sanctuaries are
top on the must-see list. Located about 15km from Mussoorie on Yamunotri Road, and nearly 1,370 metres above sea level, is the 40-feet Kempty Falls. A trek to its source through the dense forests is worth the effort. Another exciting option for thrill seekers is the cable car ride up Gun Hill, the second highest peak of Mussoorie. Nearby, about 2,000 metres above sea level, is the Benog Wildlife Sanctuary—a fir and pine forest expanse rich in rare Himalayan bird species such as the mountain quail and red-billed blue magpie. There is an observatory set up by Sir George Everest on its periphery. Perched on top of Benog Hill is the Jwalaji Temple dedicated to goddess Durga. It is a must-visit not only for the religiously inclined but also for nature lovers since it offers a panoramic view of the Himalayan peaks and the Doon Valley.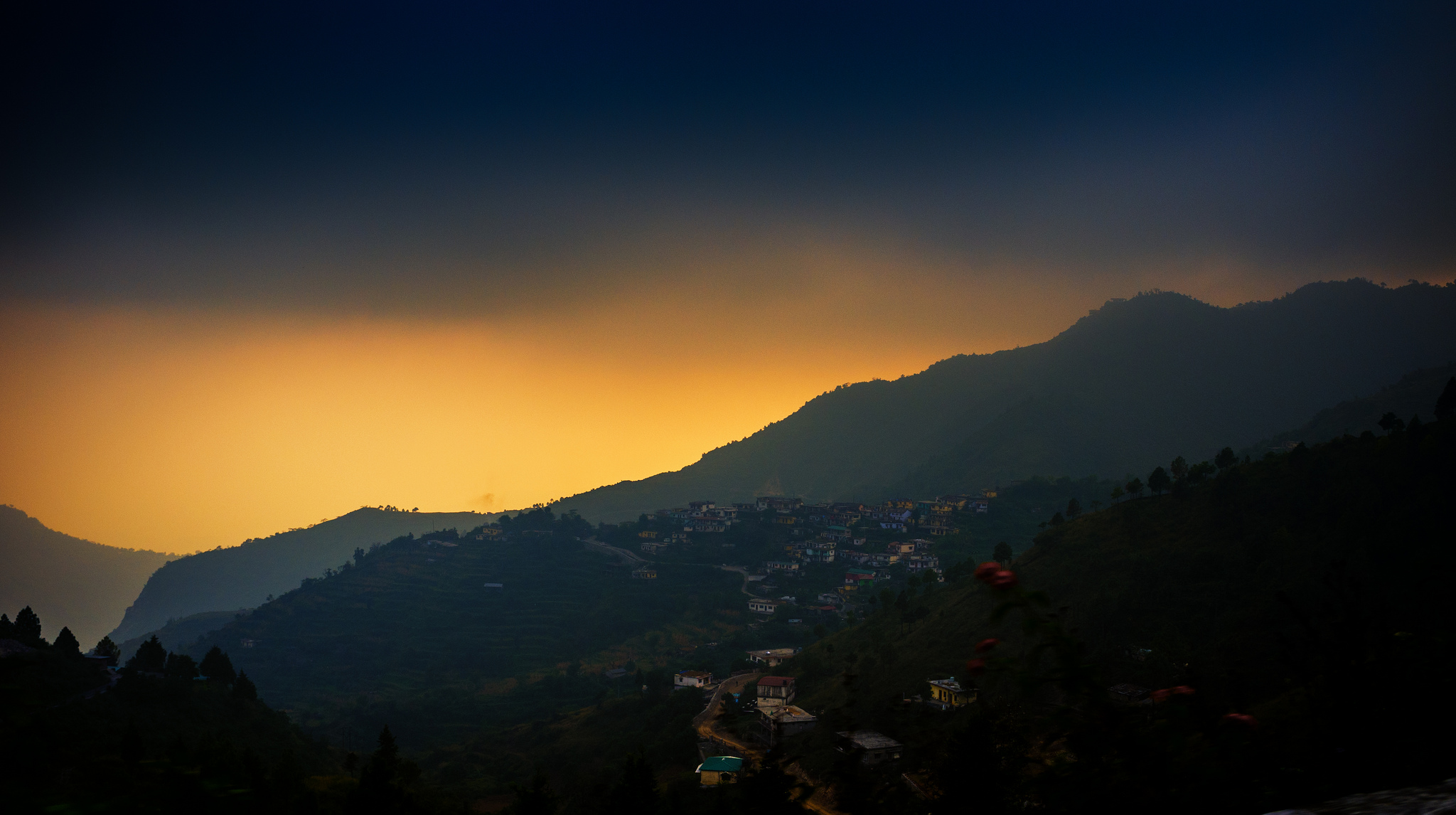 For horticulture buffs, Company Bagh (or Municipal Garden) offers a virtual treat, with its unique collection of fauna. It is an ideal picnic spot, with its well-manicured garden and an artificial mini lake with paddle-boating facilities.
At an altitude of 2,250 metres on the Mussoorie-Chamba road is the picturesque hill station of Dhanaulti. The main attractions here are the eco-parks 'Amber' and 'Dhara', about 200 metres apart. For developing these parks, the Forest Department of Uttarakhand roped in local youth who are now employed as guides, gardeners, and ticket collectors. The eco-huts here, built with green technology, showcase the ways in which ecological concerns and tourism goals can be combined. The first privately-owned and operated wildlife sanctuary in Uttarakhand, the Jabarkhet Nature Reserve, is another example of responsible tourism. The property owner partnered with a conservationist to protect this 100-acre plot rich in biodiversity.
In addition to addressing its ecotourism concerns, Mussoorie protects and promotes the richness of its local culture too. Catch glimpses of Tibetan culture at Happy Valley and visit the Thangka paintings gallery. Do not miss the region's famous Pandava dance, involving the narration of the Mahabharata.
Local markets showcase a wide range of handicrafts, including bamboo baskets, wooden sticks, bowls, trays, handcrafted jewellery boxes; on the Mussoorie-Dhanaulti road, one can shop for authentic handwoven shawls, stoles, and scarves made of wool, eri silk, or pashmina.
The changing profile of travellers, government's commitment to the green cause, and the involvement of locals in preserving their natural heritage has made responsible tourism the order of the day. Mussoorie, with its rich biodiversity and unparalleled natural beauty, has hit the right note.
Mussoorie – Dancing Leaves
Mussoorie – Dancing Leaves, a Sterling Holidays resort, is located 42km from Dehradun, 72km from Haridwar, 72km from Rishikesh, and 3km from Mussoorie town.
Facilities available:
The rooms overlook the Doon Valley.
The Travel Desk will help you with travel arrangements and sightseeing plans. The Front Desk is open 24 hours a day, 7 days a week.
The internet cafe helps you stay connected.
Play area for kids and a well-equipped club stacked with loads of indoor and outdoor games.
Bonfires, party games, barbeque nights, and music are organised during weekends.
The Doon Diner is an all-day dining, multi-cuisine restaurant. If you are in the mood for Chinese, visit Ambrosia for lunch and dinner. Pint O' Fun, the soon-to-be-launched bar, will provide premium service.
What can you do as a tourist?
It is easy to be a responsible traveller and help protect the communities and culture of the places you visit.
Do your homework on the city or town you are planning to visit—the culture, the customs, the language, etc. Find out whether there are any local conservation or social projects on which you could gather information on, during your trip.
There is shortage of water in many places, so it is advisable to use it judiciously. If you are staying for a long time, ask the hotel to not change your sheets and towels every day. Carry eco-friendly products, and switch off lamps and other electrical equipment when they are not in use.
Try native dishes in local restaurants and contribute to the town's economic growth.
Use local transport when possible or hire a guide; it is a great opportunity to interact with people and learn about their history.
Choose eco-friendly excursions. The best way to discover a new place is to travel by foot or go cycling.
Respect local customs and traditions and help preserve the heritage.
Do not litter.
Be a conscious shopper. Do not buy products made from endangered species or plants. Buy locally produced goods and services.
Protect the flora and fauna. Avoid trips that entail disturbing wild or captive animals.
Remember: good manners are universal. A responsible tourist is polite, positive, and eco-sensitive.