Taste the biriyani of Ambur, and savour its flavours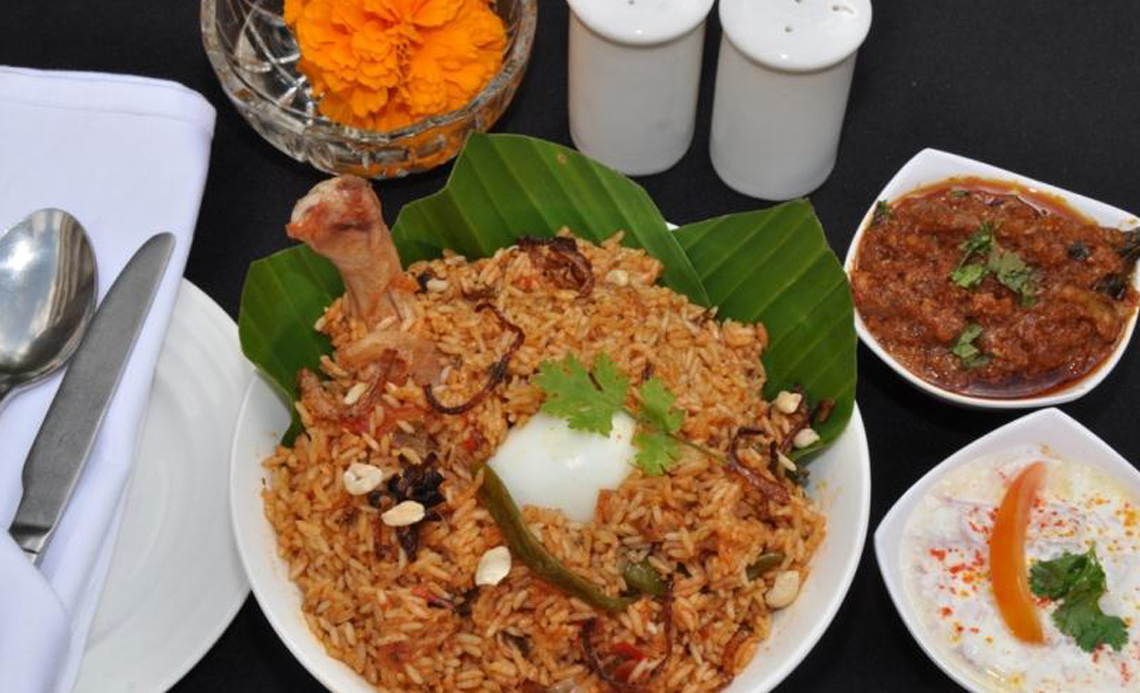 A timeless favourite of our country, Biryani has now become a dish sought after all over the world. Every region in the Indian Subcontinent has its own variation of Biryani. The following mouth-watering recipe is from the Tamil town of Ambur which is widely known as the 'leather city of South India' for its many leather factories. Ambur Biryani become popular in this region during the reign of Nawabs of Arcot and is usually served for festivals, weddings and special occasions. This dish alone has lured a lot of food lovers into this small town. Now it's time to take this magnificent taste to your dinner table!
Recipe:
| | |
| --- | --- |
| Ingredients | Quantity |
| Chicken (with or without bones) | 250-300gms |
| Seeraga Samba Rice (Soaked in water for 20 minutes | 2 cups |
| Medium Sized Onions (Finely chopped) | 3 nos |
| Tomato (Finely chopped) | 3 nos |
| Green Chillies (Slit into half) | 2 |
| Ginger-garlic paste | 5 tbsp |
| Mint leaves | ¼ cup |
| Chopped coriander leaves | 1 cup |
| Turmeric powder | ¼ tbsp. |
| Red chili powder | 1 tbsp |
| Beaten curd/yogurt | 1 cup |
| Cooking oil | 4 tbsp |
| Ghee | 2 tbsp |
| Cloves | 3 |
| Cinnamon stick | ½ |
| Bay leaves | 2-3 |
| Green cardamom | 2 |
| Lemon juice | 1 tbsp |
| Salt | Add to taste |
Method
For the Chicken Masala
Marinate chicken pieces with turmeric powder and set it aside for 10 minutes. Heat 4 table spoon of oil in a pan. Temper the cloves, cinnamon, star anise, bay leaf and cardamom.
Add ginger-garlic paste to it and sauté for a while. Add 1 table spoon of curd and cook for a minute on a low flame.
Then add marinated chicken and little salt. Cook it covered on low flame for about 10 minutes. Do not add any water, since the chicken will be cooked in the water it releases.
Add chopped onions and green chilies. Cook it for a minute. Add chopped tomatoes and mash to a pulp.
Add the mint and coriander leaves. Sauté gently. Add red chili powder, coriander powder and the remaining curd.
Mix well and let the mixture cook for about 5 minutes. Remove it from heat and transfer the masala to another bowl.
For the Rice
Soak rice for 20 minutes. Boil 9 cups of water in a vessel. Once the water starts to boil, add washed & drained rice to it.
Add salt to taste and squeeze in the lemon juice. Cook it on a medium flame till it is half cooked (this will take around 8-10 minutes).
When it is half cooked, the rice grains should be separate and firm but not hard. At this stage, remove it from the heat, drain the water completely and set it aside.
For the Dum Process
In the same pot in which the chicken was cooked, pour a ladle full of the cooked masala and spread it evenly.  Top it with a layer of the half-cooked rice. Repeat the process and create layers of rice and chicken masala till the pan is filled up. Seal the pot with a foil or lid.
Heat a flat frying pan or tawa. Place the pot on tawa and cook on low flame for about 20-30 minutes. Remove the pot from tawa only at the time of serving.  Mix well and serve it hot.
Nutrient Value
Amount Per Serving

Serving – 1

Calories
586.3
Total Fat
41.1 g
Saturated Fat
6.9 g
Polyunsaturated Fat
16.7 g
Monounsaturated Fat
6.3 g
Cholesterol
40.0 mg
Sodium
1,464.1 mg
Potassium
741.3.5 mg
Total Carbohydrate
41.3 g
Dietary Fiber
15.1 g
Sugars
7.0 g
Protein
32.7 g
Recipe by
| | |
| --- | --- |
| Chef Palanivel, Kitchen Executive, Yelagiri – MariGold Ridge | |