Whether you are a kid or an adult, amusement parks are a great way to have fun and get that adrenalin rush. Who doesn't love gravity-defying rollercoasters and stomach-churning rides? When it comes to amusement parks, our motto is always the more extreme, the better. Are you on the look-out for the craziest theme park rides in India? Don't worry, we have you covered. If you love roller coasters as much as we do, you will love this list!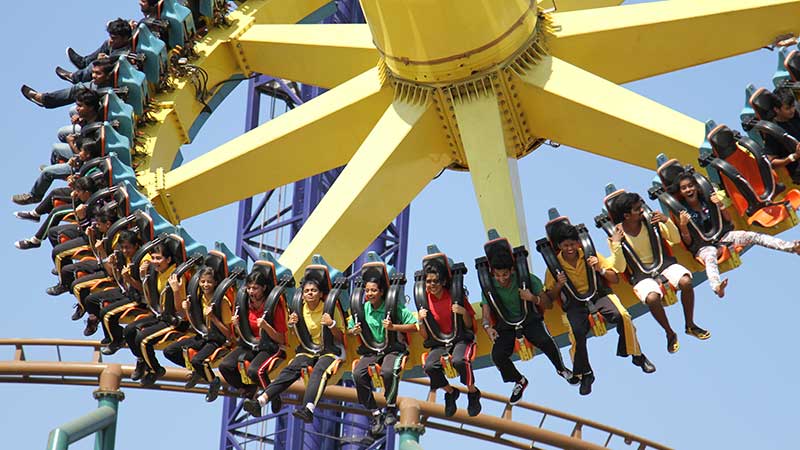 Imagica, Mumbai
Situated conveniently on the Mumbai-Pune expressway, this new amusement park has some crazy rides for thrill-seekers. The Nitro rollercoaster is over 132 feet and has a track length of 2800 feet. If you are travelling with children, there are plenty of kid-friendly rides as well. The sprawling 300-acre park even has a waterpark for you to get drenched in. There's also a snow park which will help you forget the sweltering Mumbai heat for a while. If you're travelling from out of town, there's a luxurious resort conveniently located within the amusement park for you to stay at.
Wonderla, Bengaluru
Wonderla has around 60 land and water-based rides. While all the rides at Wonderla are exciting, there are some that you absolutely cannot miss. The Recoil is a gravity-defying ride, going at a speed of 80mph. If you love water rides, the Korneto is a water slide that will put all other slides to shame. It also has a musical fountain, a virtual reality show and a laser show. There is even a dance floor with rain showers that use solar power heated water in the winter.
Kingdom of Dreams, Gurgaon
Think Kingdom of Dreams sounds grand? It absolutely is! Spread across six acres, Kingdom of Dreams is a live entertainment, theatre and leisure destination. What sets it apart is that it isn't just an amusement park, but also an exhibition of Indian culture and performing arts. It showcases musicals, arts and indigenous handicrafts in a spectacular setting that looks like it's right out of a Bollywood movie.
Ramoji Film City, Hyderabad
If you are a fan of movies, this is a theme park you must add to your bucket list! The Ramoji Film City is the largest of its kind in the world and is a popular set location for several Bollywood and regional movies. If you have always dreamt of starring in a movie, here's your chance to make it come true. Spread over 2500 acres, the film city has countless set pieces with everything from the streets of London to the gardens of Japan.  Make sure you have enough storage on your phone because there are hundreds of photo ops to take advantage of.
Adventure Islands, Delhi
Feeling adventurous? Head over to Adventure Island in the Rohini area of Delhi. This amusement park boasts of rides like Space Jump, Twister, Cyclone and Derby Devils. The rides can get pretty scary, making them a dream come true for adventure junkies. They also feature live stunts, delicious eateries and plenty of stores to go shopping in.
Nicco Park, Kolkata
Nicco Park is a recreational and educational amusement park in Kolkata. It has around thirty-five rides that include the Toy Train, Tilt-a-Whirl, Giant Cyclone and Paddle Boat. There is also a water park called Wet-O-Wild right within the amusement park where you can take part in a rain dance. Make sure you book tickets for the Robin Hood themed 4D show which is a favourite among families.
Esselworld, Mumbai
Esselworld is one of the oldest amusement parks in India. Ask any 90's kid and they will hum the tune of Esselworld's popular TV commercial. Over the years they have added more rides that promise even more thrills than ever before. The amusement park also features a bowling alley, an ice skating rink and a dance floor.
Planning a trip to an amusement park? Remember to book your stay with Sterling Holidays to make your vacation even better.