The Beatles swayed the world with their "Love is all you need" song. An emotion without barriers; irrespective of language, age, country, caste or creed, Love conquers all. Love is just love, which cannot be explained.
It brings warmth to a lonely heart, joy to a sober life, sparkle to teary eye and peace to a pure heart. So on this Valentine's Day, if you are planning to propose or renew your feelings, the following destinations offer a perfect atmosphere.
Goa
Are you the couple who love sea and sun? Then Goa is the best destination for you. Goa is synonymous with love: say many love-struck couples.
With its variety of tourist spots, splendid beaches, delicious cuisine, age-old forts and nice shopping markets, Goa offers a variety of experiences to you. Stroll along the shores, enjoy a sumptuous dinner, go for a boat ride and spend awesome moments in old forts in this tourist friendly place.
A visit to Goa during Valentine's Day will create ever-lasting happiness to you.
Read also : Misty Goa in Monsoon
Agra – Taj Mahal
Taj Mahal is a symbol of true love. Many historians, architects, archeologists, tourists, poets and painters have found this marvelous monument bewitching.
Taj in moon light is pure magic. Valentine's Day and Taj Mahal in full moon; there is no other ethereal combination in the world. Enjoy spending this Valentine's Day with your soul-mate here and creating your own magic by renewing your love.

Coorg
Calm and serene weather, lavish coffee plantations, pristine rain forests and relaxing atmosphere make Coorg as a much favoured places in Karnataka. Coorg is the best place for those couples who want to relax and spend quality time together.
With its misty hills and verdant valleys, Coorg creates a romantic appeal to couples. Go for a walk amidst coffee plantations together or visit local markets and surprise your loved one with a unique Valentine gift in this "Coffee Bowl of India". Enjoy each other's company and cherish your beloved's love.

Puducherry
This rustic place is one of the popular destinations of TamilNadu. With a beautiful coastline of nearly 30 kms, fantastic cuisine, architectural wonders, palm trees and back waters, this place is as diverse as India.
A Reminiscent of old colonial French rule, this destination boasts a rich heritage. Many beautiful fishing villages, The Auroville village, Sri Aurobindo Ashram etc attract people from far and wide.
A very leisurely atmosphere, rich food and wine, nice beaches make this a delightful destination for couples. As the tag line of Pondy tourism says "Give me a break", a visit to this place gives a much deserved break to you and your partner.

Kashmir
Romance and Nature are beautiful and eternal. Snow-capped mountains, serene Dal Lake, resplendent carpets of saffron crop, charming house-boats, magnificent flowers and crisp mountain air together form this breath-taking destination. Where else can you find such a fantastic location to express your love?
This 'quaint paradise on earth' is the perfect place to visit on this Valentine's Day. Declare, profess and reaffirm your love here and cherish those wonderful moments.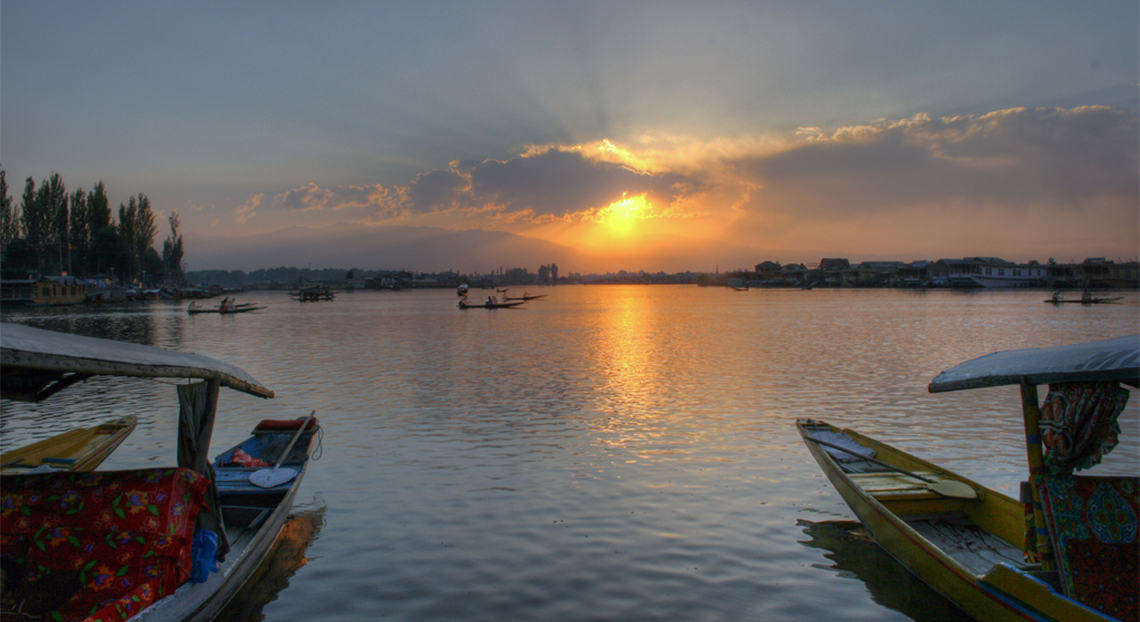 Enjoy your special day with your special one. After all love is  life.