Your mother was right – the freshest food is the tastiest and best for you. Nowhere is this more apparent than when one is indulging in some succulent seafood. After all, "Fresh catch of the day" is a phrase that makes every beach bum traveller happy.
South India has been blessed with coastlines that stretch out for kilometres and it should come as no surprise that over the years, its inhabitants have taken full advantage of all that the sea and the shore can offer. For those who did not grow up here, South Indian food might conjure up images of the standard fare: dosa, idli, sambar and rice-based dishes. But drool-worthy treasures are waiting to be discovered by the seaside in every South Indian state.
Below we explore some of the finest fishes and other food specialities the seaside towns of Kerala, Karnataka, Tamil Nadu, and Andhra Pradesh have to offer:
Karnataka

Image: Meen Gassi
Source: My Tryst With Food And Travel
Start your journey in Karnataka and skip the hustle and bustle of the capital city Bangalore and head to the idyllic coastal town of Mangalore for a variety of coastal cuisine that can satisfy the most finicky of palates. Whether it is the pure vegetarian fare from the Goud Saraswat community, some authentic Udupi delights, or a feast of fish from the Mangalore Catholics, you are bound to emerge from a meal satisfied. The Meen Gassi or Mangalore fish curry is a classic for a reason as the coconut, tamarind, and chillies wake up the tongue. This tangy and fiery delight is best accompanied by some soothing plain rice to soak up the gravy.
Kerala
Image: Thallasery dum biriyani
As you wind your way down from Karnataka into Kerala, one cannot go wrong with some classic Malabari cuisine. Head to Kozhikode or Thalassery to get the best bites. This coastal cuisine combines the best of Arabic, Brahmin, Chirakkal and Zamorin influences, resulting in some delicacies that have grown in popularity across the nation. Most people will be familiar with Malabari Biriyani or Thalassery Biriyani. Cooked using the "dum" process – where a tightly sealed lid is placed on the pot and extreme heat is applied to trap all the fragrant flavours – this Biriyani is also sometimes referred to as Kerala Biriyani since it is the only kind in the state. This classic example of Mappila (Malabar Muslim) cuisine is a must have.
If you want to try something new, give Kallummakkaya curry a try. Mussels simmered in a succulent stew pair perfectly with some fluffy, flaky Kerala parottas. If you're feeling extra adventurous give kallummakkaya thenga curry a try – the raw mango lends a flavour that contrasts nicely against the mussels, leaving your taste buds tingling.
Tamil Nadu
Curve along the southernmost tip of India from Kerala to enter Tamil Nadu, where Chettinad cuisine rules the roost. This is the traditional cuisine of the Chettiar community and is famed for its spiciness. But there is so much more to this fare than the heat it brings to the table. Chettinad Kozhi or Chettinad Chicken will be familiar to most but get a little adventurous and try the unusual Karaikudi Eral Masala – prawns with lashings of fiery chilli paste, speckled with mustard seeds and curry leaves. Pair it with a refreshing drink such as buttermilk or perhaps something a bit stronger for the adults.
If you want to go healthy and eat vegetarian, here's a dish that will give you the taste of a fish stew, but without the fish. Vazhaipoo Meen Kuzhambu is a curry made using banana flowers – which are veggie friendly doppelgangers of tiny anchovies – in a spicy, tangy gravy. Who said our meat-shunning friends cannot enjoy some coastal cuisine?
Andhra Pradesh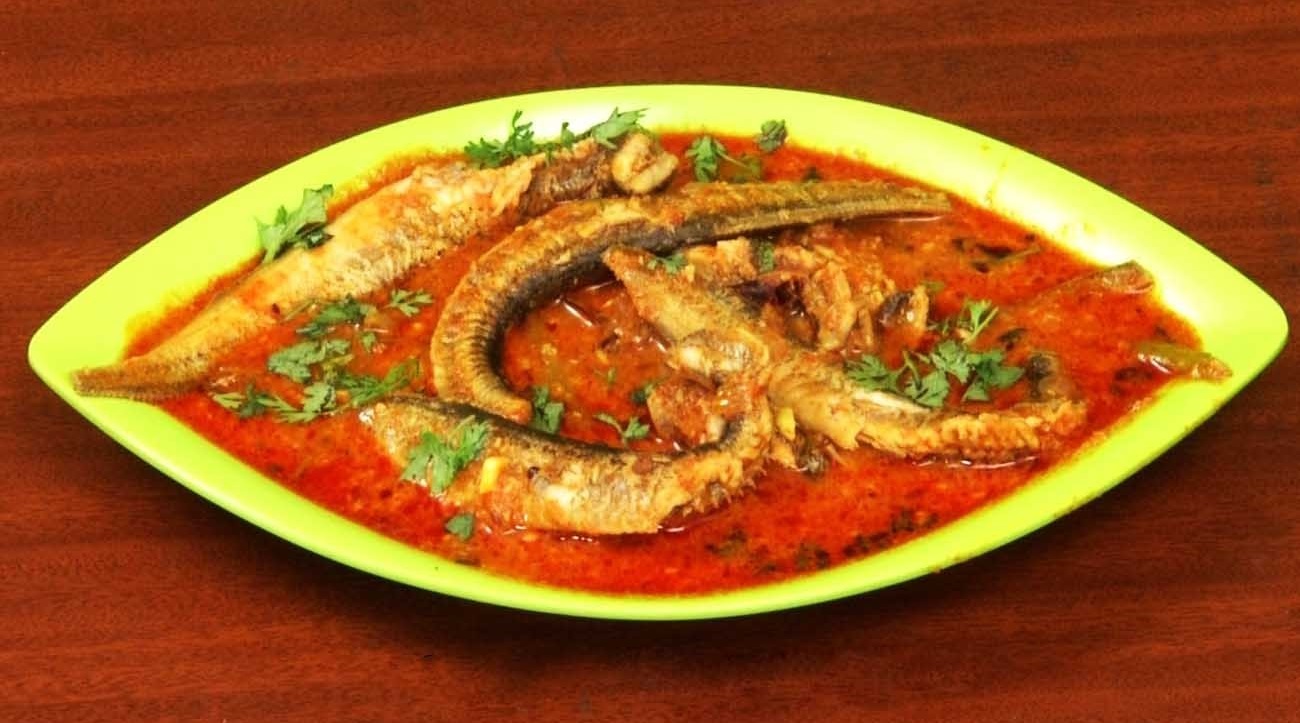 Image:Bommidala Pulusu
Source: http://wirally.com/
Finally, we arrive at the rice bowl of India – Andhra Pradesh (together with Telangana). It should come as no surprise that while seafood features heavily in coastal cuisine of the state, most dishes are still rice based.
However, when it comes to consuming the catch of the day, one cannot go wrong with Bommidala Pulusu. This Nellore speciality is a straightforward fish stew preparation, but don't be fooled by its simplicity. One whole fish is marinated thoroughly and cooked in a tangy tamarind-based gravy with some fiery Andhra chillies. Considering the location, the best accompaniment to this dish is an Andhra staple – some freshly steamed rice.
After a meal like this, all one can do is lay back and indulge in a siesta!