Looking to recharge the nature lover in you with a break from the same old routines at the same old places? Welcome to Karwar…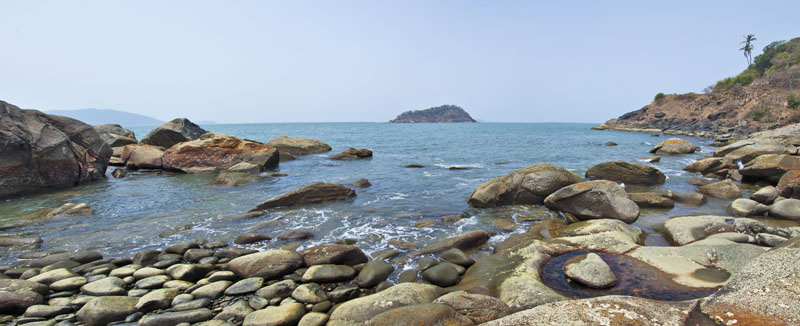 Mountains hiding a dull orange sun, skies painted with radiant strokes of magenta, gold and yellow, sun-kissed waves rising from slumber to start anew…this sketch represents a typical morning in Karwar, a glowing and pristine beach town situated on the banks of River Kali, about 15 kms from the Karnataka-Goa border. Chances are that your mind has already started racing towards that much-needed respite, hasn't it? Well, Karwar surely doesn't disappoint. An ideal holiday destination with ecologically balanced surroundings, flourishing nature and historical sites, this marvellous beach town is easily accessible and is well connected to cities like Goa, Mangalore and Mumbai by the Konkan Railway network.
Karwar has something to offer everyone. You can lounge at the beach, enjoy quiet walks in this charming town, soak in the historical sights or create your own adventure excursion – Karwar manages to weave them all in. The many recreational activities dished out to visitors serve as a delightful contrast to the otherwise relaxed setting of this town. So, for those on the lookout for some adventure, activities such as parasailing, kayaking and banana boat rides make for the ultimate thrilling experience. Feeling adventurous? Then go snorkelling for a glimpse of the gorgeous underwater life at its vibrant best. Dolphin watching is another attraction, with these intelligent and playful mammals delighting visitors with their constant antics in the ocean. And while you are in this town, you would not want to miss the mouth-watering Karwari cuisine, with fish curry, rice and buttermilk making for a scrumptious meal. This small town that seems oblivious to its own beauty is home to several charming places that one can visit throughout the year, particularly in the monsoon. So, plan in advance about where you want to go and what you want to see.
Sadashivgad Fort – A place with tremendous historical value, Sadashivgad Fort is situated on a small hillock on the outskirts of Karwar. Built in the year 1715, this fort is said to have had 38 cannons positioned around it to shield the coast from the enemy. Although most of the fort has been destroyed, the huge brick walls and the gateway still bear signs of its luminous past. A great pick if you wish to view the sun setting against the backdrop of the beach.
Karwar Beach – Also referred to as Rabindranath Tagore Beach, this captivating beach is a tourist hub with activities like the aforementioned snorkelling, and diving, being the main attractions. A garden at one end and an arched building at the other exude an old-world charm that transports one into the lap of quietude. The lovely Karwar port that can be viewed in its full glory, along with the fisher folk, complete the pretty picture that is Karwar Beach.
Oyster Rock Lighthouse –Oyster Rock lighthouse is located on an island close to Karwar and can be reached by a machine boat. Constructed by the British during the 1860s, the lighthouse has a lantern room and a dome at the top that gives a view of the room's entrance. The white lantern enhances the beauty of the sunrise and sunset.
Naval Museum – The INS Chapel, which played an important role in the Indo- Pak war of 1971, has been converted into a naval museum. This museum is a must-see with an informative video presentation on the warship, astounding mannequins of the crew of the ship and a fine display of torpedoes and missiles. The fun in visiting this warship is exploring its many different areas, especially the engine and cabin rooms.
Dandeli Game Sanctuary –Wildlife lovers will have a whale of a time at this sanctuary with some rare species like the barking deer, sloth bear, panther and gaur making their home here. Other wildlife includes wild dogs and majestic elephants. With a whole gamut of activities and attractions, Karwar is indeed a fantastic holiday destination. So, unwind, bask in the beauty of the charming beaches and have a wonderful experience with endless opportunities to witness Mother Nature at her very best!