Dooars to Kolkata, let's just say, the transition wasn't too kind on us, any of us. This was not to say that the city wasn't charming. It was very charming, but for a family whose primary address was always a bungalow with an avenue lined with deodar trees, three big lawns of which, one had a rock garden, another was almost a mini orchard of sorts with chikoo, litchi and guava trees and a third that was converted into a badminton court over the winters where people came and played matches. Not to forget, there was a huge kitchen garden which grew vegetables organically, mum had also begun this initiative of starting a small poultry which eventually grew and with time, there came a cowshed as well. All this and then a 3BHK apartment in a condoville, one of the first in the city, a common super market, lots of trees, equal pollution and of course the biggest welcoming factor, the HEAT!
Obviously, a lot of things needed to undergo a change. Lifestyle was definitely not going to be the same anymore and with that our diet was also altered.
I remember my first vacation where I was going home to Kolkata. It was during the monsoon, mum and sister were there to receive me at the airport. We had phuchka on the way which was a big deal for me because I loved them, but when we lived in the gardens this very street food was a treat for us because the nearest place we could get it was almost 2.5 hours away from where we stayed and we were most certainly not going there on a regular basis.
When we got home, it was all very casual, but then suddenly the realization hits, I had no idea where things were and how they got there. Suddenly, it was like, there was a new set of rules around this house, one which neither of us were used to but had laid down and tried to follow the best we could. Now, that my mum had to handle the entire household on her own (we had many helping hands when we lived in the estates), there were obviously a few discipline rules set down. And the kitchen too had a great many of them.
There was a particular way she'd arranged all the bottles of spice, the cutlery, crockery, everything. Sitting on the kitchen top was not an option anymore, not because she didn't like it, but because it was too warm to be sitting in the kitchen – one of the reasons why our diet had also undergone a change. Mum now made limited dishes and avoided the element of excess, less oil, more vegetables and food became much simpler. Nobody complained, because somehow, eating that was really helpful in battling the heat. Fish was the staple form of protein we served, so there would be varieties of it – gravy, gravy with onion paste, gravy with cumin seeds, mustard, tomato based, curd, and lots others. So, that's the one amazing thing about a Bengali household that loves fish, you get ten different varieties of the same fish.
One of the main reasons why we eventually grew up to liking living in the city was because we had acquired the taste of fresh fish and food. Agreed that the plantations gave us the best organic produce, but then there was something about eating food at home, one that was freshly prepared by your mum from the great variety of produce that the sellers would display at their stalls. If there was one thing that made us acknowledge Kolkata as our home-city, it was because of the fondness that we had developed for food.
Here is the recipe to one of the fish preparations my mum makes and I love. It's very simple, nothing fancy but it's a very homely preparation, so you should definitely try it.
Bengali Fish curry with vegetables
When you're really tired and hungry, a hot steaming plate of rice and this piping fish curry could be just the thing for you. That's what Ma always did. What were the special memories of mum you still cherish? Share with us on www.momsmagic.co .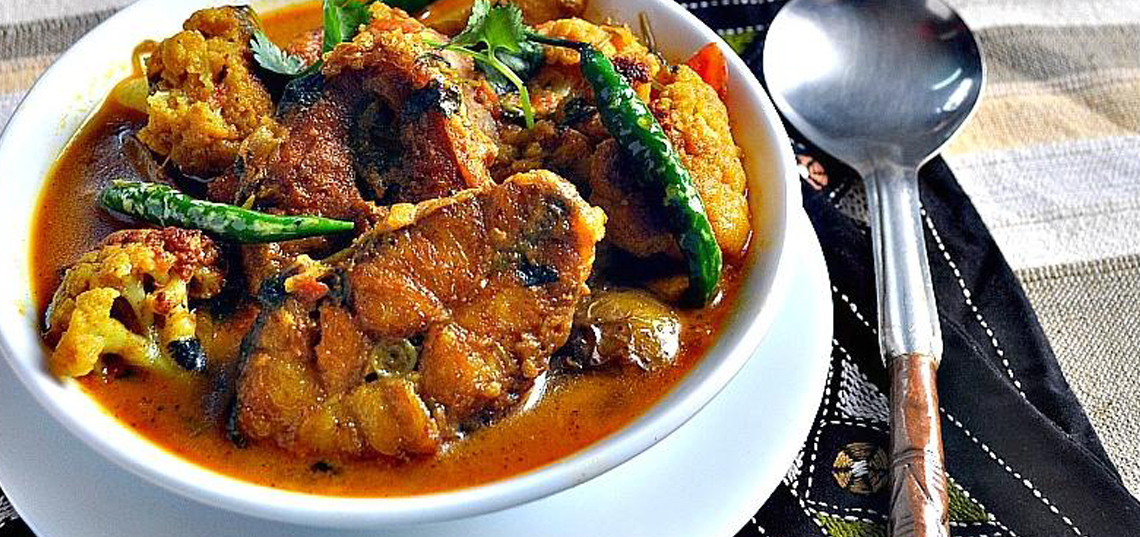 Ingredients:
4 fillets of rohu or catla (fresh water fishes)
1 six-inch ridge gourd
1 medium potato
4-5 florets of cauliflower
2-3 pointed gourd
1 teaspoon nigella/kalonji
1 teaspoon turmeric powder
1 teaspoon cumin powder
1/2 bay leaves
Salt to taste
Few sprigs of coriander leaves (optional)
Preparation:
Slice all the vegetables, wash, mix with little turmeric powder and salt
Heat about 2 tablespoon of oil in a wok and toss the vegetables till lightly fried, keep aside
Wash the fish fillets well, and mix them with turmeric and salt. Drain out the extra water
Pour in another 2 tablespoon of oil in the wok and as the oil get piping hot fry the fish fillets till the fish is soft and tender
Add all the spices except nigella in a bowl and mix with water to make a smooth mixture
Take in 1 tablespoon of fresh mustard oil in the wok, throw in the nigella and bay leaves
As the spices start sputtering pour in the spice mixture and little water
Stir well till the oil separates
Add the vegetables and mix with the spices
Toss for a little while (1-2 mins) and pour in about 2 cups of water
As the vegetables get almost cooked add the fried fishes and  cook till the gravy sips inside the fish
Serve garnished with coriander with warm white rice
When you're really tired and hungry, a hot steaming plate of rice and this piping fish curry could be just the thing for you. That's what Ma always did. What were the special memories of mum you still cherish? Share with us on www.momsmagic.co.