Goa is synonymous with its gorgeous beaches. The mere mention of Goa is enough to conjure up images of palm-fringed stretches of golden sand beaches. But Goa is much more than its beaches. Goa is a mesmerizing medley of experiences. Culture, adventure, architecture, history, heritage, cuisine, and many other facets of Goa are guaranteed to charm visitors to the state.
One of the most vintage and grand aspect of Goa lies in its Portuguese heritage, more specifically in the Portuguese houses, many of which date back to the 16th century when the Portuguese set foot in Goa and subsequently colonized it. Though the ravages of time have ensured that many of these heritage structures have bitten the dust, many still survive to tell the tales of a grand past, a different era when Goa was a different place and the Portuguese culture thrived.
The old churches and convents of Goa of course figure on most tourist circuits, but there are many old mansions that are treasure troves of Portuguese culture and heritage. The structures are not only a living testament to the grandeur of the Portuguese architectural style but also living museums of heritage and culture. It is remarkable that many of these old mansions that date back hundreds of years are even today maintained as new and are inhabited by descendants of the original owners.
Fontainhas- A Vintage Gem of Goa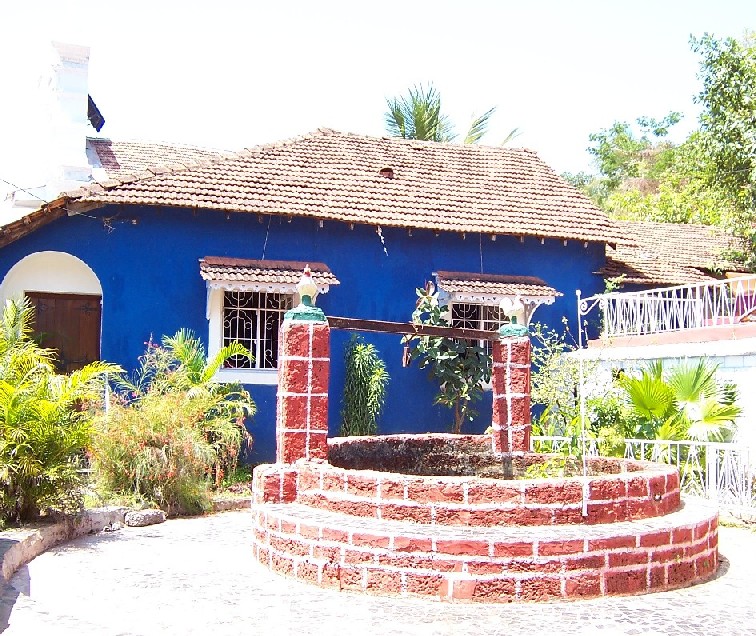 A place that one must visit in Goa is Fontainhas in Panjim which is known as the Latin Quarters of the city. Rows of delightful and enchanting heritage houses in different hues have your gaze riveted. The old world charm and elegance of a bygone era sweeps you off your feet. Narrow and winding streets fascinate with their European connotations as Fontainhas oozes with traditional Portuguese influence. Houses in Fontainhas date back to the 18th and 19th century and still retain their original colours. Red tiled roofs and houses bedecked in vibrant shades of yellow, blue, green, and other colours are a visual treat. The area also houses many art galleries and cafes which only add to the exotic aura of the place. It is interesting to note that during the time of the Portuguese it was a legal mandate for houses to be painted every year and this practice continues to this day, no wonder that the houses always have a freshly painted. A heritage walk in Fontainhas is a voyage of discovery in a region that seems to be caught in a time warp.
Braganza House
The Portuguese brought with them their own distinctive and grand architectural style. The magnificence of their architecture is evident in the palatial mansions that they build in Goa which were opulent by any standards. Many of these grand mansions have survived the test of time and have not lost their lustre. The marble and stone structures have not lost their lustre but the lifestyles of their occupants have undergone a sea change as they struggle to come to grips with changing times. One of the grandest of mansions in Goa is the Braganza House in Chandor, South Goa. This magnificent mansion sprawls over an area of close to 10,000 square metres and is a treat to the eyes. The Braganza house consists of two wings, the eastern and the western. While the eastern wing has bowed to the ravages of time, the western wing is restored and shines with its original lustre. The jewel in the crown that the Braganza bungalow is undoubtedly the ballroom which is resplendent with chandeliers which and antique furniture. The house contains a mesmerizing collection of Ming vases and Chinese porcelain and also has a charming library that has a collection of about 5,000 books. The Braganza House is open for visitors who need to donate for the upkeep of the house.
Apart from Braganza House other noted and must visit Portuguese heritage houses include the 11,000 square feet mansion known as Palacio do Deano and Casa Araujo Alvares.
A heritage walk to admire the beauty of Portuguese architecture is an experience that will leave you awed by the finesse and grandeur of the Portuguese era. You should also explore Margao – the cultural capital of Goa to full appreciate the unique culture of this place.
The best way to get an immersive experience of these heritage buildings that include houses and churches is through a heritage walk. Sterling, who believes in curating different holiday experiences, reveals to you a different dimension of Goa for guests at its two resorts namely Sterling Goa-Varca and Sterling Goa-Bardez.