Remember watching Padmavat or Bajirao Mastani and drooling all over the incredible palaces? Yes, that's right! Sanjay Leela Bansali has always captured some of the truly beautiful moments of history. If you are wondering how to go back in time to see some of these timeless architectural marvels, look no further! Rajasthan awaits! Dotted by many forts and historic monuments, there are plenty of best places to visit in Rajasthan, which will instantly make you fall in love with this princely state. Each kingdom of Rajasthan has its own distinctive style of architecture and lifestyle making it one of the most diverse states in India. Rajasthan definitely makes a good vacation idea to bond with your constants. Read further to discover the best places to visit in Rajasthan while you're there.
Hawa Mahal


If you haven't visited Hawa Mahal in Rajasthan, have you really been to Rajasthan? Hawa Mahal or the 'Palace of Winds' is a prominent tourist spot in all of Rajasthan. It is renowned for its rich culture and architectural history. Maharaja Sawai Pratap built this beautiful structure in 1799 with a purpose in mind. The purpose was to facilitate the women of Jaipur to get an eyeful of the happenings in the city without stepping out of their abode. This five-storey building represents the crown of Lord Krishna with over 953 windows. The aesthetic façade resembles the honeycomb of a beehive making it one of the most unique heritage buildings in the world.
Rani Padmini's Palace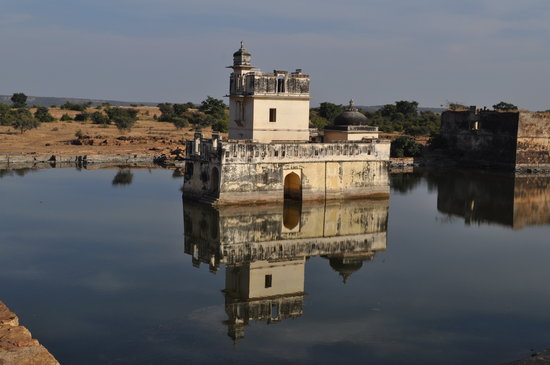 If you've watched Padmavat, you know exactly what this place signifies. It became famous when the queens Rani Padmini and Rani Karnavati led the womenfolk of Mewar dynasty to commit Jauhar(self-immolation) than be dishonoured by the enemies. Not only does it stand as testimony to the legends and stories said about this palace, it's also one of the most picturesque places showcasing the rich and colourful culture of Rajasthan. This palace in Chittorgarh is one of the earliest palaces in the country. Padmavati palace is located in the heart of Chittorgarh fort that stretches wonderfully over the Aravalli mountain range. When you're visiting this palace, you'll get to relive the memory of watching Padmavat as you can see the climax unfold itself there.
Fateh Prakash Palace

As you enter this palace you'll be stunned by the huge decorative pillars and corridors instantly giving you the royal feels. This lavish palace in Udaipur is located along the shores of the Pichola Lake in Udaipur. It was built by the legendary Maharana Fateh Singh. The palace was named after him as he lived and breathed in this palace. It's an embodiment of royalty and rich heritage. One part of the palace is converted into a heritage hotel and the other part into a museum showcasing a treasure-trove of exquisite paintings, beautiful chandeliers and a unique collection of crystal crockery and utensils. If you are planning for a short trip, this palace is definitely one of the places to visit in Rajasthan in 3 days.
Jal Mahal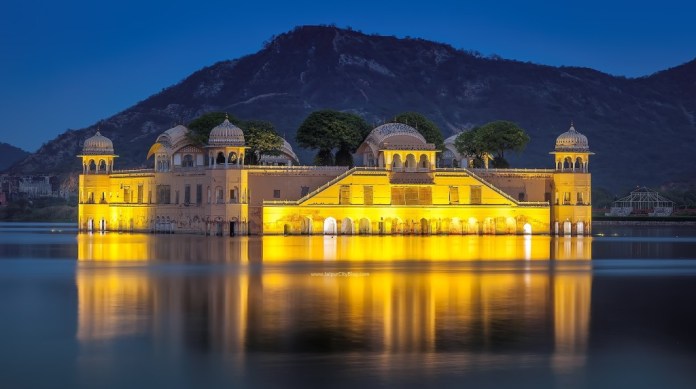 This palace could possibly be the calmest and most serene sight amidst all the chaos of the Jaipur city. It is one of the ideal places to visit in Jaipur for couples. The low rise, symmetrical structure was built by one of the Maharajahs and was used as a shooting lodge. The light sand-coloured stone wall of the palace against the deep blue water of the Sagar Lake is a sheer delight to watch. It is one of the best places to visit in Jaipur at night. This majestic palace is the most photographed monument and is very popular among tourists. Although this palace appears to have a single story, when in fact there are further four submerged levels. The dexterity with which this palace was built is one of the main reasons why you should witness this masterpiece in person. Jal Mahal is one of the unexplored places to visit in Rajasthan.
City Palace Jaipur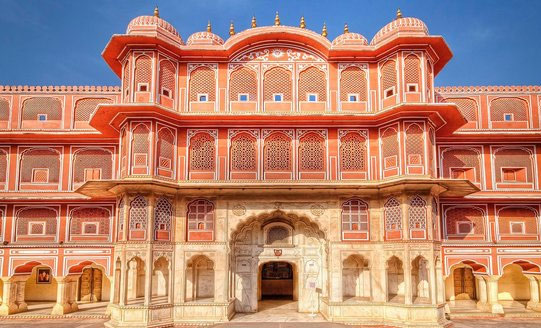 Right on the top of the list of places in Rajasthan is this elegant and magnificent palace with a vast expanse of gardens and courtyards. The architecture of this palace is a striking blend of Mughal and Rajasthani aesthetics. It served as a residence to the former Maharaja of Jaipur. There are an ample number of ways to travel to this palace. You can hail a cab, take a bus or travel in rickshaws if you want to experience the Indian way of travel. Pack your bags and leave now to behold this wonderful attraction. The streets connecting to this monument has plenty of shops that sell authentic Jaipur jewellery, shoes and clothing making it one of the best places to visit in Jaipur for shopping.
Jaisalmer Fort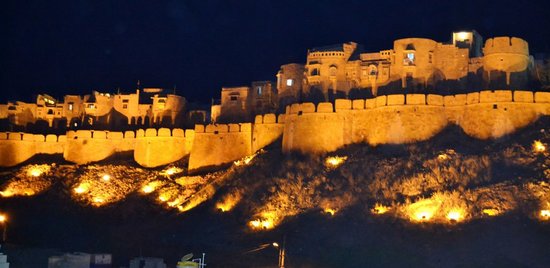 Situated in the city of Jaisalmer is this admirable fort, locally known as Sonar Quila. It is one of the most extravagant forts in the world housing different architectural buildings, temples and palaces. This fort has survived a lot of attacks by some Muslim kings like Humayun and Ala-Uddin-Khilji. During sunset, the fort is even prettier as the whole structure fades into a shade of honey gold, thereby camouflaging with the Thar Desert. The Jaisalmer fort is extremely vast that one-fourth of the city's population dwells inside the fort itself. Do not miss out on this beauty,one of the best places to visit in Rajasthan.
Lalgarh Palace and Museum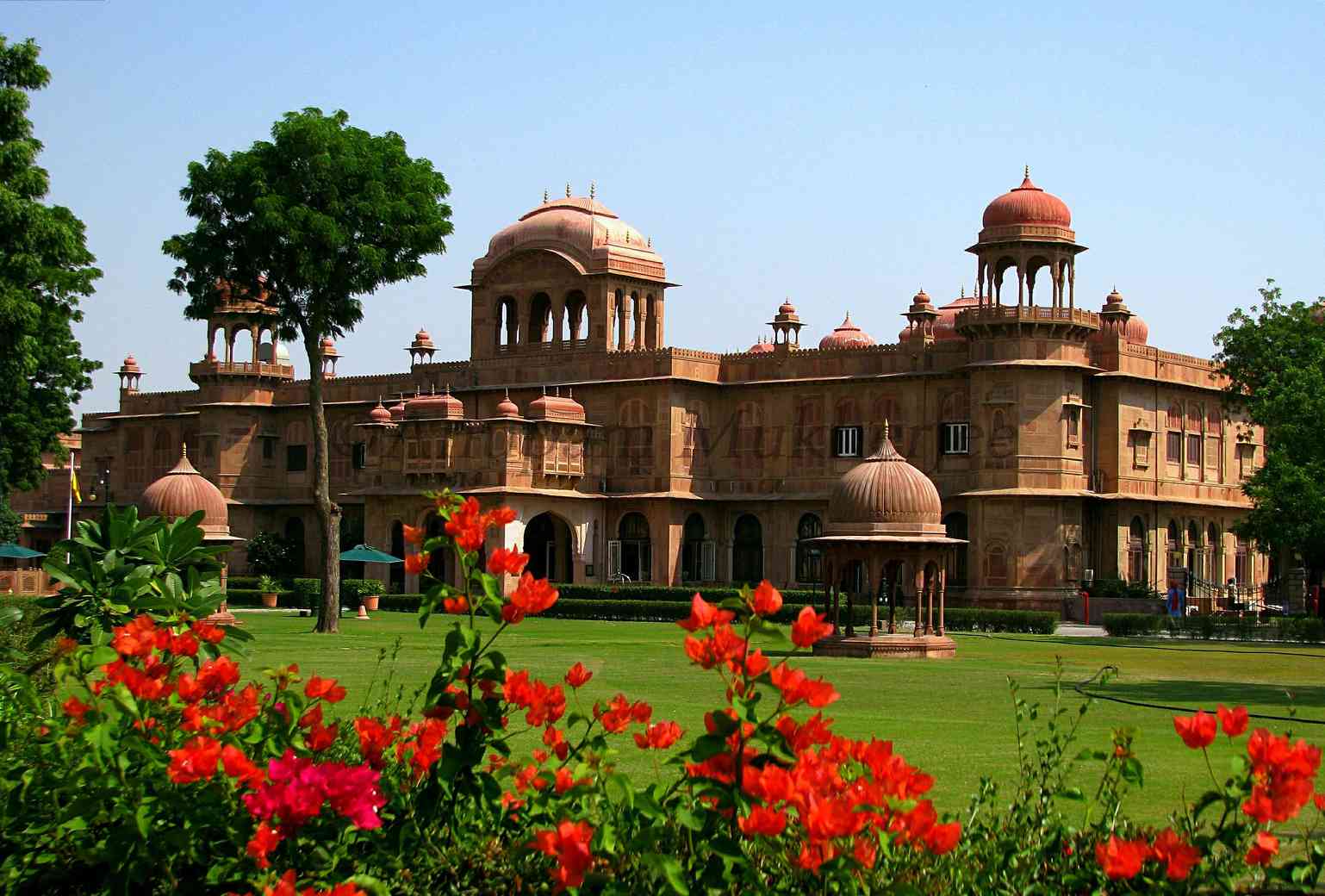 This palace is a delicate blend of Mughal, European and Indian architecture. The pillars and colonnades showcase some of the best lattice and filigree work in the world. This palace will make you fall in love with its rich history, royalty and elegant architecture. A part of it has been converted into a luxury hotel treating their guests with regal interiors. There is also a museum where you can uncover amusing facts about the Maharaja and his dynasty by yourself making it one of the unique places to visit in Rajasthan. Bask in the rich glory of this royal palace and embrace the culture and heritage of India – the land of incredible monuments.
Umaid Bhawan Palace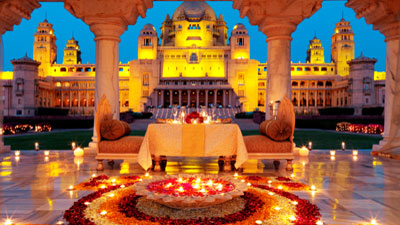 This is the youngest palace in India which was built right before the independence which certainly tops the list of tourist places in Rajasthan. The construction of this palace was completed in the year 1943. This building is a part palace, part hotel and part museum. The descendant of Maharaja Umaid Singh still resides in the premises of this palace. Wouldn't you like to meet the members of this royal family? Taj Group has acquired a part of the palace and has transformed it into a heritage hotel comprising of 25 rooms and 39 suites giving a regal experience to its guests. The hotel rooms come with scenic views of the garden where you can see peacocks just strolling about. This grand property also houses a museum that's open to the public. The museum exhibits porcelain ware, different glassware. If you're one to enjoy and appreciate vintage cars, this is your place as it displays a huge collection of cars used by the kings.
Junagarh Fort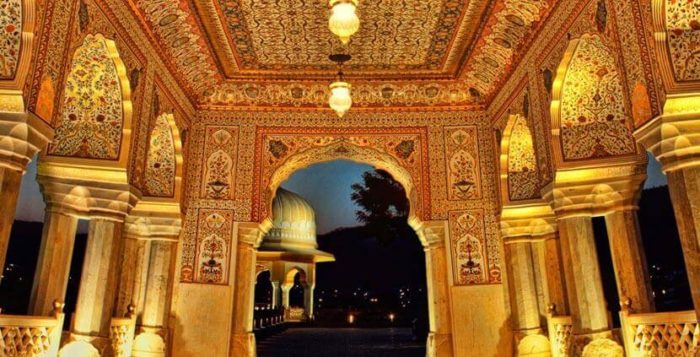 Besides the Sariska fort of Rajasthan, Junagarh fort is a major tourist attraction all over the world. The special and interesting fact about this fort is that in spite of numerous attempts to vanquish this property, it has remained unconquered till date. A part of this magnificent beauty has been converted into a museum where the ancient artefacts are put on display for the public eye. One of the fun things to do here is to wear the authentic Rajasthani clothes and click lots of photographs.
These palaces will definitely leave you feeling like you're in a Sanjay Leela Bhansali movie. Make the best out of this surreal experience by visiting the best places in Rajasthan and book your stay at Sterling.  Make great memories along the way as we all know – a family that holidays together stays together.