The magic words "Street Food" brings out the foodie in everyone. The mouth-watering fragrance, visually appealing cooking techniques and the hustling street ambiance gives it an extra kick which will make you weak in the knees. The beauty of Indian street food lies in its variety. From the finger licking Aloo Tikki in Uttar Pradesh to the famous Kottu Parotta in Tamil Nadu, there is no dish which will not leave you wanting for more!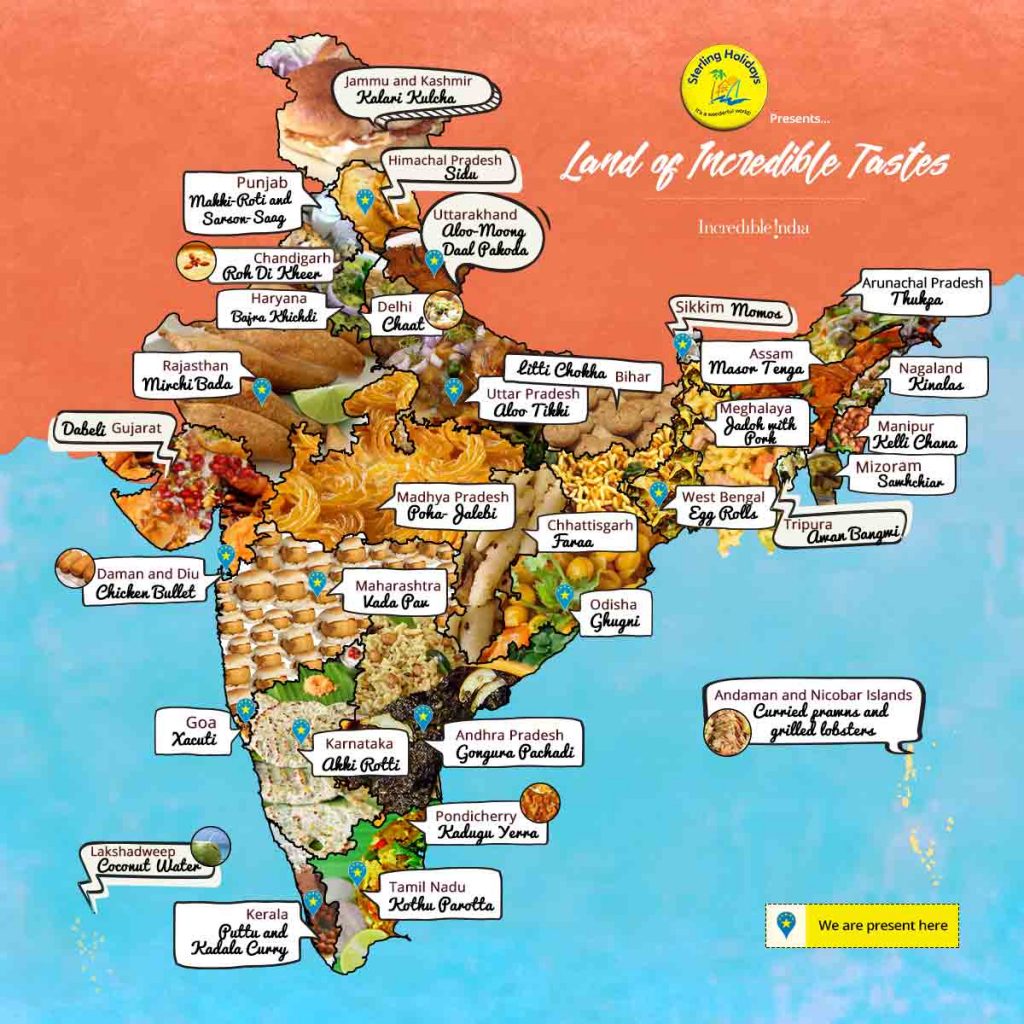 Andhra Pradesh – Gongura Pachadi
This delicacy is an authentic Andhra pickle made from sorrel leaves and tastes delicious with a plate of hot steamed rice and onion.
Arunachal Pradesh – Thukpa
Thukpa, a noodle soup prepared with vegetables and/or meat, is a very common soup here. Apart from being extremely tasty, this dish is also healthy, filling and is available in many variants. The heat in the spices and scintillating fragrance makes it perfect for a cold day.
Assam – Masor Tenga
Masor Tenga is a mouth-watering sour fish curry made from freshwater river fish and tomatoes, kajinemu (elongated lemon) or thekera (dried mangosteen). It is delicately spiced with exotic tastes and flavours, leaving you craving for more.
Bihar – Litti Chokha
This lip-smacking, crunchy dish from Bihar consists of Litti (wheat balls stuffed with Pitthi – roasted and spiced gram flour) and Chokha (char-grilled aubergines or mashed potatoes). It tastes delicious with pure desi ghee on the side.
Chhattisgarh – Faraa
Chhattisgarh is the rice bowl of India. Faraa (a rice dish) is an interesting yet simple street food of Chhattisgarh. It is like a steamed dumpling. This snack is pretty easy to make, although the dough is a tad delicate to handle. A generous serving of mouth-watering green chutney adds on to the delectable taste of the dish.
Goa – Goan Chorizo/Pork Sausage Chilly
Portuguese chouriço is made with pork, fat, wine, paprika, garlic and salt. These ingredients are stuffed into natural or artificial casings and slowly dried over smoke. It hardly requires any effort and time. Just add the staple chopped veggies used in most dishes to some hot water with the crushed chorizo and you end up with a hot, spicy, finger-licking accompaniment which goes well with some warm bread or pav. Next time you visit Goa, don't forget to pick up some of these yummy sausages on your way back.
Gujarat – Dabeli
This is traditionally sold on the streets of Gujarati towns. It is another version of Vada Pav made with a sweet and spicy potato mixture which is filled into a small burger bun and then topped with onion, pomegranate, fresh garlic chutney and sev. Instead of pomegranate, you can use black or green grapes cut into small pieces. Many try to replicate this snack, but Gujarat does it the best.
Haryana – Bajra Khichdi
This is a porridge (khichdi) made of coarsely crushed pearl millet and is eaten with pure ghee or sesame oil. Side dishes like lassi, papad, pickles, gur or curd takes this dish to a whole new level.
Himachal Pradesh – Sidu
Sidu is the famous local dish of Himachal Pradesh. It is a kind of bread made of wheat flour molded along with yeast and left to rise for four to five hours. Later, it is stuffed with fat, roasted over slow fire and finally steamed for few minutes. Sidu is served with ghee, mutton or dal. This local treat is a must-try for everyone who visits this state.
Jammu and Kashmir – Kalari Kulcha
Kalari Kulcha is also famously known as the 'The King of Jammu and Kashmir Street Food'. The stuffing is made from Kalari Cheese (known as Maish Krej in Kashmir), available only in Kashmir. Kalari is a traditional ripened cheese and it beats mozzarella by miles. This food can make you forget every cheese burger you have ever had!
Jharkhand – Jhal Muri
Jhal Muri is to Jharkhand like bhel is to Mumbai. This simple yet delicious snack can be put together in minutes. This delectable snack gets its flavours from special Muri masala and mustard oil which are easily accessible for local vendors. This delicacy is the most supreme of all snacks.
Karnataka – Akki rotti
Akki Roti is the specialty of Karnataka. It is spicy bread made from rice flour and served with coconut chutney. This delicious street food is a common tiffin snack which is quick and easy to make. It is a common alternative to dosas.
Kerala – Parippu Vada
Parippu vada or Dal vada can be defined in 3 simple words – spicy, crunchy and yummy. It is prepared from Toor dal. Parippu vada with a cup of black tea has been the perfect combination to unwind and relax in Kerala through the ages. You will love to munch these parippu vadas in a rainy day sitting idle in the balcony.
Madhya Pradesh – Poha-Jalebi
Poha-Jalebi is the most exquisite street food and the specialty of Madhya Pradesh. It is typically a generous portion of poha, served with sev, nukti and jalebi. This Indori dish is counted among the best breakfasts in the world. It is a must-try for those who love a good and hearty breakfast.
Maharashtra – Vada Pav
Straight out from the heart of Maharashtra, in Western India, the Vada Pav has an iconic status in India. It used to be the "poor man's food", but these days even the rich and famous can be spotted eating it at Bombay's numerous roadside food stalls! The vada is made of a spicy potato filling deep fried in a gram flour batter. Along with hot and spicy garlic chutney, this delicacy is impossible to miss.
Manipur – Kelli Chana
Kelli Chana is an addiction for spice lovers. It is said that an old lady named Kelli used to sell this addictive snack under a tree and people from all over Manipur started flocking around the tree to buy her Chana. This scrumptious dish is great for an afternoon snacks with "kadak chai" and is a very famous snack among the people of Manipur.
Meghalaya – Jadoh with Pork
Meghalaya is best known for the dish 'Jadoh' – red hill rice cooked with pork pieces. It is a khasi version of biriyani. Next time you are in Meghalaya, do not miss this authentic and delectable Khasi dish.
Mizoram – Sawhchiar
This is an ethnic Mizo delicacy prepared by boiling meat and rice together. It is a kind of stew made from pork, lamb or chicken. Absolutely delicious, it is surely a must have.
Nagaland – Kinalas
Kinalas is Naga City's homegrown version of mami or noodles. The broth is made from strips of meat, from cow or pork head, that is boiled until tender. This soup is then topped off with a serving of gravy, with some kalamansi on the side. Kinalas is prepared with remarkable innovation by roadside hawkers and is a must-try for meat lovers.
Orissa – Ghugni
Ghugni is a famous evening snack in Eastern India. Black gram, dried yellow peas or dried white peas is cooked with gravy, in traditional eastern Indian style. It is then served with kurmura (puffed rice), and at times with hot onion pakoda/ bhajiya. The combination of tangy and spicy is what makes it extremely desirable!
Punjab – Makki roti and Sarson saag
This is a famous traditional Punjabi delicacy. 'Makki Roti' is corn meal Indian bread that tastes fabulous with 'Sarson saag' – a mustard-based green gravy, best enjoyed with a glass of lassi.
Rajasthan – Mirchi Bada
Mirchi Vada or Jodhpuri Mirchi Bada is a very popular spicy street snack, famous in the state of Rajasthan. The traditional Mirchi bada is made of green peppers stuffed with a spicy potato mix, coated with gram flour and deep fried until slightly golden in colour. The chaat masala and tangy tomato sauce topping makes this dish all the more heavenly. It is a delightful and prominent snack in Jodhpur, enjoyed by the Jodhpurians, as well as the tourists visiting that place. Its luscious and lip-smacking outburst of spices and flavours will leave you craving for more.
Sikkim – Momos
The momo is the Himalayan dumpling, hailing from Tibet and consumed enthusiastically from Nepal to Bhutan, and finally in India. The Momos are consumed piping hot with soup and home-made chilly sauce. They have already entered commercial production and are well known in menus of all local hotels/ restaurant.
Tamil Nadu – Kothu Parotta
Kothu Parotta is a delicacy popular in the South Indian state of Tamil Nadu. Based on a Sri Lankan version where it originated as Kothu Roti, Kothu Parotta is prepared with mixed vegetables that include carrot, beans and green peas. Egg kothu parotta has traces of scrambled eggs while chicken kothu parotta has chicken pieces with salna gravy to add to the flavour. Whatever the variation, it is surely an irresistible fast food.
Tripura – Awan Bangwi
Awan Bangwi is an ethnic Tripuri cake made from guria rice, onion, ginger, cashew-nuts, raisins, ghee, and pork pieces, and finally garnished with herbs. The cake is wrapped in a special leaf called 'Lairu'. If you ever happen to visit Tripura, give this delicacy a try.
Telangana – Pulhora pulusu
The Pulihora pulusu is a traditional Telangana food recipe. It is traditionally a tamarind-based dish, which has more of an acquired taste. In fact, tamarind rice also exists in Karnataka and Tamil Nadu. But it's usually served as a rice dish. Extra tamarind along with the rice is what makes this dish stand out.
Uttaranchal – Aloo-Moong Daal Pakoda
Aloo-Moong Daal Pakora is served as a snack and is one of the favourite innovative snacks of Kumaon. It is served with chutney or tomato ketchup. Moong Dal pakodas are really easy to prepare and healthy too, as green gram is a rich source of nutrients.
Uttar Pradesh – Aloo Tikki
One of the most popular street foods, Aloo Tikki is an evergreen dish, loved by several generations of Indians. Hot and crisp Aloo Tikkis are to be relished right off the tava, to warm your body and soul even on a cold, rainy day!
West Bengal – Egg Rolls
Egg Rolls are one of the most popular street foods in Kolkata. It is a fried egg wrapped inside a parantha, served with chutney or sour dipping sauce, commonly sold in many roadside stalls. This dish is now being enjoyed not only in West Bengal, but all over India due to its inevitable taste.
Delhi – Chaat
A North Indian staple, chaat is a readily available delicacy found in almost every city and street of India today. If legends are to be believed, this snack originated from Shah Jahan's kitchen. Over the course of time, a multitude of recipes and versions have evolved, differing from town to town, and vendor to vendor. What they do have in common is that they are crispy, spicy and sweet all at once. Some famous chaats are bhel puri, dahi puri, paani puri and papdi chaat.
Pondicherry – Kadugu Yerra
Kadugu Yerra is an incredible curry made with prawns cooked in a spicy tomato sauce with potatoes, vinegar, fenugreek, mustard paste and creamy coconut milk. Curried Vegetables, another local delicacy, is a delicious vegetarian alternative to this dish. Filled with various nutritious vegetables, this food item is highly colorful to look at and lovely in taste. This lip-smacking vegetarian dish is very healthy and wholesome as well.
These lip-smacking finger-licking dishes are India's pride. Irrespective of the state you are visiting, make sure you try out these delicacies to tickle you taste buds and make every vacation count. Let us host you at Sterling Holidays for an unforgettable holiday experience.