India, the Motherland of the culturally diverse. Like many countries around the world, India has its share of unique, historically significant monuments that have gained worldwide recognition as a "must-explore" destination. Here's our pick of five incredible monuments in India.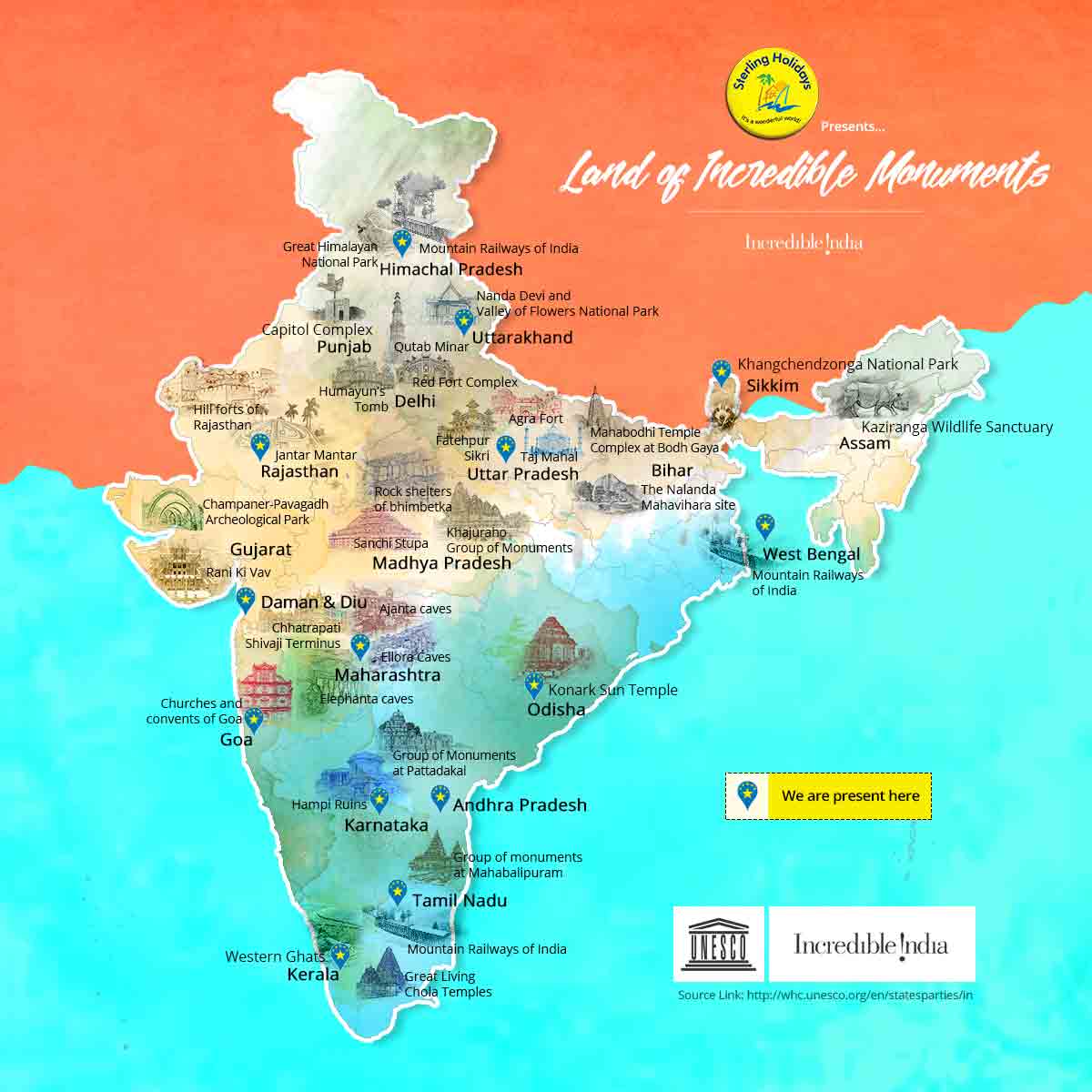 Bom Jesus Basilica- Goa
Located in Old Goa, the capital during Portuguese rule, the Basilica of Bom Jesus is one of the oldest churches in the state. Construction began in the early 16th Century, and till date, it is considered as a landmark in Christian history. The remains of St. Francis Xavier are placed inside a well-decorated casket in the church, while his relics are displayed during an exhibition held every ten years.
Taj Mahal- Uttar Pradesh
India's most recognisable monument is the Taj Mahal. The monument attracts nearly eight million visitors a year and is regarded as one of the Seven Wonders of the World. Built in the mid-17th Century, the Taj Mahal is located on the Southern banks of the Yamuna River in Agra. The great Mughal Emperor Shah Jahan commissioned the construction of the monument to serve as a tomb for his wife, Mumtaz Mahal.
Sundarbans National Park- West Bengal
The Sundarbans National Park is a massive tiger reserve and wildlife sanctuary located in its namesake Sundarbans. It is the largest tiger reserve in the country known to house the endangered Bengal Tiger among other species. UNESCO has labelled the reserve as a world heritage site due to its many special projects that work towards the care and protection of India's diverse flora and fauna.
Great Living Chola Temples- Tamil Nadu
The Great Living Chola Temples comprise of three ancient monuments constructed across the state of Tamil Nadu, built during the 11th and 12th Century. The Temple of Gangaikonda Cholapuram and the Airavatesvara Temple were constructed in Darasuram, while the Brihadisvara Temple was built in Thanjavur. UNESCO has declared the monuments as world heritage sites due to their magnificent architecture that can rival any modern monument.
Hampi Ruins- Karnataka
Located in the district of Bellary, the Hampi Ruins consist of a number of ancient temples. The location is recorded in history as it is known to house one of India's oldest civilisations- the Maurya Empire (326 BC–180 BC). The Hampi ruins are so popular that the Archaeological Survey of India continues to conduct excavations.
If you are planning for another fantastic vacation, make sure to include these historic locations in your list. Need a place to lodge while travelling? Book a stay with Sterling Holidays.