India is a land of diverse cultures and every state has unique landscapes, food, religion etc.  Along with these characteristics, every state in India also has a dedicated dance form. From classical to  tribal dance, some of the most popular dance forms are mentioned below: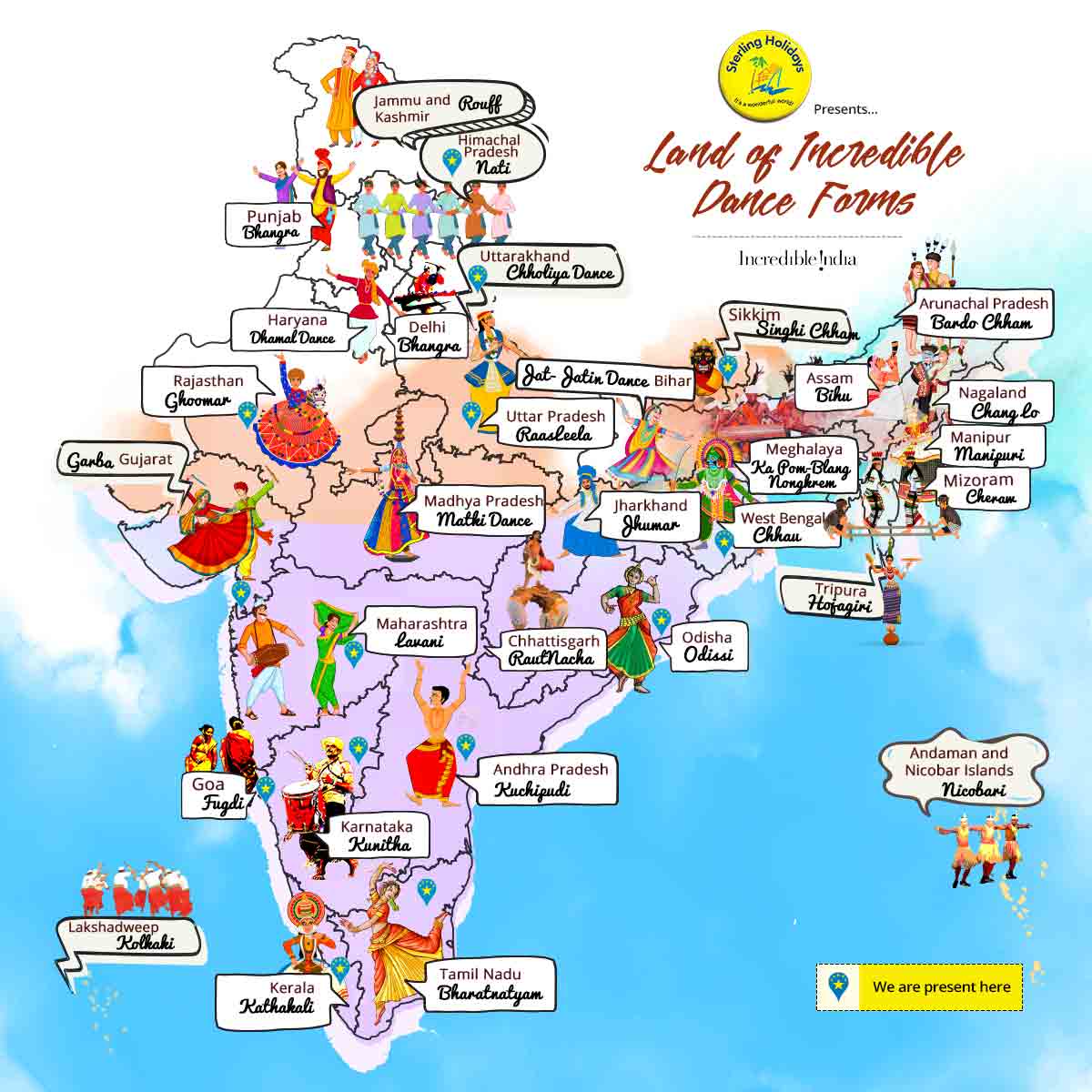 J&K- Rouff
A folk dance, which originates from Kashmir, Rouff is performed by women on festive occasions.
Delhi & Punjab- Bhangra
A traditional art form that originated in Punjab, Bhangra is performed during festivals to mark a celebration. The Bhangra is danced to the rhythm of a drum, known as the dhol.
U.P- RaasLeela
Part of the traditional story of Lord Krishna, RasLeel is believed to be choreographed by King Bheigyachandra. It is also said that Lord Krishna himself danced with Radha and her Sakhis.
Gujarat- Garba
Originating in Gujarat, Garba is usually performed around a centrally lit lamp or an image or statue of the Goddess Shakti.
Rajasthan- Ghoomar
A folk dance of Rajasthan, Ghoomar is performed by women wearing colourful ghagras in circles to denote a happy occasion.
Assam- Bihu
The Bihu dance of Assam is performed by men and women to celebrate the Bihu festival. The dance is characterised by energetic hand and leg movements.
Maharashtra- Lavani
A musical of sorts, Lavani is a song and dance discussion between men and women performed to drums rolls. Lavani is performed by women wearing 9-yard saris.
MP- Matki Dance
Reserved for special occasions such as weddings and birthdays, Matki dance is a solo dance performed by women. while performing this dance, women dance in a circular motion and balance a pot on their heads.
Tamil Nadu- Karakattam
An ancient dance form of TamilNadu, Karakattam is performed by men and women who balance a pot on their heads. The dance form denotes happiness and celebration.  
Kerala- Kathakali
A classical Indian dance form of Kerala, it is usually performed by men with elaborate makeup and face masks. This classical dance narrates a story and is accompanied by movements from ancient Indian martial arts and athletic traditions of South India
Goa- Fugdi
A Goan art form, Fugdi is performed by women during the Ganesh Chaturti and Vrata festivities. No accompaniments such as music and instruments are required for the women.
Bharatanatyam – Tamil Nadu
Bharatanatyam is one of the oldest dance forms in India and requires intricate hand gestures and footwork. 
Explore these destinations and learn all about the dance forms in each state. Stay with us at Sterling Holidays for an unforgettable holiday experience.