A fabulous fiery appetizer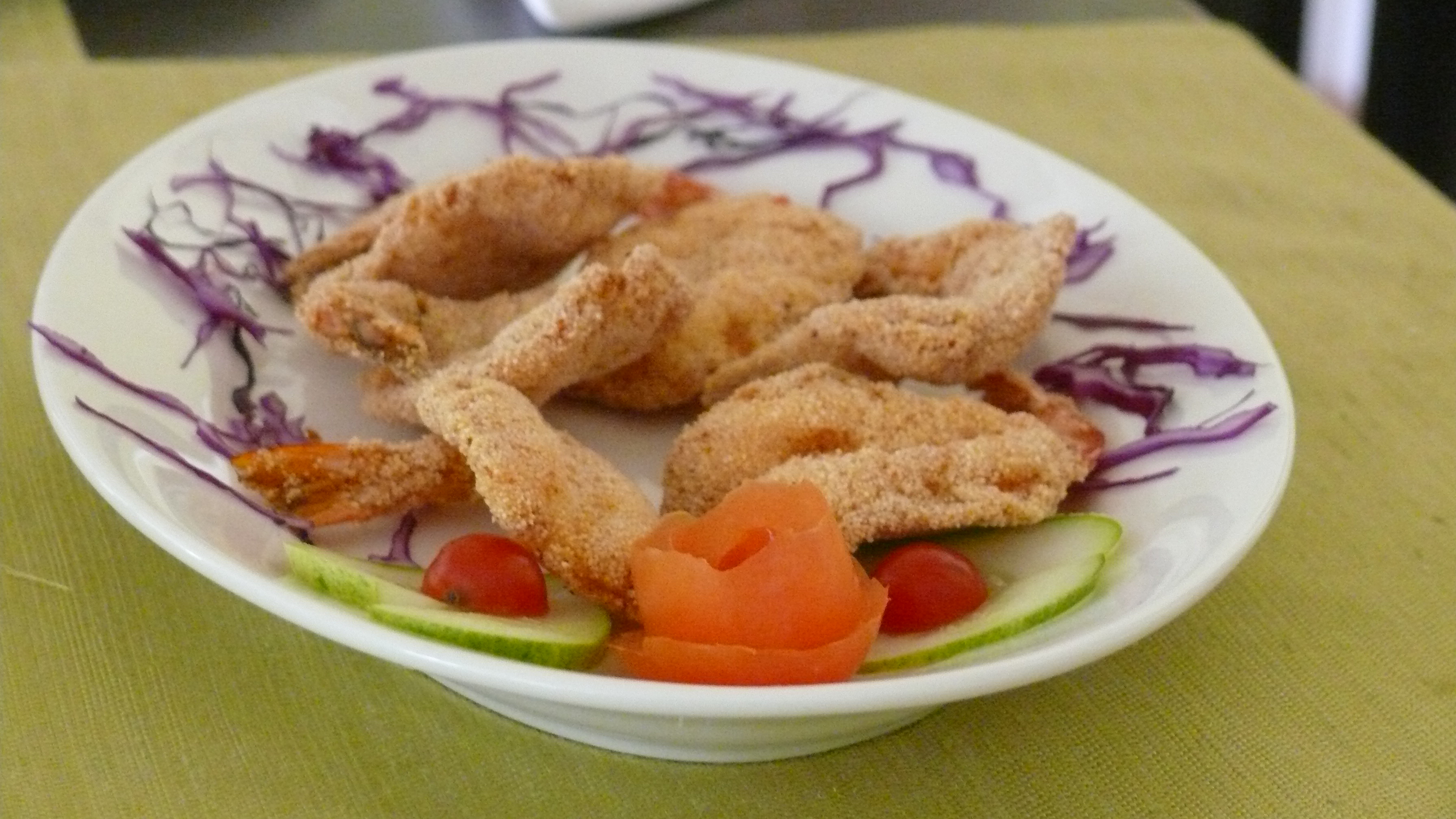 If you love seafood, try this spicy, crunchy and crisp Jhinga (king prawn in Hindi) fry. It takes only 20 minutes to make this preparation and will come in handy for your get-togethers. This dish tastes heavenly and will be liked by all.
Recipe:
| | |
| --- | --- |
| Ingredients | Quantity |
| King prawns | 6 nos. (weighing about 50 gm each) |
| Ginger paste | ½ tbsp |
| Garlic paste | 1 tbsp |
| Red chilli paste | 2 tbsp |
| Lime juice | 1 tbsp |
| Rice flour | 60 gm |
| Egg | 1 no |
| Semolina (Rawa) | 200 gm |
| Sunflower oil | For deep frying |
| Salt | As per taste |
For Garnish
Lime wedges
Onion rings
Cabbage shreds
Tomato (Carved as a 'Rose')
Cucumber slices
Method
Clean the prawns, de-vein and wash them. Pat dry.
Mix ginger paste, garlic pastes, red chillies paste, lemon juice, turmeric powder and salt together and marinate the prawns in this mix for 1 hour.
Take half of rice flour and egg in a bowl. Blend them into a batter. Take care to remove any lumps. Keep it aside.
In a flat plate, take the remaining rice flour and add rawa (semolina) to it. Mix them thoroughly.
Coat each prawn with the batter, and then roll them in the semolina mix.
Heat oil in a deep pan and fry the prawns till they become golden brown.
Garnish with a squeeze of lemon, carved tomato rose, onion rings, cabbage shreds and cucumber slices.
Serve hot with Mint-Coriander Chutney.
Nutrient Value
Amount Per Serving

Serving – 1

Calories
1,280.9
Total Fat
12.0 g
Saturated Fat
2.0 g
Polyunsaturated Fat
1.1 g
Monounsaturated Fat
0.5 g
Cholesterol
10.0 mg
Sodium
868.8 mg
Potassium
435.4 mg
Total Carbohydrate
208.9 g
Dietary Fiber
10.0 g
Sugars
6.7 g
Protein
38.0 g