A place which is as old as the earth, a place that has been mentioned in "Skanda Purana" (Ancient holy book of Hinduism), a place that is supposed to be the home of 33-crore Gods and Goddesses along with Lord Shiva himself – there is no end to the legendary lores surrounding the mysterious Patal Bhuvaneshwar limestone cave temples in the Pithorgarh district of Uttarakhand state.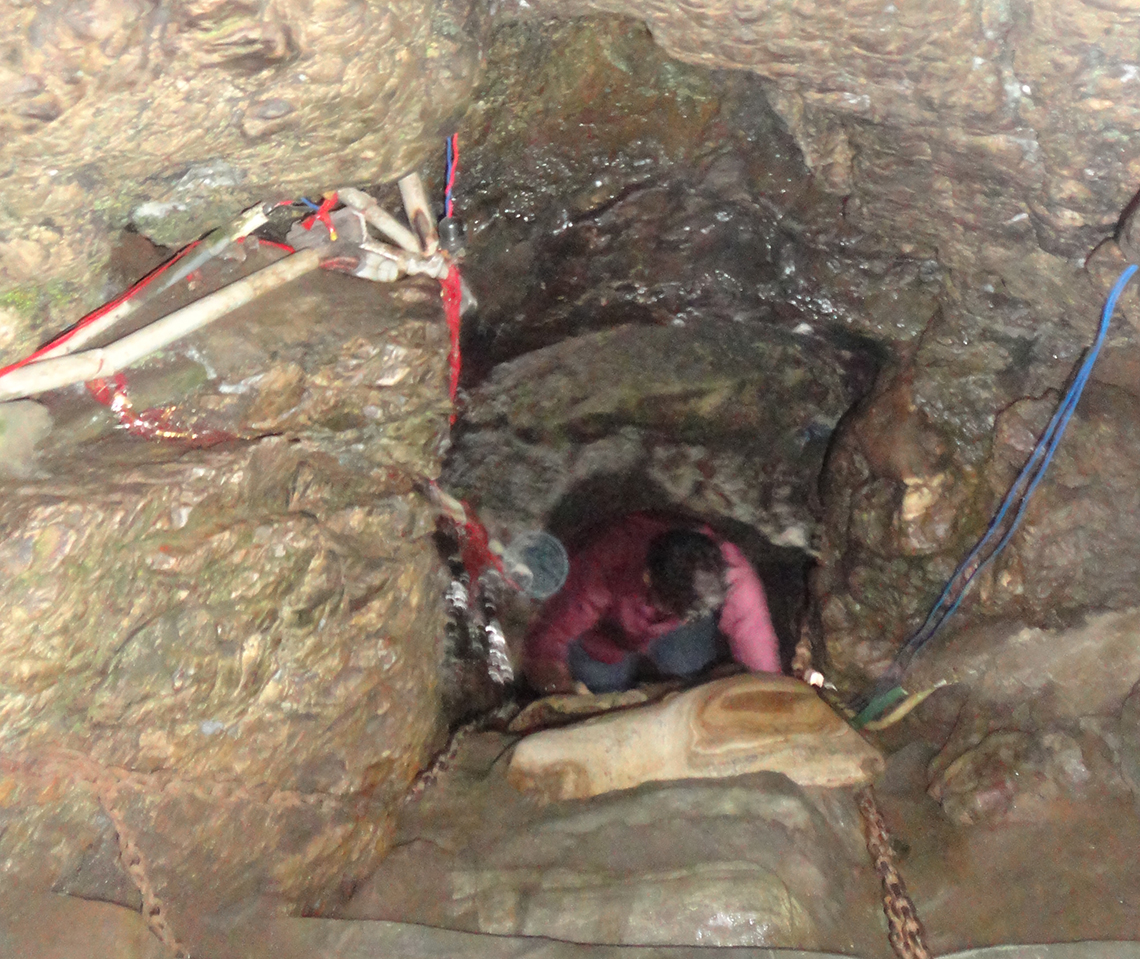 Patal Bhuvaneshwar cave temple is actually not a 'single' cave; it is a series of 'caves within caves'. Found in the small picturesque village of Bhuvaneshwar, at an altitude of 1350 feet above sea level, the entire cave complex is about 160 m long and 90 feet deep. The entrance is through a narrow opening and usually a priest will guide the tourists. The entire descent (nearly 100 steps) and the path have iron chains which serve as a support to the people. It would take nearly an hour to complete a tour of all the caves.
Formed due to the mighty flow of water, the cave complex is full of marvelous stalactites and stalagmites resembling 'Jatas' (locks of hair) of Lord Shiva, Sheshnag, Kala Bhairava, Goddess Kali's tongue and several wonderful forms. The myriad colors and hues of these forms are absolutely mind-blowing. The main temple is dedicated to Lord Shiva, but you can also find Lord Narasimha (Lord Vishnu's Incarnation).
A visit to these enchanting caves gives a thrill of adventure and the beauty of the stone formations just takes your breath away. Without doubt, Patal Bhuvaneswar caves are a hidden treasure.
Nearby Sterling Holidays Resort: Corbett – The Riverview Retreat
Distance from the Riverview Retreat: 236 km, 4 hours 31 minutes
Closest City: Delhi – 235 kms
Other nearby attractions in Pithorgarh
Chandak Hill – 7kms
Thal Kedar – 15kms
Dhwaj – 28kms
Lohaghat Historical Center – 62kms
Baleshwar – 76kms
Dharchula – 96kms