With its interesting history, rich flora- fauna, ornamental temples and educational repositories, Kodaikanal is a complete package for anyone looking for more than just natural beauty in a recreational trip. Come monsoon and the place becomes almost divine- the unrelenting clouds spanning the skies, tiny drops of water dripping from leaves, the flowers all washed afresh, the lakes bursting at the seams and the waterfalls more lively. So if your idea of a trip is to see nature in its purest form, visiting Kodai this monsoon will pacify your desires! In this post we give you 12 reasons why this place beckons you to come, explore and learn.
Kodai Lake
Converted from a marshy land into a beautiful lake by a District Collector in 1863, Kodai Lake is a silvery expanse of water. Glide on an economical or luxury boat to suit your pocket and behold the evergreen lush slopes that bracket this glittering lake from all sides.

Berijam Lake
The path to this beautiful lake is just as mesmerizing as the lake itself. Past Moier Point where the monkeys chatter, the road winds up into the Shola forests. Beyond the checkpoint lie some of the most beautiful valley views, dew drops and mist-covered pathways that will lead you to Berijam Lake, a reservoir surrounded by acacia and pine, so pristine that it almost looks heavenly. This is a place for bird-watching, peaceful photography and quiet reflection.

Vembadi Peak
What's a hill-station without standing on the top of a mountain? With a height of 2466 meter, Vembadi peak allows you to have a bird's-eye-view of the Berijam Lake, Vandaravu range, Mannovanur sheep farm , and Poombarai valley.
Pillar Rocks
Three colossal 400 feet boulders stand shoulder-to-shoulder in vertical unison. The shadows of these rocks are a favourite destination with picnic goers.

Shenbaganur Museum
This museum of Natural History houses a wonderful collection of more than 500 species of taxidermy and specimens of animals, birds and insects and a living collection of over 300 exotic orchid species. Visit it to add an educational dimension to your trip. The museum also has a herbarium with a beautiful garden along it. Just the place you were looking for to take your kids to.
Kodaikanal Solar Observatory
One of the oldest of its kind, this world famous institution was built in 1898 at the highest point in Kodai hills at 7700 ft. It has a well equipped prolific laboratory producing quality research work. Known for the Evershed effect- a discovery of the phenomenon of radial motion in Sunspots by its erstwhile Director, this place is sure to tickle your scientific instincts.
Kurinji Andavar Temple
This is a famous shrine dedicated to Lord Muruga or 'God of Hills'. This temple is associated with the Kurinji flowers, which carpet the hillsides and bloom once in 12 years, the last time being in 2006.
Coaker's Walk
This is a narrow pedestrian path, constructed by Lt. Coaker in 1872, over a one kilometer mountain road which runs along the edge of steep slopes on the southern side of Kodai road which is half a km away from Kodai. On a cloudless, summer day you can view interesting sights like Dolphin's nose, valley of the Pambar river, bird's-eye-view of Periyakulam and even the city of Madurai. Watch out for the 'Brachem Spectre'- a fascinating phenomenon which will show you your shadow on the clouds with a rainbow halo, when the sun is behind, and cloud and mist are in front of you.
Palani Hills
The Palani hills are at eastern offshoot of the Western Ghats covering an area of 2400 sq. kms. and the town of Kodaikanal is centrally located. The Palani is a source of unique genetic diversity as well as of water for the thirsty plains . One of the most interesting features of the vegetation is the ever green Shola forest (wet, temperate) from which originate many perennial streams. Sholas are probably one of the most valuable treasures of the hills as prime watershed and as shelter for wildlife, in addition to being the terminal refuge for endangered species of flora and fauna e.g. Loya, Orchids, Nilgiri tahr, Grizzled giant Squirrel etc.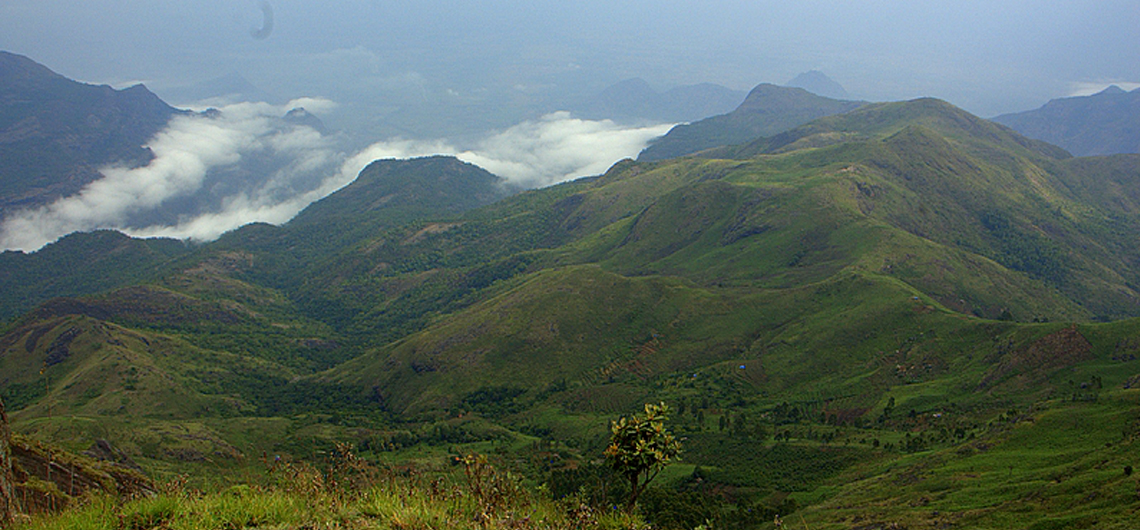 Dolmen Circle
Travel back in time to see how the prehistoric men hideouts and abodes looked like. Dolmens are a tripod like structure that support a megalithic crypt and date as far back as the Neolithic era. Several copper and brass ornaments and utensils have been unearthed in the dolmens. The passage of time and centuries of repeated neglect have resulted in their gradual depletion, leaving the Indian Subcontinent with only two of these. Time for your tryst with history!
Waterfalls
Silver Cascade, Bear Shola, Pambar or Thalaiyar; waterfalls are abundant in Kodaikanal. Keep your eyes on the road while traveling around the town and hop down to have a closer look. The loud sound of water falling is divine music to the ears.
Just eleven of the many reasons to be in Kodaikanal this monsoon.  The wood slopes, enormous trees, mighty rocks, creeks, luscious fields, endless forests, flocks of sheep, dancing flowers and heavenly mist of Kodai will be engraved in your heart for life.