A nutritious and delicious chicken curry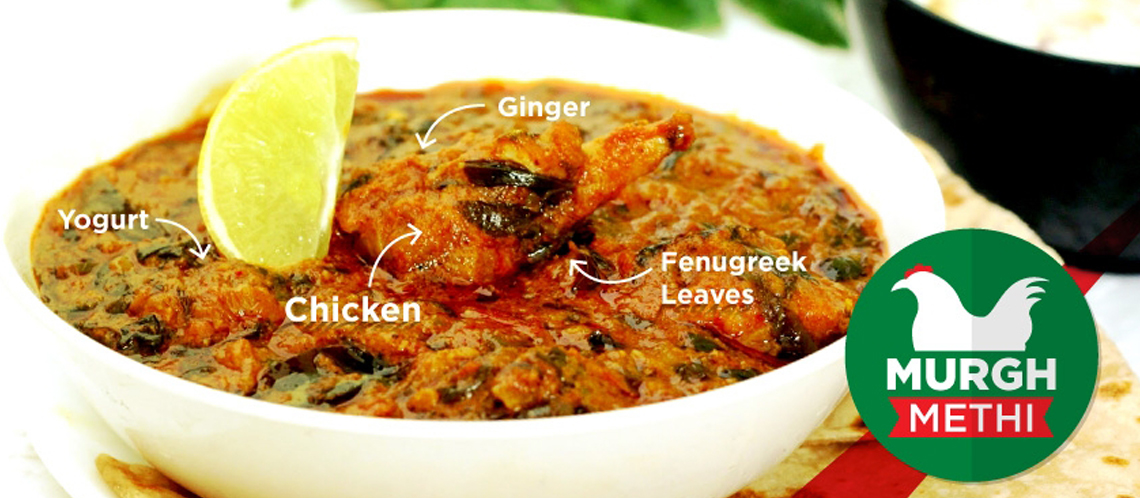 The ever-popular of chicken combines with the twist of fenugreek to create a tantalizing and wholesome recipe to treat your taste buds. Quick steps and simple ingredients will make this dish favourite with both your friends and family.
Recipe
| | |
| --- | --- |
| Ingredients | Amount |
| Chicken (Cut into small pieces) | 1kg |
| Olive oil | 4tbsp |
| Finely sliced onions | 2 cups |
| Chopped tomatoes | 2 cups |
| Garlic | 4tsp |
| Ginger | 1tbsp |
| Coriander powder | 2 tbsp |
| Cumin powder | 1tsp |
| Turmeric powder | ½ tsp |
| Red chilli powder | ½ tsp |
| Garam masala powder | 2tsp |
| Fenugreek leaves washed and finely chopped | 500gm |
Method
Take cooking oil in a heavy bottom pan and heat it on medium flame.
Add sliced onions to the hot oil. Sauté till the onions change into a pale golden brown color. Now remove from the oil with a slotted spoon and keep on a paper towel to absorb the extra oil. Turn off heat.
Grind the onions to a fine paste, adding very little or no water, in a mixer. Once done, remove and keep aside.
Now grind the tomatoes, garlic and ginger together into a smooth paste. Remove and keep separately for later use.
Re-heat the oil left over after frying the onions and add the onion paste. Sauté for 2-3 minutes. Now add the tomato paste and all the powered spices, including the garam masala. Mix well.
Sauté this masala (onion-tomato-spice mixture) for about 10 minutes until the oil separates from it.
Now add chicken pieces to the masala and salt to taste. Stir properly to fully coat the chicken pieces and cook till the chicken is browned well.
Add the fenugreek leaves and half a cup of water to the pan. Mix well, simmer the heat and cover the pan. Keep stirring regularly to avoid the masala getting stuck to the bottom of the pan. Also keep adding water  if the masala gets too dry. The dish should have gravy of thickness when done.
Serve hot accompanied with hot chapatis, naan or plain boiled rice.
Nutrient Value
Amount Per Serving
Serving – 1
Calories
1,942.7
Total Fat
98.4 g
Saturated Fat
17.9 g
Polyunsaturated Fat
15.5 g
Monounsaturated Fat
54.5 g
Cholesterol
830.0 mg
Sodium
939.5 mg
Potassium
3,874.8 mg
Total Carbohydrate
56.9 g
Dietary Fiber
15.5 g
Sugars
0.6 g
Protein
206.3 g