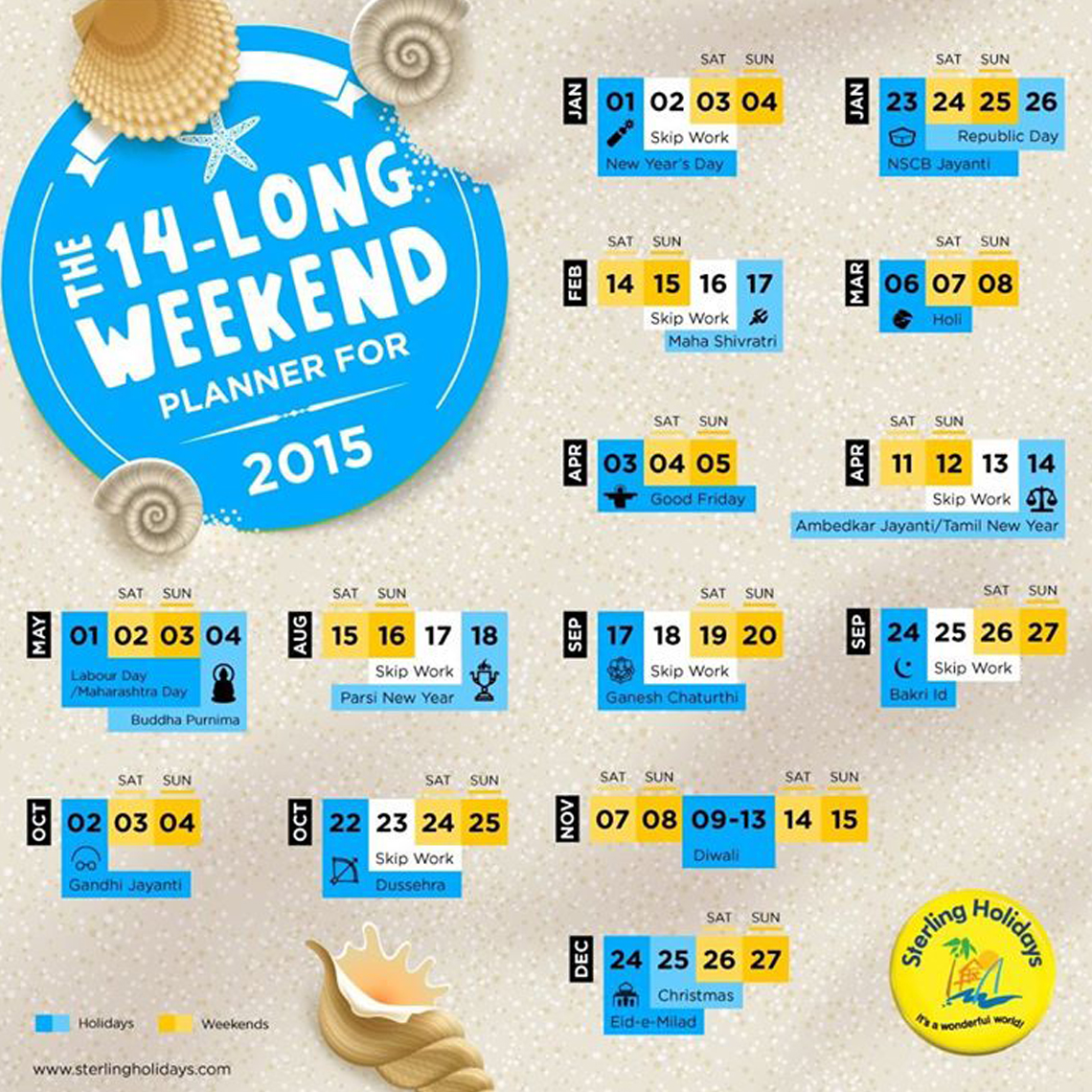 India is working hard, round-the-clock, to achieve personal goals and prosperity for the family and nation. No wonder then that, every now and then, India takes a break to seek and explore the beauty that is India. Be it magnificent, snow clad mountains, mystical jungles or palm fringed beaches, India has myriad options for hard working Indians to relax and get rejuvenated.
Luckily, 2015 has been kind to bless hard working souls with quite a few, much needed, long weekends. So, if you really want to vacation, this is the year to do it.
Be it Pongal or the Nishagandhi festival in Thiruvananthapuram between 20-28 Jan, the first month of the year can help you restore your festive spirit with much ease. January is also a treat for all wine and food lovers to pamper their gourmet side during the Goa gourmet festival (Jan 23-26).
The month of February has a mini vacation up its sleeve because of the popular festival of Maha Shivratri and 'Gujiya' preparations for Holi which follow suit.
As for people for whom the financial year-end has been quite a nerve-wrecking journey?  Well, there's always the tranquil hill stations of Nainital, Kodaikanal or Darjeeling to soothe those nerves.With clear skies in April, Darjeeling turns into a photographer's delight with a great visual of the Tiger Hills and a panoramic view of the majestic Kanchenjunga.
The months of May, June and July are going to be filled with exhaustive work. So, when August arrives you shouldn't hesitate to grab a bag and head out to where your heart lies. If you want to experience Kerala in all its glory, the last week of August is an ideal time to do so. Onam, the primary festival of the state brings the entire region alive with celebrations and feasting. If time permits, you can see the Payippad Boat Race and enjoy the backwaters in Alappuzha as well.
If you want to experience the zeal of Ganesh Chaturthi in true Bollywood style, then September is a great month for you to plan a visit to Lonavala.
The festive fervor in October and November is set to increase two-fold with extended weekends each month. Travelling to places like Manali, Shimla or Nainital may get you some attractive off-season discount that you wouldn't want to miss.
2015, presents ample opportunities for you to set out on new and exciting adventures. All you have to do is get ready, set your destination and go out on the journey of a lifetime. Unleash the wanderer in you and this year could turn out to be the best thing that ever happened in your life.