Chef Dharmadhikari, Master Chef, Bakery and Pastry at Sterling Holidays was a mentor to many Chefs and F&B managers in the organization. His culinary expertise delighted the taste buds of so many guests. As a tribute to Chef Dharamadhikari, we are sharing the recipe of one his unique creations served at our resorts – Newton's Delight .
A rich chocolate pastry complemented by the mellow flavour of apples, this dessert can make any occasion a special one.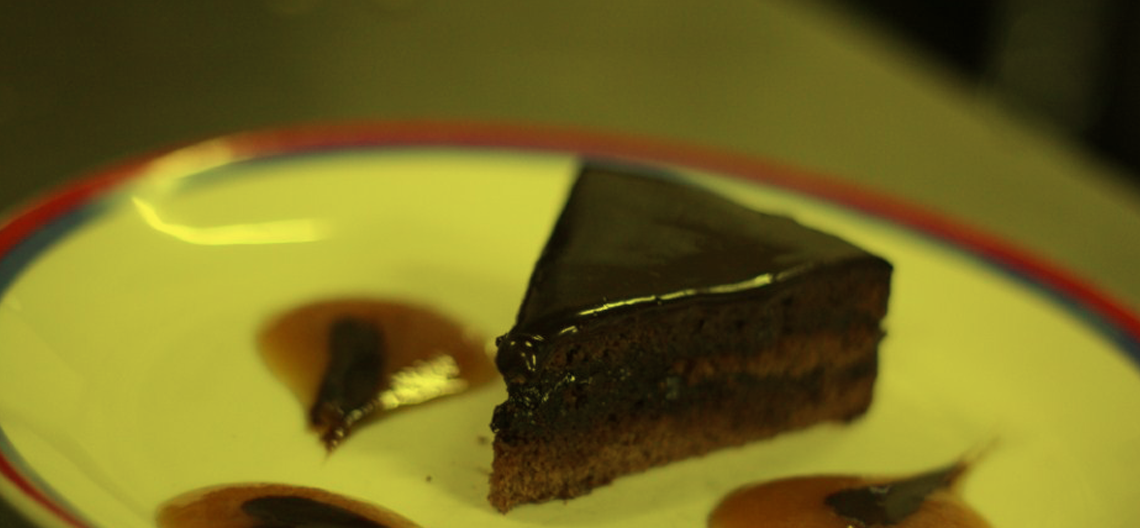 Recipe:
For the ganache
| | |
| --- | --- |
| Ingredients | Quantity |
| Dark Chocolate | 140 gms |
| Fresh Cream | 150 gms |
| Unsalted Butter | 1 tbsp |
Method
Boil water in a double boiler (two vessels/pans nestled into each other with the top one fitting only half way.)
Break the dark chocolate into small pieces, place in the double boiler and allow it to melt.
Once the chocolate melts, mix in the cream and butter. Stir until smooth. Strain the mixture and set aside.
For the sugar syrup
| | |
| --- | --- |
| Ingredients | Quantity |
| Granulated Sugar | 30 gms |
| Water | 120 ml |
| Vanilla Essence | Few drops |
Method
Boil water in a medium sauce pan over a medium flame.
Add the sugar and vanilla essence. Stir until the sugar dissolves completely and slightly thickens into syrup. Remove from the flame and set aside to cool.
For the apple sauce
| | |
| --- | --- |
| Ingredients | Quantity |
| Apple (Peeled and Cored) | 1 no. (Large Size) |
| Golden Syrup | 2 tbsp |
| Cinnamon | A pinch |
Method
Puree the apple in a blender until smooth.
Pour the golden syrup in the puree to form a thick sauce like consistency. Add a pinch of cinnamon, mix well and set aside.
For Chocolate Sponge
| | |
| --- | --- |
| Ingredients | Quantity |
| Refined Flour or Maida | 60 gms |
| Cocoa powder | 15 gms |
| Granulated Sugar | 75 gms |
| Eggs (Separate the whites and yolks) | 3 nos |
| Vanilla Essence | Few drops |
Method
Pre-heat the oven to 170 degrees Celsius
Grease and dust a circular 8" cake tin or line it with a greased parchment paper
In a large bowl, sieve flour and cocoa powder.
In another large mixing bowl, beat the egg white with sugar using an electric beater or whisk until the mixture is frothy and begins to form peaks.
Beat the egg yolk gently with a fork in a small bowl.
Add the beaten egg yolk along with vanilla to the egg white mixture and mix gently
Now fold in sieved flour & cocoa and mix gently using a large spoon until it shapes into a thick & smooth cake batter.
Pour the batter into the cake tin and bake at 170 degrees Celsius for 15 minutes or till knife/skewer comes out clean, when inserted.
Release the cake from the tin on a wire rack and allow it to cool.
To serve the Newton's Delight
Once the sponge has cooled, slit the cake horizontally into 3 even layers
Using a pastry brush, moisten each layer gently with the sugar syrup, taking care not to make it too soggy.
Layer the chocolate sponge and ganache one on top of the other, to make a triple layered cake.
Pour the remaining ganache on top of the cake to give it a shiny & smooth finish.
Chill before cutting into slices. Serve with apple sauce.