QUEEN OF THE HILL STATION
– Sayandeep Roy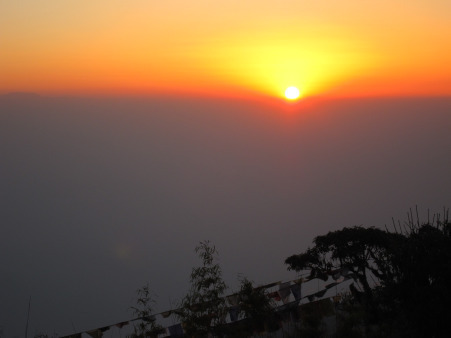 Last year, my family sponsored me a road trip to Darjeeling, the 'queen of the hill stations', and home to the famous toy train.
I have longed to visit Darjeeling from my childhood. I was so excited about the trip, I researched a lot and planned my trip meticulously. I had an ardent wish from childhood; on my 20th birthday, to get up early (by 4 am) and drive from Darjeeling to Tiger hills, to watch the fantastic sunrise lighting up the great Himalayan range.
I reached Darjeeling and stayed at a famous Hotel and the next morning (On March 8) went to Tiger Hill as I planned. I could reach Tiger hill before sunrise. Many other tourists were also present there to watch the sunrise. After waiting for 30 minutes, the sun suddenly burst into view in the east.
The magnificent Himalayan mountains in the west — especially the massive five peaked Kanchenjunga — turned into glorious shades of gold and pink, as the sun cleared the horizon and climbed into the sky. It is indeed one of nature's greatest shows on earth and I felt it is a good way to mark a milestone birthday. I felt truly elated watching this spectacle; it was a dream come true.
Seeing the sun rise from Tiger Hill was on my must-do list from long; another item on the list was to see Mount Everest. I could accomplish both on my birthday, as Everest is one of the peaks you can see from Tiger Hill (though it appears to be a far away peak than Kanchenjunga). Kanchenjunga is the third highest mountain in the world, and it is so wide that it dominates the skyline when you look from Tiger hills. But the weather must be clear enough to see it.
I could see on my birthday, and was lucky enough to see how it dominates Darjeeling's horizon. But after half-hour, it disappeared into swirls of mist and clouds. During the next six days I did not get a chance to view Kanchenjunga again.  Apparently, as the mountain people say may be the mountain chooses people to whom it should reveal itself.  So I feel blessed to have seen it at least once.
Note: This moment was shared by  Mr. Sayandeep Roy  in Sterling Holidays OMG! Holiday Moments Contest on Facebook. Visit our Facebook fanpage: www.facebook.com/sterlingholidays