A spicy roulade with goodness of vegetables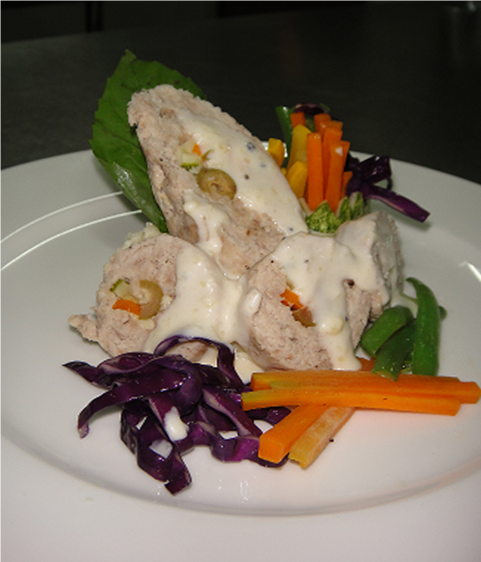 Turkey is a favourite fowl for many and who would not love a wholesome meal of turkey? With fresh spices and delightful vegetables with the goodness of olive oil as dressing, here is a fantastic recipe made of turkey. We assure you that this exotic dish will be the centre of attraction and will be relished by everyone.
Recipe:
| | |
| --- | --- |
| Ingredients | Quantity |
| Turkey breast (boneless) | 400 gm |
| Freshly ground black pepper | ½ tsp |
| Salt | ¾ tsp |
| Light garlic and herbs spreadable cheese | 2 tbsp |
| Seedless green olives | 10 no. |
| Carrot strips chopped | 10 no. |
| Red cabbage thin strips | 10 no. |
| French beans thin strips | 10 no. |
| Fresh flat leaf parsley chopped | 2 tbsp |
| Extra virgin olive oil | 4 tsp (divided) |
| White wine | 2 tbsp |
| Water | 2 tbsp |
| Basil leaf (for garnish) | 1 no. |
Method
Place each Turkey breast (half pieces) between 2 sheets of heavy-duty plastic wrap; pound each piece to 1/4-inch thickness using a meat mallet or small heavy skillet. Sprinkle both sides of turkey with 1/2 teaspoon salt and pepper.
Mix cheese, Olives, chopped carrot in a small bowl. Spread 1 1/2 teaspoons cheese mixture over each breast piece. Flatten with hand. Roll up turkey like a jelly-roll, starting with narrow end. Secure at 1-inch intervals with twine. Set aside.
Place vegetable strips in a steamer. Add cranberry juice and let it simmer it for 3 minutes. Drizzle 2 teaspoons of oil; toss gently so that the strips are coated evenly. Cover and keep them warm.
Heat remaining 2 teaspoons oil in a large nonstick skillet over medium-high flame. Place turkey in a pan, and cook for 6 minutes, so that it becomes brown on all sides. Add wine and water. Cover, reduce heat to medium-low, and cook for 6 minutes or until turkey is done.
Remove turkey from pan, and let stand for 2 minutes. Remove twine, and slice each roulade crosswise into 5 equal pieces.
Place about 5 strips of each vegetable and a cup of the pasta mixture on each of 4 plates; top each with 5 pieces roulade. Serve immediately.
Melt cheese with fresh cream in 1:2 ratio, add white wine and chopped parsely. Season with salt and pepper powder for sauce to top it with.
Nutrient Value
Amount Per Serving

Serving – 1

Calories:
495
Calories from fat:
21 %
Fat:
11.5 g
Saturated fat:
3.2 g
Monounsaturated fat:
5.2 g
Polyunsaturated fat:
2 g
Protein:
51.8 g
Carbohydrate:
43.6 g
Fiber
2.9 g
Cholesterol:
113 mg
Iron:
4.3 mg
Sodium:
850 mg
Calcium:
81 mg