The quiet riverside village of Dindi is truly a hidden gem. Unlike the mainstream tourist attraction of Kerala, Dindi with its virgin backwaters, palm trees and lagoons is still pretty much unknown. That makes this sleepy town a prime candidate for a peaceful vacation. Here are top things you could do in Dindi. But if you are thinking that this destination only offers rest and nothing more, you are in for a surprise. For the restless explorer, there are beaches to explore and wildlife to experience. Apart from a boat ride in the backwaters, you can also go temple hopping to discover the ancient history and culture of Andhra Pradesh.
Antarvedi Temple
Lakshmi Narasimha Temple also known as the Antarvedi temple is situated at the meeting point of the Bay of Bengal and Vashista Godavari, a tributary of the Godavari River. It is believed that it was built way back in the 15th and 16th century and also that the Tretha Yugam episode of Ksheera Sagara Mathanam took place here. Unlike most temples where the main deity faces east, here the deity faces west. It is 32 kshetra of 108 Narashima kshetras. Apart from the main deity, Lakshmi Narasimha; there are also idols of Brahma, Vishnu, and Mahesh. This temple is also very close to the Antarvedi beach. You can take some time off from your temple hop to visit this 26km beach.
Neelakanteswara temple
Neelakanteswara temple is located near the Vasishta Godavari. This temple has a very strong mythological significance attached to it. Legends in the Puranas say that the temple was built by Lord Sri Rama and worshipped by Brahma himself. Because of this, it is one of the famous Shiva temples in India. It is visited by devotees during the Maha Shiva Ratri Festival.
Kotilingeshwara Temple
Located around 80 km from Dindi, the Kotilingeshwara Temple in Kolar is the largest and tallest Shivalingam in Asia. It was constructed in 10th century by Bhakta Manjunatha. Bhakta Manjunatha, under the patronage of King Ambikeshwaravarma, constructed 10 million lingams from which the name is derived. Koti means a crore. The 33m Shiva idol is accompanied by an 11m Nandi idol and lakhs of small lingams spread across the area.
Sri Veeraswara Swamy Temple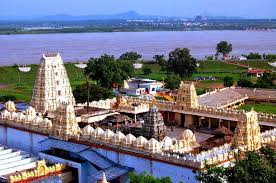 Sri Veeraswara Swamy Temple is perched on a hill known as Devakuta Parvatha in Pattiseema. According to various stories, Veerabhadra was born out of a lock of Lord Shiva's hair. To visit this temple you need to ride a boat across the river. It is one of the Panchakashi Kshetrams of Shivaites. 40 Km from Rajahmundry, this beautiful temple of Veeraswara Swamy also has a life-size idol of Devi Bhadrakali.
Sri Bhavanarayan Swamy Temple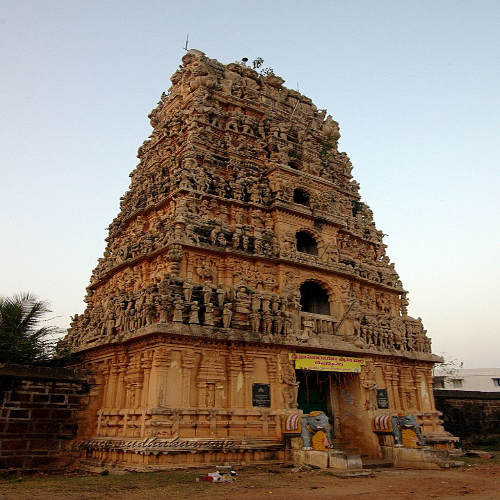 Sri Bhavanarayan Swamy Temple is located at 5kms from Kakinada. Like the other temples, this 500-year-old temple also has mythological origins. When the saint Kashyapa married Kadru, they were blessed with a thousand serpents. Ananta, son of Kadru did penance for Lord Vishnu and he appeared before him. He accepted the place as his residence and hence the temple is also called Sarpavaram, the snake's boon. The story of Sarpavaram is narrated in the Brahma Vyvarta Purana. This temple celebrates festivals like Ugadi, Karthika Pournami, Ekadasi Magha Masam and Radha Sapthami.
Iskcon Temple
The ISKCON Temple of Rajahmundry was built on two acres of land on the bank of river Godavari on the bank of sacred river Godavari. Although many stories connected to rishis have happened here, the one that people remember is Sri Chaitanya MahaPrabhu, the Hindu monk of the 16th century met his disciple Sri Ramananad Ray because of which this is also called Ramananda Raya Gaudiaya Math. This is the third largest Iskcon temple after Bangalore and Tirupathi. Around the temple are depictions of the Dashavatars, the ten incarnations. On Janmasthmi, this temple receives a staggering number of 50,000 visitors! Don't forget to check out the Vedic exhibition in the cellar of the temple honouring Lord Krishna, Lord Rama and Chaitanya lilas.
Aren't they all fascinating? Not to mention visually stunning. Looking for accommodations in Dindi? We recommend the Sterling Dindi resort. This gorgeous resort has 50 rooms which have amazing views of the Godavari and the lily pond. The multicuisine restaurant serves mouthwatering local delicacies. Are you ready for this idyllic paradise? If yes, book your your stay with Sterling for that memorable trip.