And it's up to you to discover why…
Located on the Western Ghats, about 130km from Kochi, is the little town of Munnar. Town is probably a generous term to use, as Munnar consists mostly of stretches of greenery, with the odd home, building or tea estate dotting its green terrain. But the beauty of Munnar — apart from the scenery of course — lies in the fact that you can make your trip here what you want it to be. Whether you're hoping for a little peace of mind, to spot a rare species of butterfly or dabble in adventure sports, Munnar has a whole array of activities to offer.
 For your peace of mind
If you're looking for a place to get away from the rush of everyday life, there's no better place than Munnar. This idyllic hill station is filled with coffee and tea plantations and is also the site for a number of Kerala's famous spice plantations. What results is a heady mix of aromas blending together to form the perfect olfactory setting for a tranquil getaway. Take a stroll through the roads of Munnar to discover new sites at every corner or simply lay out a mat in an isolated location to spend a day reading your old favorites on the top of a hill or under tall, fragrant eucalyptus trees.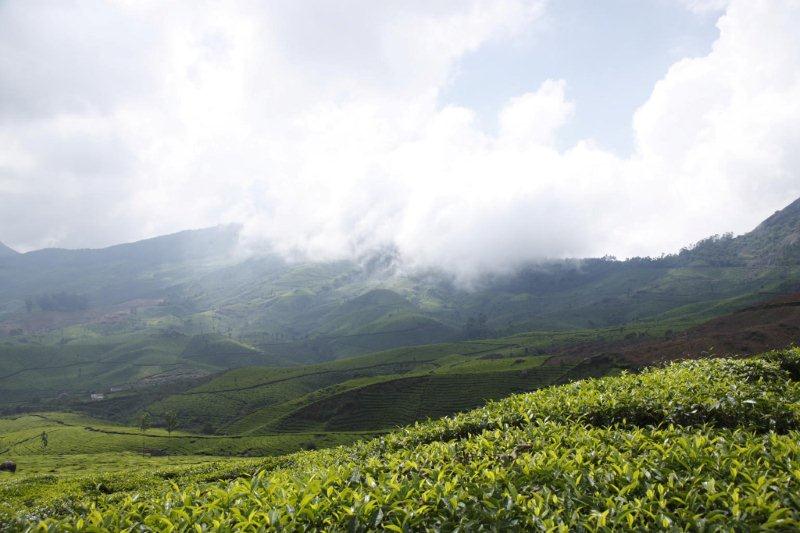 For the exercise fanatic
Scared your relaxed holiday will have you packing on the pounds? Well, anyone who's spent a summer in a hill station will tell you not to worry. In fact, for many, a majority of one's time is spent walking. But if you are, like me, fairly sick of treading around, try a slightly different approach to seeing Munnar—rent bicycles! Zip around this peaceful town and get to places your car would never be able to reach, and you are sure to be rewarded with some amazing views as you discover the inner roads of this hill station.
If biking is not your thing, another great—though slightly limiting—way to see Munnar is to take a canoe out. Apart from getting a good work out and taking in the sights and sounds of Munnar, you will also be able to get away from the usual touristy hullabaloo. It's peaceful, exciting and fun all at the same time.
For the water baby
If you're out with the whole family and long to stretch those sea legs, why not make use of the many boating facilities available at Mattupetty Lake? Located just a few kilometers away from Munnar, you can take a boat (and a guide if you feel you need one) and have a picnic on a far shore. With the help of an expert, you could even pick a place to spend the night in the wilderness. Pack some camping gear, pitch a tent and spend an evening by the lake. Remember to get help when you're choosing a spot, you never know who (or what) might already call that spot home! Also, don't forget to carry your binoculars, a camera and a good supply of mosquito repellent!
For the fisherman and woman
About 13km from Munnar is the Devikulam Lake. Surrounded by tall trees, this lake is considered a favorite among fishing enthusiasts in the region. With its tranquil waters, it is the perfect way to get away from your 'getaway'!
 Another favourite spot is located in a corner of the Nymakad Estate. Known as Gravel Banks, this location offers some of the best trout fishing. Needless to say, prior permission and permits need to be secured for both locations and, in some spots, live bait is forbidden. All anglers and fishermen also need to keep a written record of the day's catch. Make sure you know the rules of the land before you cast your line!
 For the animal lover
From the cuddly to the blood-curdling, Munnar is a popular attraction for wildlife enthusiasts, birdwatchers and nature lovers. Set up for the preservation of the critically endangered Nilgiri Tahr, the Eravikulam Wildlife Sanctuary is a popular tourist attraction. Besides the Nilgiri Tahr, it is home to countless other species, including the large Atlas moth, the small Indian civet, bison, leopards and a number of species of mongoose and deer (including the tiny mouse deer). The sanctuary is a treat for birdwatchers too, as more than 200 species of bird take refuge in this dense park. Some of the birds one might see here include the black eagle, crested goshawk, peregrine falcon, the Malabar pied hornbill, spangled drongo and the Nilgiri flycatcher.
Besides Eravikulam, travellers can also visit the Chinnar Wildlife Sanctuary. Here, along with the Niligir Tahr, one can see a whole range of panthers and deer, the bonnet macaque, more than 200 species of birds, 150 species of butterflies and mugger crocodile. Chinnar is also the only place in Kerala where you can spot the grizzled giant squirrel.
 For the dairy queen (and king)
If a tour of a tea plantation doesn't sound exciting enough, why not take a tour of a dairy farm instead? Located in Mattupetty—also known for its lake and storage masonry dam—is the Indo-Swiss Livestock Project. While a dairy farm may not seem like such a big deal, this one is something of a tourist attraction. Known for its various breeds of high-yielding cows, this highly-specialised dairy farm was opened in 1961. Apart from helping you learn about how dairies function, the farm set in the middle of rambling, green fields, offers a unique way to spend morning or late afternoon.