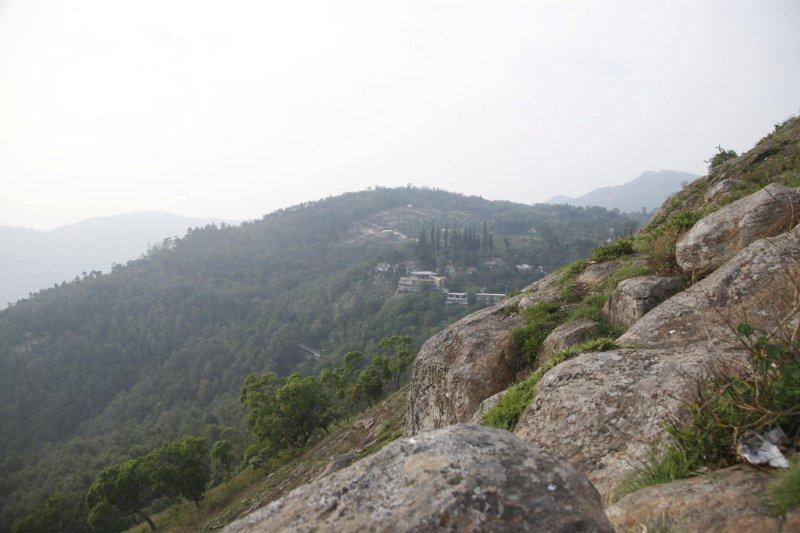 Yercaud has such a distinctive South Indian ring to its name, just as David Cockburn has a typically Scottish ring to his. One would think the town and the man would never cross paths, but Cockburn is the reason that Yercaud is the retreat that it is today.
Cockburn was the Collector of Salem from 1820 to 1829, and he developed Yercaud as an escape for the British. (It was one of the eccentricities of the British Raj – after having escaped from the drab clime of Britain to India's sunny weather, they needed yet another escape) Blessed they be, because such oddities gave us hill stations like Ooty, Manali and Yercaud.
Cockburn developed Yercaud by introducing the cultivation of oranges, pears and coffee.
The Grange—the grand old mansion that has stood its place since the 1820s—was also built by Cockburn. Today it is private property, but a kind word to the watchman (if there is one) could earn you entry for a quick tour.
You can get all this information over crunchy bhajjiyas served with mean looking green chillies, if you happen to stop by the bright blue cart run by Y.S. Kundumalaiaswamy a few minutes into Yercaud. Between serving you snacks and kerning his cucumbers, he would be happy to slip in history lessons like the above.
From here, you could proceed to set up base near the Emerald Lake, where tourists can be found doing lazy circuits on the still waters in brightly painted pedal boats. The park in front of the lake is nicely landscaped with trees and flower beds and looks a riot of colours. It is well worth the entrance fees that you need to shell out to enter it.
When at Yercaud, look out for any vantage point that gives you access to the Shevaroy hills, crowded with silver oak trees interspersed with Arabica coffee plantations. Contemplating this view could be the best way to unwind after the 200-odd-km drive from Bengaluru and conserving energy for the morrow.
A place like Yercaud, gaining popularity but still not quite a chartbuster, offers one splendid advantage over other tourist hotspots. It is still relatively easy to find slightly off-the-beaten-path attractions, with a little bit of help from the locals. Take the Anna Malai Temple, for example. The temple is about 5 km from Emerald Lake and is a beautifully carved structure. A typical example of South Indian temple architecture, its location makes it a great platform for some breathtaking views. A good idea would be to carry a picnic basket and have lunch there itself.
Not that such attractions are limited to the religious. If you are 'lucky', as this writer was, you could be flagged down by some agitated local tribesman with his clutch of livestock on your way back from the temple. You could then discover the objects of his excitement—two big bison with a little calf—standing in a little clearing amongst the silver oak trees, barely twenty feet away from your car. You would be well advised to flash your camera with some discretion though, unless your idea of an endurance test comprises being charged at by big, angry bulls.
Once the bison retreat, allow yourself to be led to something equally fascinating, if only smaller in size. In the jungle by the side of the road, you will spot huge spider webs between tree trunks, with the insects themselves lying still in the centre of these silver strands waiting for prey. Spiders have fine hair on their eight legs, and each leg is placed on a central strand of the web. When an edible snack gets trapped in the web, the spider can identify it from the vibration the insect sets off and accordingly plan its assault. A quick Google search on spiders in Yercaud in fact indicates that the subject has even received some scholarly attention, with research papers on the insects' biodiversity in the regions hills.
Last but not the least, to take in the best views in Yercaud, you must head to Arthur's Seat. Although the hills all around are magnetic enough, you could also be drawn towards the sight of some huge python lounging on a nearby tree. You could also make a trip to the Kiliyur Falls which are also a short distance from the lake. But the better thing to do is to keep three hours aside and trek down to the bottom of the falls. The descent is through a heavily wooded area and you will certainly see some fauna.
Yercaud is a hill station that is refreshingly different from other Indian ones. It is small, quiet and very unassuming. It has its standard tourist spots to see, but the beauty lies in the jungle around and the uncluttered town centre. It makes for a very different and refreshing escape from routine life, rendered even more memorable by the 'webs' it can spin on a city-trained mind