Darjeeling also known as the 'Queen of Hills', is a popular destination for romantic getaways in India. It attracts people from all over the world every year, and is known for its scenic vantage points. The widely-spread tea gardens and beautiful scenarios of nature can be enjoyed tenfold with your partner. Darjeeling is hence a popular honeymoon destination for newly-weds. It is also a gateway to treks from where entire Eastern Himalayan ranges can be seen.
Here are some of the most popular romantic spots to visit while in Darjeeling:
Tiger Hill
One of the most beloved spots in Darjeeling is its highest point, Tiger Hill. You can gaze at the snow-clad mountains and even see the sunrise with your better half. The sight itself is enough to give you a sense of wild magic by way of its dazzling view. The first rays of sunlight illuminating the magnificent peaks of Kanchenjunga will definitely light up your romantic side and enrapture you and your loved one with its sheer beauty.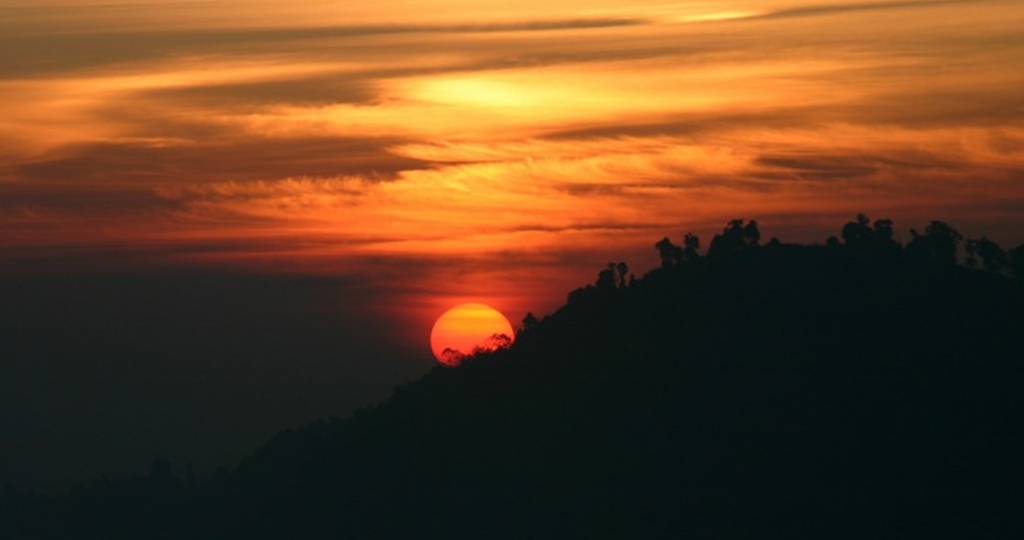 Toy-Train
Take a joyride in Darjeeling's pride that was declared to be World Heritage. The train ride gives you ample time to observe and absorb the scenic beauty around as it chugs its way around War Memorial on its spiral tracks. This popular tourist attraction, much like the rest of Darjeeling, has featured in numerous Bollywood blockbusters as well. If the romantic train rides haven't sealed the deal for you yet, the freshness of the forests and jungles surrounding the train tracks definitely will.
Ganga Maya Park and Chunnu Summer Falls
Chunnu Summer Falls is located in Rock Garden which is about 10kms from Darjeeling town. The fall adds scenic beauty to the rock garden as the water slides down rocky slopes in the glistening sunlight. The Rock Garden has colourful, diversified flowers in neatly terraced gardens, adding to its beauty. Another 3kms ahead, lies Ganga Maya Park comprising a lovely lake and brightly coloured flora. The atmosphere makes it the perfect spot for you to spend some time with your beloved.
Darjeeling Ropeway
The Rangeet Valley Passenger Cable Car offers a beautiful view of lush valleys, tea-gardens, and streams from a high point. As the trolley glides over the town, you can witness the picturesque beauty of nature in serene solitariness with your loved one. The distance from the bustle of city life and the lush greenery beneath you makes it one of the most romantic spots in Darjeeling.
Tea Gardens
Bond with your soul-mate over a cup of freshly-brewed tea from Darjeeling's tea estates. Happy Valley Tea Estate, Gomtee Tea resort, and Chamong Tea estate are all tea gardens where you can walk along with your partner and learn about the processes involved in the making and manufacture of tea. Feast your eyes on the lush unending greenery as you take a stroll in the gardens with your loved one.
Glenary's Bakery
Try a variety of baked Goods with your loved one at Glenary's. It is the most iconic bakery in town, and you can enjoy the mountain views while sipping tea and devouring delicious varieties of cakes and pastries. The delicious aroma of hot tea and the radiant views during sunset make it the perfect place for you to enjoy a date with your beloved.
Nightingale (Shrubbery) Park
It is a beautiful public park area for relaxing and enjoying views of Kanchenjunga. Kick back and relax in a large glass-covered lounge area surrounded by pine trees and shrubbery on the sidelines. There is also a Shiva statue with a beautiful waterfall emerging from the top of the figure, merging into an artificial lake at the bottom creating ambience apt for a lovely date with your partner.
Love Road
As the name suggests, this is the perfect place for people visiting Darjeeling with their partners. It is a long narrow pathway in the midst of nature. It is a popular lover's point, and you can see many bird couplings around. Love road encircles the Birch Hill and is a perfect hideout for couples.
Some other places you could visit in Darjeeling with your partner are Singalila National Park, Darjeeling Mall, Japanese Temple, Bengal Natural History Museum, Daali Monastery, Ghoom Monastery, Dhirdham Temple St. Andrew's Church, Himalayan Mountaineering Institute and Everest Museum and Senchal Lake.
So book a reservation at  Khush Alaya, and bring out the romantic side in you with our serene atmosphere and beautiful ambience in the midst of the chilly hill station of Darjeeling!