Famous for its serene beaches, wild life sanctuaries, art and heritage state of Odisha, find its place in many travel itineraries. Be it the graceful sand art of Puri or silver filigree ornamental jewellery from Cuttack, this state has always been unique.
Being the evidence of historical 'Kalinga' war which made an aggressive King Ashoka into an ambassador of peace, this magical place has many attractions like The Puri Jagannath temple, Sun temple of Konark, Hot water springs of Taptapani, Shores of Gopalpur, gorgeous waterfalls of Purli Jharan, etc. Let us see two such attractions in detail.
Udayagiri and Khandagiri Caves
Udayagiri (Hills of sunrise) and Khandagiri (Broken hills) caves are located at a distance of around 6 kms from Bhuvaneshwar, the capital of Odisha. Belonging to a period of 1st century – 2nd century, these caves are ancient and renowned for their marvellous appeal.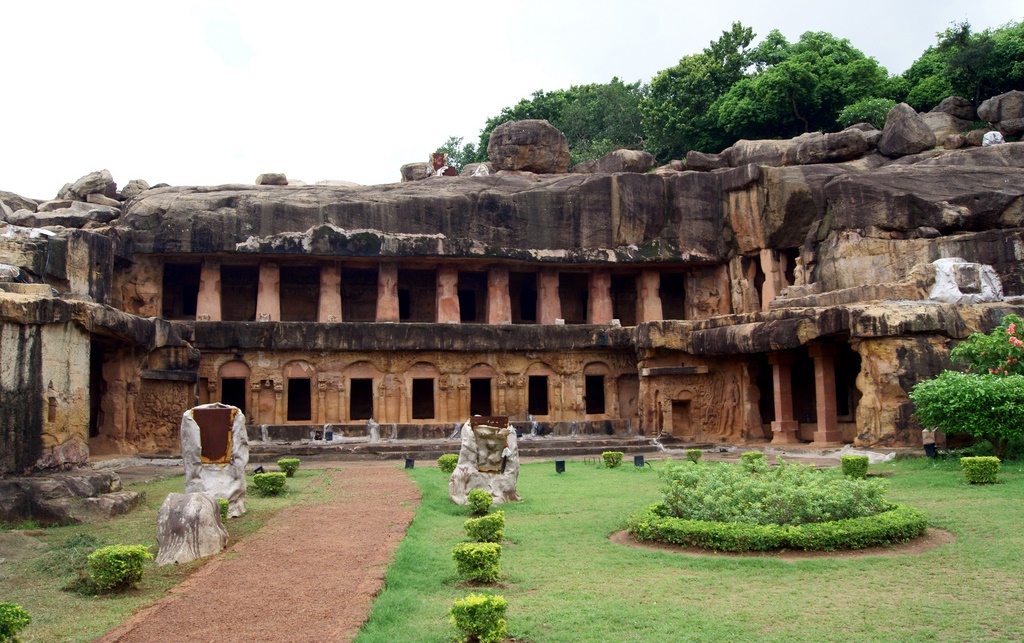 Situated on either sides of the highway, Udayagiri and Khandagiri caves are 18 and 15 in number. These were actually dwelling cells of Jain monks. So you will be able to see that the facilities are very simple here. In fact, the height is so low that even a man cannot stand erect in a cell.
The facades of these cells are covered with sculptures of things prominent to Jains, court scenes, majestic royal processions and adventurous hunting expeditions. In Udayagiri caves, which are totally 18 in number, Hathi (elephant) Ghumpa – cave 14, Ganesha Ghumpa – cave 10 and Rani Ka Naur (Queen's Palace) – cave 1 are popular due to their attractive art and architecture.
Among Khandagiri, Ananta (Snake) Ghumpa – cave 3, Navamuni Ghumpa – cave 7 and Barabhuji (wide shouldered) Ghumapa – cave 12 are noteworthy because of figures of religious Jain monks, Hindu deities, etc.
The most popular feature of Udayagiri and Khandagiri caves is the inscriptions written on the walls, because they are in Brahmi language and they belong to 2nd century B.C.
If you wish to see a place from bygone era, do visit these caves and you are sure to be enthralled by their beauty.
Nearby Sterling Holidays Resort: Puri – Golden Sands
Distance from the Golden Sands: 66.3 km, 1 hour 27 mins
Closest City: Bhuvaneshwar
Other nearby attractions in Bhuvaneshwar
Biju Patanaik Park
Orissa State Museum
Nandankanan Zoo
Brahmeshwara Temple
Dhauli Giri
Driving directions from Puri – Golden Sands to Udayagiri and Khandagiri Caves, Bhuvaneshwar