The desire to travel and see the world is one that is present in most people. Everyone would like to explore countries and behold sights that are almost unheard of. This desire is, thus, easily spiked when we look at things that make us think of travel. Ever wanted to pack your bags and head off on your own adventure after watching a travel documentary or reading an article on people touring the world and sharing their stories? Everyone does, at some point or the other in their lives!
Pinterest travel boards are one such medium that inspires travellers to put down everything and start travelling. Not only are they wonderful to look at, they are also a great resource for information. There are boards for nearly every imaginable question you may have – good Airbnb listings, places to eat, do's and don't's of a culture, fun activities, or any other doubt that may cross your mind has answers to it on the Pinterest travel boards. Here is a list of 9 inspiring travel boards that will make you want to pack your bags and leave.
Joao Leitao – Nomad Revelations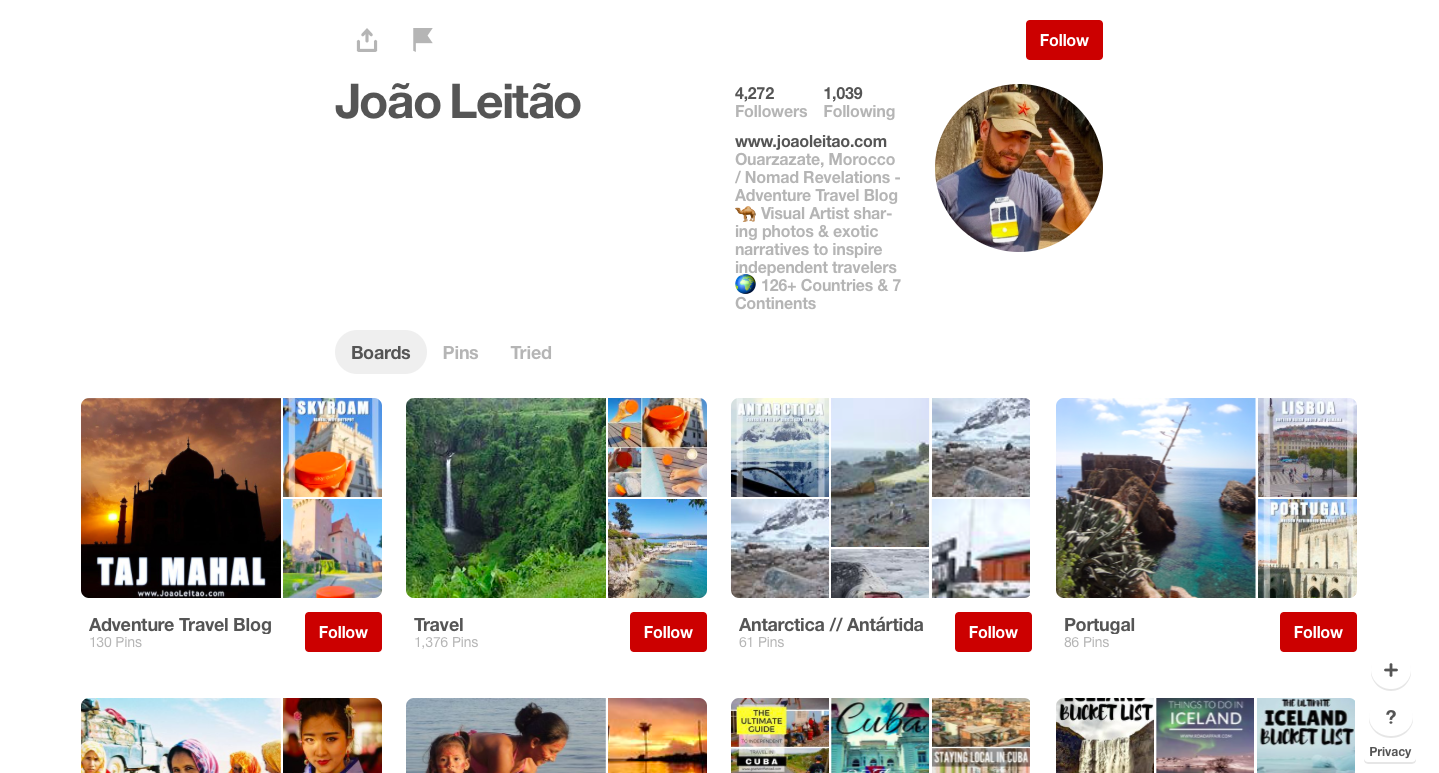 Joao Leitao's travel blog Nomad Revelations reflects adventurous travels of any passionate traveller or vagabond. If you want to hike to the Pyramids of Giza, cycle in the Sahara desert, or head off to Antarctica for a month, this is the travel blog to go to. Leitao is a famous travel blogger, and Nomad Revelations is the testimony to his travel expertise.
Jennifer Chong – Wanderlust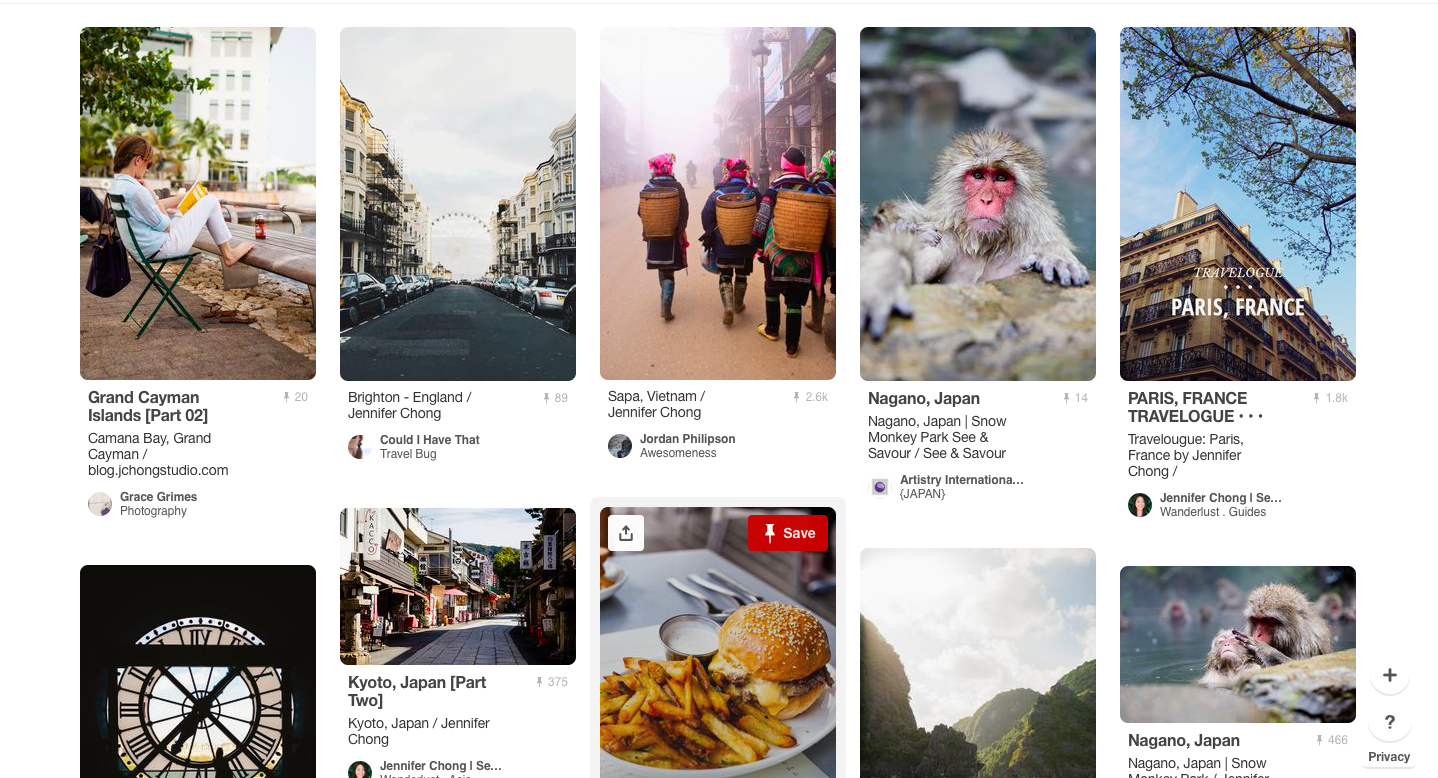 With nearly 2.3 million followers and a name that beckons travellers at the sound of it, Jennifer Chong's popular travel board – Wanderlust, is a sight that inspires travellers from all around the world. Wanderlust is an amalgamation of pins from all around the world. It covers not just different countries, but various landscapes, cultures, homes and even animals. The board tells us about even aspects like the styles of people from a particular place, their clothing and lives, etc. This board is your next around the world in X days waiting to happen!
Shinola – #LoveMyCity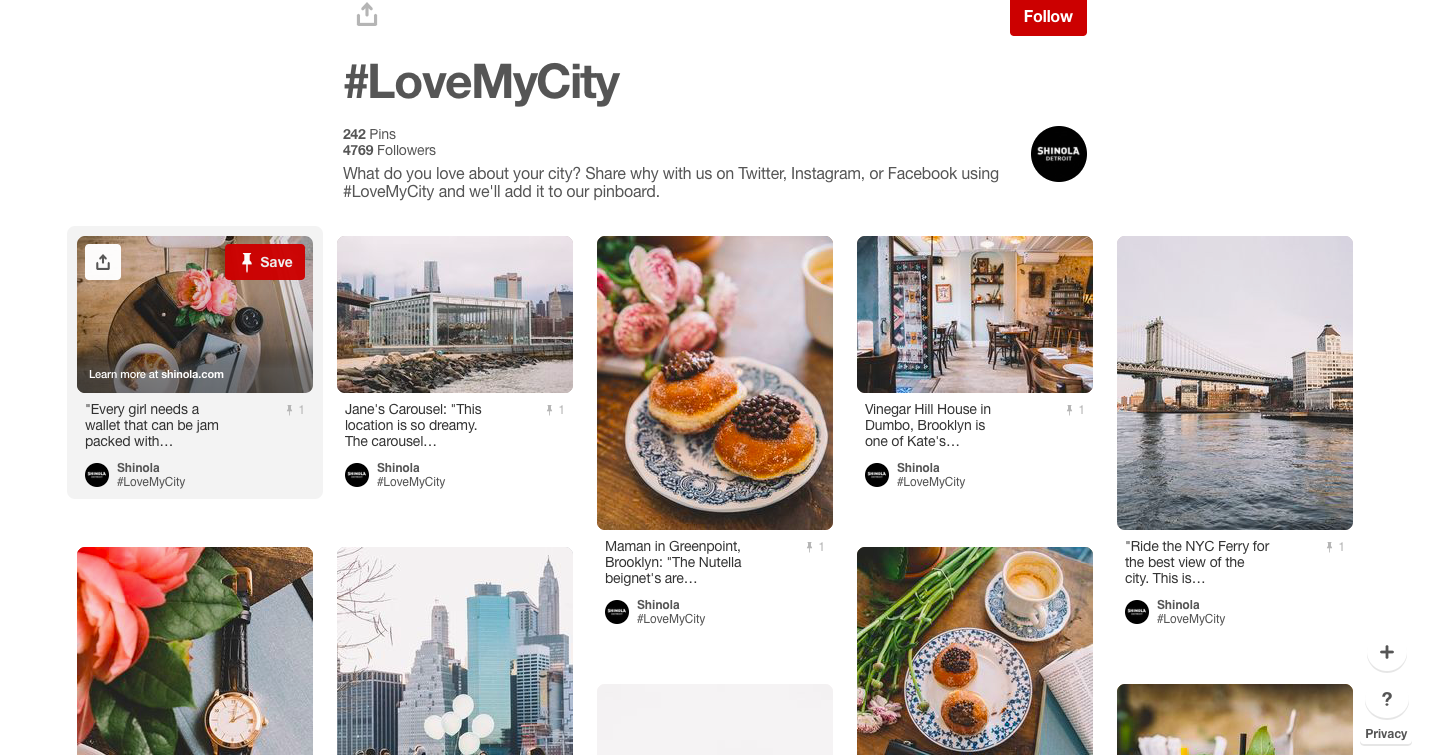 This U.S based company started asking people to write what they loved about their city and their favourite spots in it. #LoveMyCity consists of photos of people and their messages about their most loved aspects of their cities. Not only does this board encourage each and every individual to discover their love and value for their home cities, but also inspires travel as it brings a unique, intimate perspective of each city. Travel need not always be to a place far away, but can even be a journey to a new place two blocks down from your own homes.
Anetta, The Wanderlust Kitchen – International Recipes to Try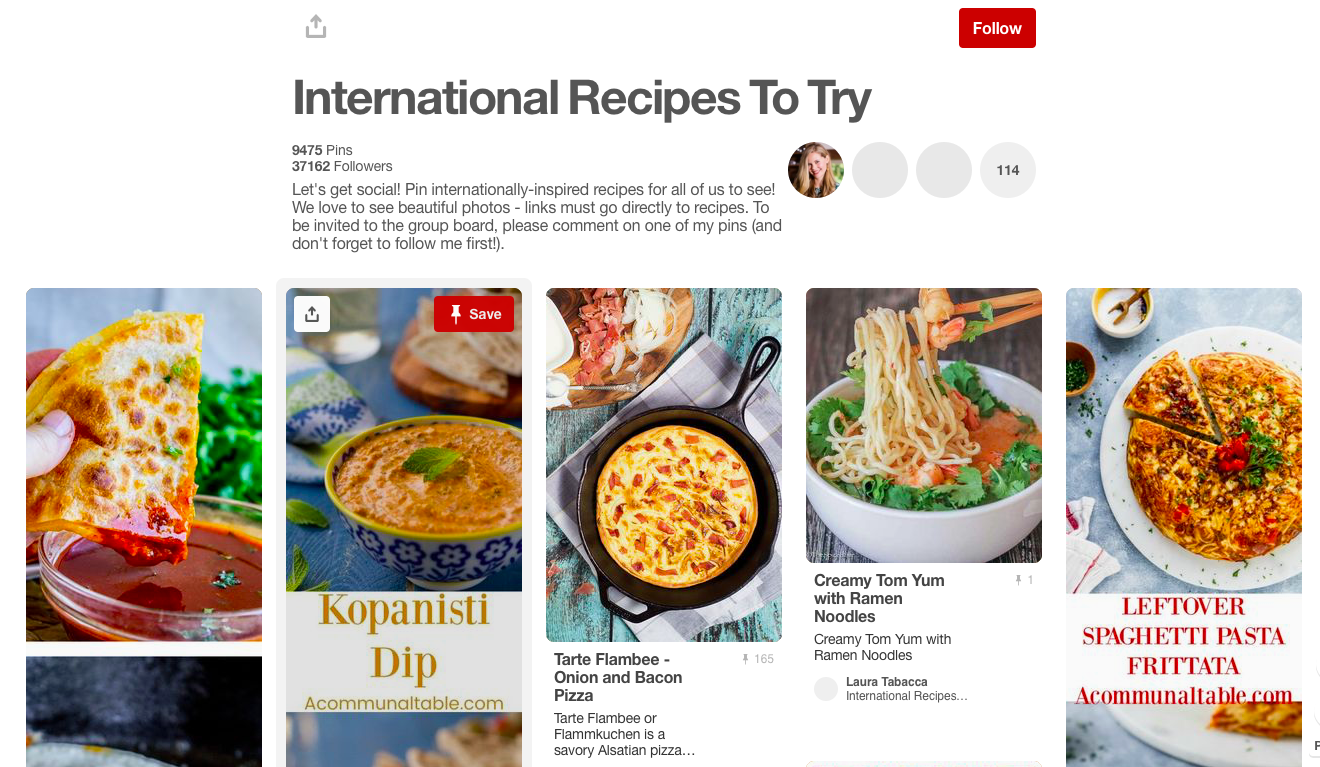 This blog brings to us cuisine and specialties from all around the world. Not only are the pictures beautiful, the descriptions can make your mouth water. Food is the best way to a person's heart, and what better incentive to travel than to want to taste every cuisine around the globe.
Hannes Wimmer – Everyone's Creative Travel Spot
A travel group board for every #TravelEnthusiast. This board is a collection of posts by its followers of their own travels and experiences. With over 430 thousand pins from around the world, this board is a great way to bring together travellers and their memories, thus inspiring others to travel and contribute to the community as well.
Humans of New York – Looks
New York is a city that is known and loved by people from around the globe, irrespective of whether or not they have actually been to the city. Photographer Brandon Stanton captures the essence of the fastest city in the world in his photographs and can make any person instantly wish to visit NYC. The board consists of over 500 thousand photos of New York captures by Stanton.
100 Places to Visit Before You Die – Places to Visit Before You Die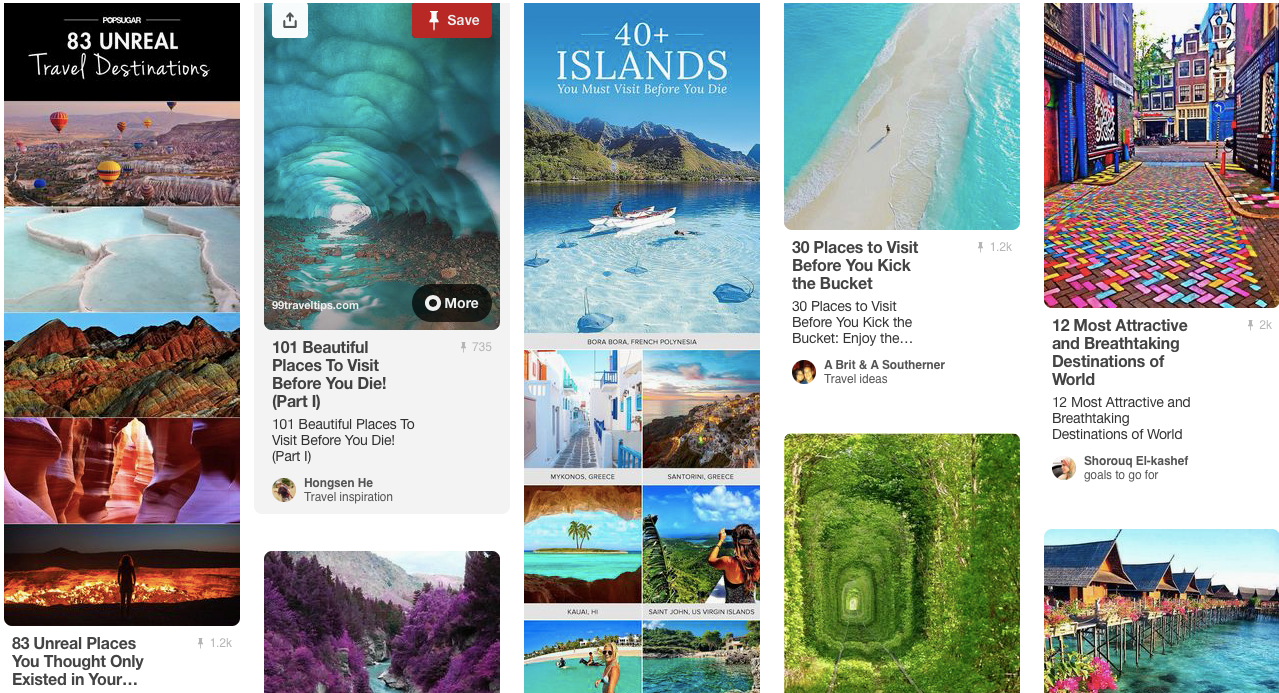 Not enough places on your bucket list? You can be sure you're going to have a longer list after a visit to this board! With over 1800 pinners from across the globe, this group board will inspire you to add to your bucket list and attempt to check things off. Not only that, it also brings people with similar tastes from different places together in a tightly knit community.
Caz and Craig – Travel Tips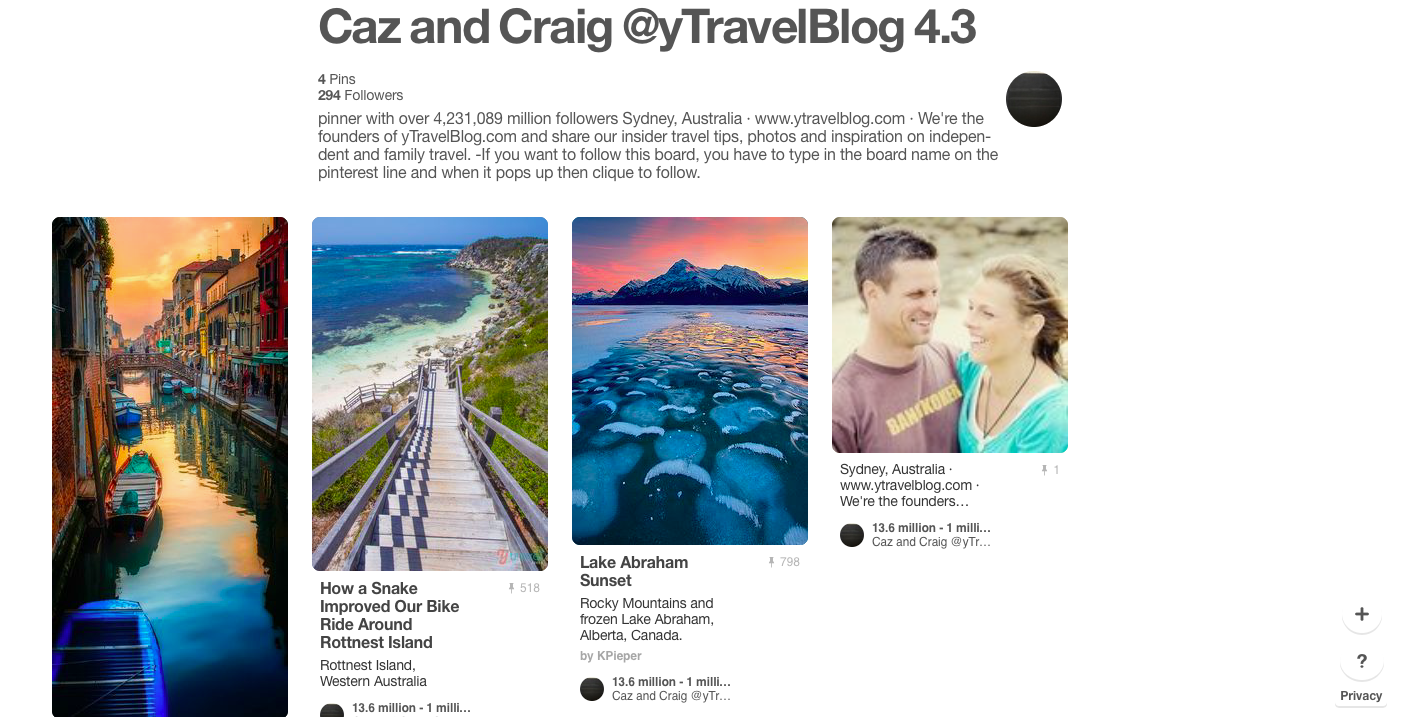 Travel Tips was started by Caz and Craig after a five-year long honeymoon. You can be sure that after having spent five years on the road, these guys know more than a thing or two about travelling, and especially about travelling when on a honeymoon. With tips to travel light, music suggestions when on a road trip, and advice on places to visit, this blog is every traveller's go to.
Manuel Miguel Carbonell – Animales
This board is for all the animal lovers out there. Carbonell's Animales bring together pictures of animals from all around the world in different settings. From lions to pandas, this board has it all. Travel the world and meet not just new people, but new animals as well!
These Pinterest boards will make you follow your hearts and not your heads, and inspire you to make good of your impulse to travel. Spike your desire to travel and discover the joy spending hours on Pinterest if you haven't done so already!