Little known for its adventure sports, Dharamshala nevertheless beckons those who love the wild and adventure, finds Suchayan Mandal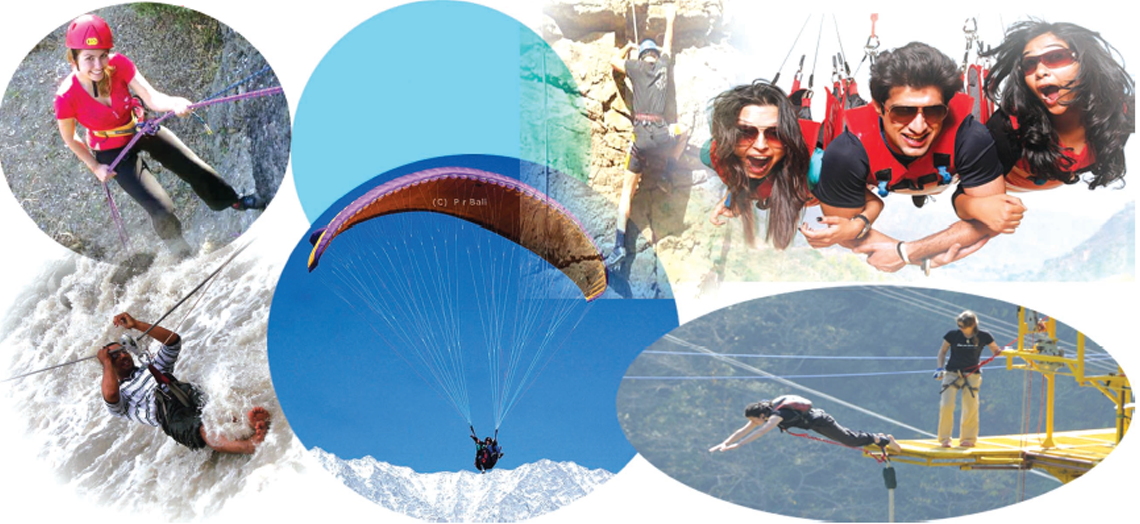 "RUN! Run! Run!" ~ as Indrunag, the starting point of paragliding in Dharamshala starts bustling with these cries one feels a little like Forrest Gump but once one is in the air and the wind currents delivers the ultimate joy one realises that being Tom Hanks doesn't interest anymore and aspiration reaches Wright Brothers. And no more can you hear "Run! Run!" instead the gurgling of the wind, often punctuated by one's own "Yahoo!"
Himalayas in Dharamshala decided to be more protective and cordoning, streams rush everywhere like office-going mob and green is the signature of the sprawling valley. Spread along the masculine rugged terrain, often called the body of the Dhauladhar Range of the Himalayas, Dharamshala is a treat to the eyes. Adventurous sports here are the most sought after. As compared to many other hill-stations, which offer adventurous sports, Dharamshala is less popular but also with less crowd.
Apart from paragliding, other adventurous sports in Dharamshala include rock climbing, rappelling, Flying Fox, Urban Zipline, and night camping. The season for these outdoor experiences sets off in May and continues till October, though at times interrupted by heavy rainfall.
Paragliding
As I set off, accompanied by Ashis Thapa, mountaineering instructor for Sterling Holidays Resort and the adventure sports manager of the resort, Hira it started to drizzle. And this organisation in Dharamshala, being safety concerned, doesn't want to take any risks. Moreover, the paragliders that are bought from China cost around Rs 2-3 lakh each and get damaged if they come in contact with mud and water. Hira opined, "These paragliders are costly. In China, there is an international paragliding festival and they have norms that they cannot use old paragliders, so each year they sell these gliders at a discounted rate after single use." Only licensed paraglider pilots are hired for this activity.
After the rain has stopped and sun shone mild, we decided to take the plunge. Protected by a shining helmet and glasses, the pilot behind me pushed a bit signaling me to run. At the edge of the gorge that plunged almost 2,000 meters, the glider flung open and in a snap of a finger I was "Up, up in the air!" The wind gushed past me. On my right was Mcleodganj. Since I had been there before I could make out from the sky, which building might be the parliament of the Tibetans in exile. Sitting on the harness of the glider with a huge backpack behind me that is supposed to work as airbag in case of a casualty I could see blue above and below. Now as we gained height, I could clearly see the Dharamshala cricket stadium painted red. The matchbox-sized houses below made me feel like a "monarch of all I survey". And a glimpse of white birds chirping and flying alongside made me feel this was the holiest experience I had ever gone through.
After around 30 minutes, my pilot insisted on descending. The landing calls for caution as untimely landing may send a cramp through the legs. Luckily we landed safely. The landing spot is far down from the takeoff place, though this is also a part of Indrunag. One can have a coffee to boost oneself and get into the car already waiting there.
Rock Climbing
Dharamshala-Nayagroeon, located in remote Himalaya, is the most popular trail for rock climbing here. Free rock climbing, that involves the climber's own physical strength and skill to accomplish the climb is the most popular here. Thapa, who is into this profession for more than 10 years now said, "Maintenance of the rope for rock climbing is a must.
The climbers must be physically fit to take the tedious but enjoyable climb." Steep rocks on Mcleodganj, Bhagsu, Ghanjar Mahadev, Indrunag are also popular for climbing. With one rope tied to the climber's belt, the goal is to reach the summit. The ropes used for rock climbing in Dharamshala are generally imported from Germany and have a breaking strength of 1,500 kgs.
The rope is generally made of Teflon and coated with silicon. Anchor checks and special knots make the ropes durable and safe. Thapa confirms that people of all age groups can participate in this provided they are physically fit. Some find spiritual solace through these sports and some define success through this as it involves overcoming hindrances and reaching the top.
Rappelling
This is a bit safer and much easier than rock climbing. Rappelling refers to the descending from hills. As the climber can climb down, free fall is also a good option to enjoy the bliss of dare.
Flying Fox
A Flying Fox is a small cable car, often propelled by gravity, and used as an item of children's play equipment and more rarely for other purposes. This is basically meant as fun for kids. The cable is fixed at both ends and runs through one or more pulleys attached to the car. The car itself consists of a simple handle for the passenger to grip. It is generally set at a height of 15-20 feet and the kids need to firmly hold the handle and is pushed into action. Watching this with the children laughing out in joy is no less serene than the snowcapped mountains that overlook this part of Indrunag.
This sports is basically popular in New Zealand is now meant for adults in Rishikesh as well. In Rishikesh, the Flying Fox involves harnessing the person to the wire and released by gravity to roll down up to seven metres above the river level and then going up, again. The speed can be accelerated till 160 kmph and a retrieval mechanism pulls one back once one is done. Three people can enjoy this ride together. The minimum weight needs to be 20 kg with an upper limit of 100 kg.
Urban Zipline
Like Flying Fox, two ends of a steel cable are fixed to two rocks overlooking a gorge. This sport has two options ~ for adults as well as children. The children are given tasks at plain level. The rider has to hold the handle firmly that has a pulley at the connecting point with cable. Thapa said, "The rider is just pushed a bit and then the cable takes its own course. The belt, called zoomer, which gets locked at the waist, thus making sure of the safety."
Professional versions of a zip-line are most typically used as an outdoor adventure activity. In contrast to Flying Foxes, professional courses are usually operated at higher speeds, covering much longer distances and sometimes at considerable heights. The users are physically attached to the cable by a harness that attaches to a removable trolley. A helmet is required on almost all courses of any size.

Trekking
The adventure sport that one readily associates oneself with is definitely trekking. In Dharamshala there are tailor made trek tracks to keep one excited. And also if one feels a lack of muscle power to trek or doctor has suggested not to over exert, there's solution for that too.
A beautiful refreshing day hike to Triund through Rhododendron forests can be done on horseback. Panoramic views of Bhagsu village, Mcleodganj, Dharamshala valley and distant views of Shivalik hills and plains of Kangra valley are a bonus, of course. Triund is a lush pasture at a 2,900-metre elevation. This is the base camp and acclimatization point for trekkers climbing the Inderahara point on Mt Dhauladhar. Dharamshala is a point of origin for a number of trekking expeditions that lead trekkers across Dhauladhar into the upper Ravi Valley and Chamba district. Midway one can cross through forests of deodar, pine, oak and rhododendron, and pass streams and rivers and wind along vertiginous cliff tracks, and also the occasional lake waterfall and glacier. A 2-km trek took me to Bhagsu, and then a further three-km walk led to Dharamkot. The chicken sizzlers with apple pie at a roadside café helped me make this expedition worth remembering. If one wishes to go on a longer walk then an eight-km trek will take one to Triund. The snowline of Ilaqa Got is just a five-km walk from there.
Another trek took me from Mcleodganj to Bhagasunath falls. Almost three km trek through almost no road and risky terrain, a slip might see one end up with a crepe bandaged leg and even fatal. But reaching the Bhagsunath falls was bliss. With water gushing down in deep whirls and rumbling sounds across the sky, there's absolute peace here. In case of a weak heart, one can opt for a riverside plain trek, that has no altitude climb.
Night camping
If campfire excites you and you belong to the warrior who prefers woods to metropolis, the unmatchable experience of night camping will make you forget night life in Delhi. Trek till Ghanjar Maharj (1,500m) or Indrunag or Triund and stay a night in forest. Tents are set up near water source with temporary toilets. Though at times, jungle camps might not have toilets. Being wild comes with lunch and dinner as well that are made there itself. "No need to carry anything from home. For all sports and activities we offer shoes, glasses and all that are essentials," assured Hira.
The best season to be wild is this time. Though winter is terrific and accompanied with snowfall, all the activities have to be stopped.
Moolah Matters
Paragliding: 15-20 mins ~ Rs 1,500 per person.
Rock climbing: (9am-12 noon/ 4-7pm) ~ Rs 1,000.
Trekking-tea garden trek via kandi to village: (7 am to 9am) ~ Rs 300.
Trekking: Aganzhar mahadev temple trek ~ Rs 200.
Night camp: Stoavarry ~ Rs 2,800 per person
Triund: Rs 4,500 per person
Rappelling: Rs 1,000
River crossing: Rs 1,000
Picnic (requires minimum four people): Aganjahr with fall stream ~ Rs 600 per person
** all the rates are according to Sterling Holidays, Dharamshala.
Reaching there
By air: Dharamshala can be accessed by air from Delhi and the nearest airport is at Gaggla, just 13-km away from the town. Spicejet and Air India operate flights every day in the morning from New Delhi.
By rail: Pathankot is 85-km and is the nearest railhead for Dharamshala. Trains from all over the country make a stopover at Pathankot and from here it is a three hour journey to Dharamshala.
By road: From Manali too bus services are available to this place. One can drive from Delhi via Chandigarh, Kiratpur, Bilaspur and it's an 8-hours journey. From Delhi and Shimla, luxury buses ply to Dharamshala.
Places to stay: Dharamshala's accommodation options include HPTDC's hotels, private hotels, guest houses, PWD and forest rest houses, which are located in and around the place and are available at reasonable price that starts from Rs 800.
Sterling Holidays offers three star accommodations at Rs 3500-4500.
This article was originally published in a Newspaper The Statesman by Suchayan Mandal, Sub Editor-cum-Reporter.